How Not to Fight Covid 19
Published on 19 Oct 2020,

5:37 pm IST

4 minutes read
Highlights
In the early days of Covid 19 spread in India, Kerala showed how to fight it effectively. Its Kasaragod Model of containing the virus became an inspiration for other states. But then the shoe came on the other foot, with the result that Kerala now accounts for frighteningly large number of Covid 19 cases.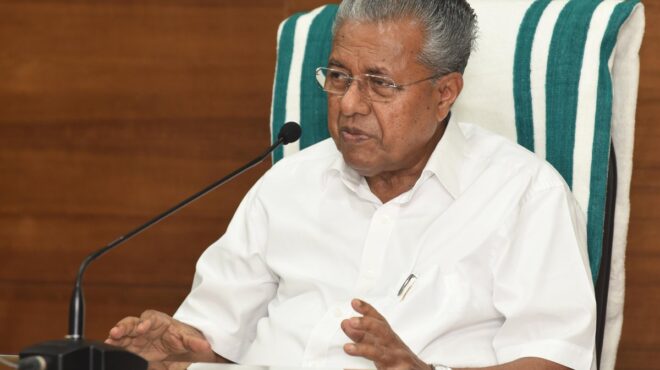 Kerala Chief Minister Pinarayi Vijayan
In its unending dance of death and mayhem globally, the Covid 19 is also changing established notions on how to fight it off effectively. One thing is for sure: coronavirus does not brook lapses. The moment it spots a crack in the shield, it strikes with a vengeance. And in the process- just as it has happened in the state of Kerala- yesterday's heroes become today's punching bags.
The irony of Kerala should be a wake-up call for all other Indian regions. From the onset of Covid 19 in February till about early May, Kerala was widely regarded as a role model for battling the virus effectively. The daily cases in those days hardly crossed 10. But see how the situation has changed- and for the worse. Two days ago, Maharasthra topped all the Indian states with over 10,000 fresh Covid 19 cases in a single day, followed by- you guessed it right- Kerala with 9,000-plus cases.
Undoing the Good Work
But how did Kerala achieve this dubious distinction? Union Health Minister Mr Harsh Vardhan is convinced that the "turnaround'' happened due to the week-long Onam festivities in Kerala, where large crowds of people threw all precautions to the winds and participated with gay abandoned.
Expressing dismay during his weekly interaction on the social media, Dr Vardhan said Kerala was to be tagged as a model state (for controlling Covid 19) at one stage, but has now ended up "paying the price for its gross negligence.''
Responding to a question on how Kerala is inching towards the 3-lakh mark overall while setting a daily record of Covid 19 cases, Dr Harsh Vardhan said: "After having good control over the virus during the initial phase of the pandemic, the situation has now worsened. I would say that other states should learn a lesson from Kerala's spurt in Covid-19 cases due to negligence during the Onam season. I would also say that all states need to be careful during the coming festive season.This caution must be exercised for the next three months at least."
"Between January 30 and May 3,'' added Dr Vardhan, " Kerala reported just 499 cases and two deaths; and the majority of the confirmed cases were concentrated in Kasaragod and Kannur districts. Subsequently, Covid-19 cases cropped up in other districts, due to an increase in both inter and intrastate movement of people because of trade and tourism. And then the epic curve of Kerala changed completely due to Onam festivities across the state during the months of August and September," Harsh Vardhan said.
"Onam festival lasted between August 22 and September 2. During this period, there were huge congregations across the state where people collected in large numbers and obviously did not take adequate precautions. Kerala, which was reporting an average of 2,000 daily cases in the first week of September, reached 4,000 average daily new cases fortnightly. Which means Kerala started adding 7,000-8,000 daily news cases,"
Lessons for Others
Till very recently, Kerala's `Kasaragod Model of Covid 19 Containment' was considered one of the best in India, almost at par with the much publicized Bhilwada model of Rajasthan. When it comes to isolating coronavirus within Kasaragod district, the credit for which goes largely to the senior IAS officer Mr Alkesh Sharma, that model still remains valid. But unfortunately, the subsequent events in Kerala have more or less undone all the good work done by Mr Sharma and his team.
This here is a lesson for all of us: not letting our guard down is as important as finding new strategies to defeat the deadly virus.
PREVIOUS STORY

IPS officer Binod Kumar passes away due to the ...

NEXT STORY

2 IPS officers among 28 accused in the IMA Ponz...