Lighting Up Her World
Published on 10 Dec 2020,

5:06 pm IST

3 minutes read
Highlights
An almost blind girl with no parents and prospects in life, P Karthika's own survival was hanging by a thread- until the District Collector (DC) of Tamil Nadu's Thanjavur district, Mr Govinda Rao stepped in. Thanks to the efforts of the DC, Karthika has got her vision back. The clouds of darkness and despair are fast disappearing from her life.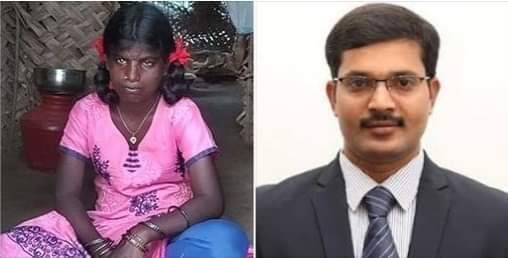 M. Govinda Rao helped the visually impaired girl in getting her vision back
At one point, it appeared that extreme hardship and hopelessness was the only thing that P Karthika had known in her 12 years of existence. Having no vision in the left eye, and only 40 percent in the right, she somehow continued with her studies in a Government school in the district. To make matters worse, her father had died of snakebite five years ago and her mother two months ago following an ailment.
Karthika was the third member of a very shaky and unstable family- the other two consisting of her brother P Kalidasan and an old, quite frail grandmother. In other words, not even a flicker of light appeared for this unfortunate family at the other end of the tunnel.
This is how matters stood when the District Collector Mr. Govinda Rao received a WhatsApp message on his phone- describing Karthika's condition. Mr. Rao wasted no time and directed the officials to go and inquire about the girl.
In an exclusive interview with Indian Masterminds, Mr. Rao talked about how he assisted the distressed girl, got back her vision, and provided financial support to the family.
BRINGING BACK HER VISION
Mr. Rao recalled that, "We keep receiving petitions through various modes such as our control rooms and through official channels. This particular case came through a WhatsApp message to me, which was forwarded by one of the citizens seeking for help."
A single reading of the message was enough for Mr. Rao to grasp the situation. He added, "Knowing about the unfortunate condition of the distressed girl, I immediately sent my field team consisting of Pattukottai Tahsildar S Tharanika and other local officials. As the girl was visually impaired, I asked them to arrange her eye-checkup in the Government-run Raja Mirasdar Hospital in Thanjavur."
On the instruction of the Collector, Dr Gnanaselvam and team conducted the checkup and expressed a glimmer of hope of bringing her vision back in both the eyes. The first surgery was completed on November 11 in the left eye but it did not bring back Karthika's eye-sight.
Mr. Rao did not lose hope, though. He urged the doctors to operate upon her. As he told Indian Masterminds, "As the treatment of the girl was crucial, I instructed the doctors to carefully conduct the operation. The doctors' team did their best. By God's grace, the operation this time was successful. She got her vision back in both the eyes."
PROVIDING FINANCIAL SUPPORT
Initially, Mr. Rao helped the family by providing them Rs 50,000 through the Collector's Discretionary Fund. He said, "This money was provided for supporting the girl in her education. We are also working on sanctioning a government house to the family under the Pradhan Mantri Awas Yojna (PMAY) scheme.''
He added, "This would help them in improving their standard of living. Apart from this, we are also trying to tie up with a sponsor who can take care of her education till she completes her graduation. These things are under process and I hope for a result soon."
Mr. Rao's efforts of going beyond duty to help the Class VII girl is turning out to be a God's sent gift for Karthika and her family. It will surely inspire other administrators to do similar good deeds.
PREVIOUS STORY

UPSC to release the Main Admit Card 2020 soon

NEXT STORY

12 IPS officers reshuffled and new police estab...