The Power Of 37
Published on 29 Oct 2020,

6:44 pm IST

5 minutes read
Highlights
Here is a unique initiative by 37 well meaning officers of Arunachal Pradesh. By crowd funding and other such innovative methods, they have given fresh lease of life to several projects which were in deep neglect because of lack of Government funds.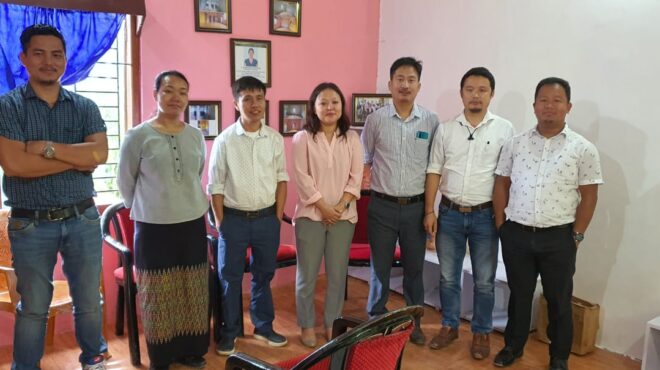 Few officers contributing in Project 37
It needs but one idea to start a revolution, so it's said. Now imagine what could be – and is being- achieved in the North East where 37 officers from the Arunachal Pradesh Civil Services (APCS) have joined hands for public good.
The initiative is as unique as it can get. These officers, through collective crowdfunding, are breathing life into a large number of projects which were dying for want of Government sanctioned funds and apathy.
IMPLEMENTING THE IDEA IN KHIMIYANG
Consider this: A transport office in Khimiyang that was left in a dilapidated condition for a long time has been now transformed into a mini library, stocked and adorned with books and toys in it. A place with moss spreading all over the walls, mud on the ground, broken ceiling, and no window panes and doors was renovated and given a completely new overlook with pink and yellow walls, windows with curtains, a suitable lavatory, and electricity facility.
This and many other transformations are taking place due to the combined efforts of the officers. The project started with a humane gesture so typical of compassionate bureaucrats. These officers started the fund by donating some amount, about Rs 1500 each, to the kitty. This started the proverbial ball rolling.
In a typical state administrative hierarchy where funds are allocated from a higher to lower level, a modest amount of funds are received to an entry grade level officer in a district. Deciding that these funds are woefully inadequate, these 37 officers, from Arunachal Pradesh Civil Service (APCS) of 2016, initiated a monthly pooled contribution initiative aiming at developing/creating micro-infrastructures in various circles across the state.
With their motto 'don't worry about finances when we can work collectively through the situation', Project 37 took off two months ago, bang in the midst of the lockdown. The project is just in its starting phase, but the officers involved have much higher dreams of creating a platform where everyone can contribute to a better cause.
KICK-STARTING PROJECT 37
In 2019, when a Circle Officer at Papumpare district in Arunachal Pradesh was dealing with a similar issue of unavailability of adequate funds, he thought of ideating a crowdfunding project with other APCS officers of his batch. Rome Mele, Circle Officer, Taraso, Papumpare district while speaking with Indian Masterminds, said "I did not sit on or lament about non-procurement of adequate funds. But I found a way out, as I felt something tangible can be done to solve the issue. That is when I made a WhatsApp group with 36 other batchmates of mine to initiate a project where we can crowdfund, donate or take out some portion of our salary every month to contribute in social work for the community."
He added, "It was decided that each one of us will pool in an amount close to Rs. 1,500 every month, which will be auto-debited to a separate account. Hence, more than one lakh rupees can be pooled in within a period of two months, which will further help us in aiding the concerned circle officers in conducting development work in their areas."
Tashi Wanchu, Circle Officer at Yazali circle in Lower Subansiri district said, "We have frequent interaction with the public as we work at the ground level, so things like making certificates, ration cards, etc. also fall under the purview of our office. Being a part of this project is more of our individual responsibility towards society."
He added, "Before this project was initiated, I myself was helping people in my circle by way of contributions. During the winter season, I took the initiative of providing electric wiring to a girl's hostel. After that, I persuaded officials in the district to contribute and provide for similar electric wiring in a government school which did not even have electric bulbs. With a minor contribution of Rs. 70,000, the work was done."
DEPUTY COMMISSIONER APPLAUDS PROJECT 37
Project 37 also intends to give an opportunity to young officers who have a creative mind but lack financial resources for implementing an idea. Till last year the group consisted of 37 officers, but due to the untimely demise of Ms. Marngam Bagra, one of its members, the group's strength came down to 36. But as Mr. Mele says, "She still lives in our prayers, and hence the  name stays unchanged to Project 37'."
Initially, the focus area of Project 37 was remote areas in Arunachal Pradesh like Khimiyang, which is situated in the border district of Changlang.
Appreciating the innovative developmental project carried out by Todak Riba, Extra Assistant Commissioner, Khimiyang, the Deputy Commissioner of Changlang, Mr. Devansh Yadav said, "This unused building in Khimiyang was lying vacant for past 20 years. There was no government scheme to utilize that building. As the project was funded by a batch of 2016 PCS officers, no government funding was involved in the process, which in itself is a big initiative."
He added, "In a backward area like Khimiyang, such projects provide value addition. The area is also affected by insurgency, as it is situated at the Myanmar border. Earlier, with little development work, people used to migrate to the district headquarters. But now such projects have created a feeling among people that the administration is working towards development."
Mr. Yadav has several projects in the pipeline for Changlang headquarter as well. At present, he is working towards renovating libraries and gyms and under the MGNREGA scheme. He has even developed a customized 'volleyball ground model', which he will be replicated in every Circle of the district.