The Best of 2020 (Part 4)
Published on 1 Jan 2021,

12:47 pm IST

8 minutes read
Highlights
Wishing all our readers and viewers a Happy New Year, we conclude the `Best of 2020' series with some of the top names in Indian Bureaucracy. These are the officers who have been the harbingers of change, progress and development. Their work and lifestyles have influenced a large number of people- and continue to do so.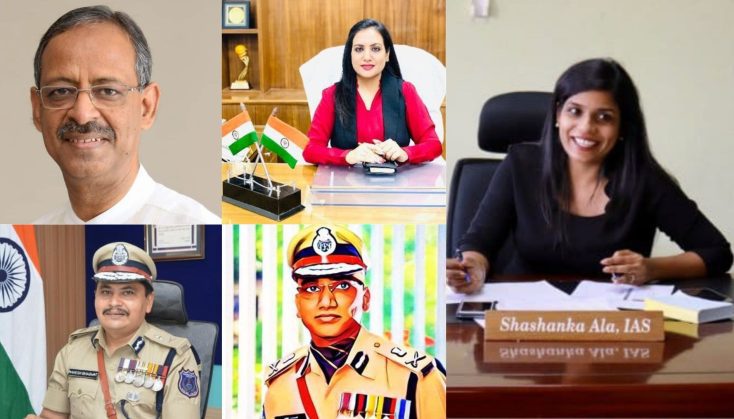 Fitness Freak, Successful IAS Officer and Caring Mom- She's All Three
An award winning IAS officer whose exercise photos and videos have set the internet on fire. She is none other than the Haryana bureaucrat Sonal Goel- and her story will warm many hearts.
`A healthy mind in a healthy body' sounds like old bromide, a cliché repeated and re-repeated so often that it has lost its punch. But once in a while, a glorious manifestation of this simple truth strikes the senses with the force of a hammer. Or, when you come across someone like IAS officer Sonal Goel.
A fitness freak to the core, Ms Sonal's exercise photographs and videos on social media are as popular and talked about as the numerous awards she has garnered for her many achievements professionally. Two of the recent awards relate to her recent work in `Beti Bachao Beti Padao' and `Sukanya Samridhi Yojna' in Haryana, where she is posted for last few years. A native of Panipat, Haryana, Sonal is otherwise 2008-batch IAS officer from Tripura cadre.
Now here's an interesting thing about this IAS officer. Her fitness photos, which Sonal regulary puts in her social media pages like Facebook and Twitter, would make it seem as if she is into the strict exercise regimen from long ago. But that's not the case- and she herself admits the fact candidly. The weight gain she experienced after two pregnancies caused her to look at the situation objectively and deal with it with the best remedy known to mankind: exercise.
To read the full story, click here : Sonam Goel
The Amazing Force Multiplier, A Hero to the Masses
Changing lives of lakhs of underprivileged children, even putting some on Mt.Everest, this civil servant moves with unprecedented zeal. Dr R S Praveen Kumar, the harbinger of change, has produced results which only remain in the fantasies of most bureaucrats.
He is a dream merchant, but with a firm grip on reality.
Single-handedly, he has given wings to the dreams of over two lakh children of Telangana. And they all swear by him. Among other things, he has helped put a 13-year-old girl on top of Mt. Everest- the youngest in the world to do so. So much so that leading Bollywood personality Rahul Bose has made a film on the unprecedented Everest victory.
This is not all. The prestigious Harvard University has taken up his work as a case study. Now this is just one of the many feathers in his cap. The man we are talking about is none other than senior IPS officer of Telangana, Dr R S Praveen Kumar. To put it mildly, he is a celebrity in the world of civil servants.
To read the full story, click here : Dr R S Praveen Kumar
Here Comes the Super Mentor
The unbelievable true story of a serving IPS officer who has put hundreds of UPSC aspirants on the road to success. His achievements can be summed up in one word: Miraculous.
Please make way for a modern-day `Dronacharya'.
Mentoring not one or two, but over 500 UPSC candidates to success, and that too single-handedly, sounds too good to be true. Well, it's not. Meet the Police Commissioner of Telangana's Rachakonda region, Mr Mahesh Muralidhar Bhagwat- because he has achieved this unheard of feat.
Now this also would sound preposterous, but is equally true. In the 2019 UPSC results declared early this month, as many as 125 candidates owe their selection to the lessons imparted by Mr Bhagwat! And he has been repeating this success rate for the past six years. Every year, without fail.
Among the UPSC winners of this year who owe their victory to Mr Bhagwat include former Miss India finalist Aishwarya Sheoran. A few others are Mandar Patki (rank-22), Nidhi Bansal (23), Pedditi Dhatri Reddy (46), Deepak Babulal Karwa (48), Yashni Nagarajan (57), Mallavarapu Suryateja (76). The list is quite long.
Decoding Mr Bhagwat
What Makes Mr Bhagwat tick? He himself is a senior IPS officer (of 1995 batch), so obviously he knows some of the tricks to clear the UPSC. But to ensure 100-plus winners every year, in an exam considered the toughest in India, is an astounding feat. What exactly drives Mr Bhagwat? And is there a "recipe'' for his success? To find these answers, we had a detailed interaction with him.
At any given time, Mr Bhagwat tutors a large number of students through many WhatsApp groups which he has created. "Technology has been a great help to me,'' he told Indian Masterminds. "Earlier, I could teach only a handful. But now, thanks to WhatsApp, I can interact with hundreds.''
Every day Mr Bhagwat takes out a few hours to hold virtual classes with the students and give them the lessons which they badly need. It has almost become a ritual with him, this daily connect with the UPSC aspirants who come from all parts of India. "You can say it has become my passion to mentor them, and this keeps me moving in my endeavour,'' he says modestly.
To read the full story click here : Mr Mahesh Muralidhar Bhagwat
The Wizard of Bureaucracy
Mr Anil Swarup tells Indian Masterminds, how he survived in the service keeping both his spine and conscience intact. He also reveals the mantras for the current crop of civil servants..
The 1981-batch IAS, Mr. Anil Swarup, might have retired from the service two years ago, but he claims he is more active now. Considering he pioneered many ideas, championed several causes, and piloted a number of landmark schemes and projects, the statement raises the level of curiosity of even people who know him for decades.
From conceiving, formulating, and implementing universal health insurance for the 30 crore people living below the poverty line to netting lakhs of crores for the treasury by designing online auction of coal mines and reigniting stalled mega projects, Mr Swarup was always a doer.
Belonging to UP Cadre where there always a premium for plum postings and an average stay of a bureaucrat on a post is often in months if not in days, such sterling performance does need a thorough inspection. After all, everyone wants to know, how managed to keep his backbone intact and had his way with the political class as well.
Serving under Chief Ministers like Mulayam Singh Yadav, Kalyan Singh, and Mayawati doesn't come easy. Similarly working under Prime Ministers like Atal Behari Vajpayee, Dr Manmohan Singh and Narendra Modi, must have been challenging. In this free-wheeling interview, he shares the challenges he faced during his service and how he overcame them. He has already written two books on his experiences in the bureaucracy.
Watch the full interview here : Anil Swarup
The Magnificent IAS Couple from Mizoram
Bringing down malnutrition by 50 percent, in a region where no State Government official wants a posting, is no small feat. And this is just a part of what these two have achieved.
Tell them it cannot be done, and they will do it with the flourish of a well-executed tennis shot. Naturally, almost effortlessly. Ms Shashanka Ala and Mr Bhupesh Chaudhary, the IAS couple posted in Mizoram, have been making heads turn by their remarkable achievements in the remote regions of this North-Eastern state. These include effectively handling malnutrition, making life easy and comfortable for school children and making chilli production a sweet affair for the farmers.
Among other things, Ms Shashanka has brought down the malnutrition among school children by a whopping 50 percent.
On this Independence Day in Mizoram, the couple was honored with the Chief Minister's Award for Excellence in Public Administration. This is not a small recognition. The two do not even belong to Mizoram, but have brought sea-change in the lives of people living several hundred kilometers away from Aizwal.
The Comfort Factor
Aizwal, Mizoram's capital, is also its island of comfort, giving the appearance of any other modern city. But to understand the hardships, lack of opportunities and crushing daily grinds of the people of Mizoram, one has to move away from the capital, in the state's hinterland. This is where Shashanka and Bhupesh were posted.
Recalls Mr Bhupesh, "I was a District Magistrate of Siaha (some 400 kilomtres from Aizwal) for 18 months. Basic necessities like reliable phone connection or proper internet speed eluded me all this time. During this period, five Additional District Collectors came to and made a fast exit from Siaha, showing how desperate they all were to return to the comfortable lifestyle of Aizwal. Nobody wanted to stay. It was a challenge for us.'Just to give one example of the many hardships people of Siara must be completely used to by now, the back-breaking bus journey from here to Aizwal takes roughly 12-14 hours. And the bus is the only public transport available for the poor folk living in this back-of-the-beyond region of Mizoram. The bus journey, however, would pale before numerous other problems the people here have been facing for
To read the full story click here : The Magnificent IAS Couple from Mizoram