Padma Awards nominations open till September 15
Published on 30 Aug 2020,

9:00 pm IST

2 minutes read
Highlights
Online nominations that started on May 1 can be submitted online till September 15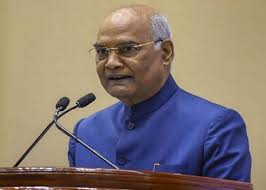 President Ram Nath Kovind signed the ordinance since the govt cancelled the winter session of Parliament
Due to ongoing Covid-19 pandemic, the government has invited online nominations for Padma Awards. The deadline for award nominations is September 15.
The recommendations must be made through the official Padma Awards portal i.e. https://padmaawards.gov.in. As of now, 8035 registrations have already been made on the website and 6361 recommendations have been submitted.
The Padma Awards – Padma Vibhushan, Padma Bhushan and Padma Shri, are notably the most esteemed civilian awards of India. Initiated in 1954, the Padma Awards are declared on the occasion of the Republic Day every year. This year
The award aims to commend 'work of distinction' and is given to eminent people for their unparalleled feats in a plethora of fields, for instance, Art, Literature and Education, Sports, Medicine, Social Work, Science and Engineering, Public Affairs, Civil Service, Trade and Industry etc.
Race, occupation, position and sex are no bar. Any individual who has achieved exceptional success in his/her respective field is eligible for the Padma Awards. However, it should be noted that Government servants including those working with PSUs, aside from Doctors and Scientists, are not eligible for these Awards.
The Government is resolved to convert Padma Awards into "People's Padma" and hence, all citizens must make suggestions. The opportunity of self-nomination is also available.
Furthermore, whosoever wishes to make a nomination must submit certain information. The nominations should include all relevant details stated in the format available on the above mentioned Padma Awards website, including a citation in narrative form (maximum 800 words), clearly describing the distinguished service and outstanding accomplishments of the person recommended in his/her respective discipline.
Lastly, The Ministry of Home Affairs has encouraged all Central Ministries/Departments, States/UT Governments, Bharat Ratna and Padma Vibhushan awardees, Institutes of Excellence to undertake a joint initiative to determine talented individuals whose excellence and achievements really deserve to be recognised The emphasis is on finding individuals amongst women, weaker sections of the society, SCs & STs, divyang persons and persons who are doing selfless service to the society.
PREVIOUS STORY

Five new IPS officers in Telangana get a peek i...

NEXT STORY

Bureaucrats with doubtful integrity and ineffic...