15 Hours of Non-Stop Racing to Cover 226 km Made Tushar Chavan the First Ironman from IFS!
Published on 6 Jul 2023,

9:15 am IST

7 minutes read
Highlights
2013 batch officer Tushar Chavan became the first Ironman from the Indian Forest Service
The Maharashtra cadre officer is presently posted in Pune as Deputy Conservator of Forest, Wildlife
He completed 226 km for the full race held in Kazakhstan in 15 hrs, with the cutoff being 17 hrs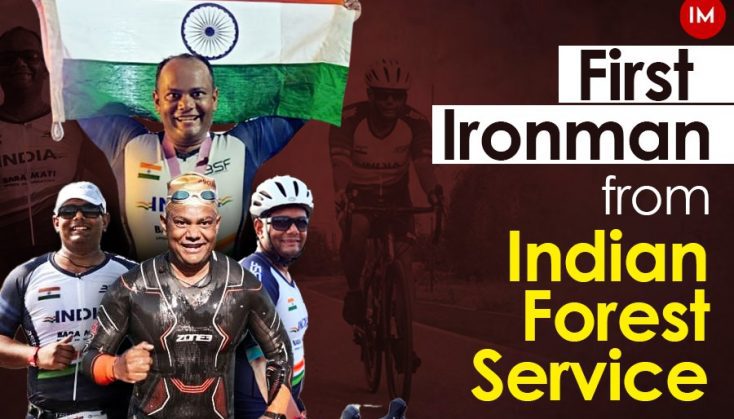 With the UPSC Indian Forest Services results declared recently and success stories of toppers doing the rounds, there comes one more IFS success story, but this time from the world of endurance sports. IFS officer Tushar Chavan brings good cheer all the way from Kazakhstan, as he successfully completed the full Ironman race, and in doing so became the first Ironman from the Indian Forest Service!
The full Ironman race, considered an iconic pinnacle in endurance sports, attracts both regular triathletes and world class professionals. Finishing it is an all-day endeavour that tests the participant on every fitness level. With a total combined length of 225.995 km for the full race held in Kazakhstan, Mr. Chavan had to do 3.8 km swimming, 180 km cycling and 42.195 km running within the race cutoff of 17 hours. He finished the race comfortably in 15 hours!
In an exclusive conversation with Indian Masterminds from Dubai, where he is in transit on his way back to India, Ironman Tushar Chavan shared his inspiring triathlon journey, and some interesting details about the gruellling race.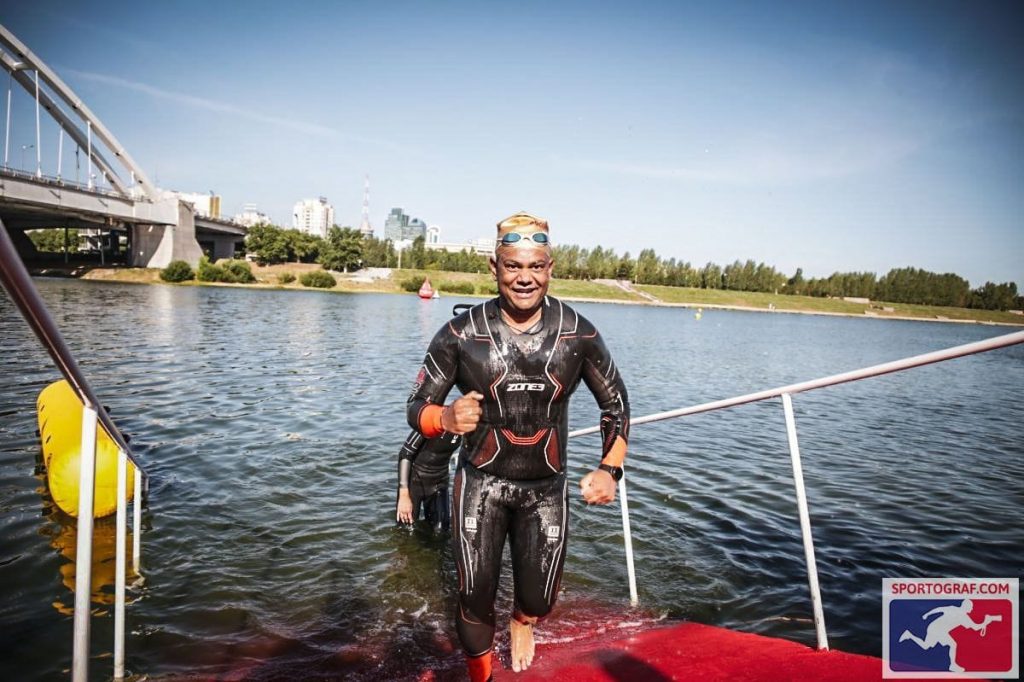 WHY HE CHOSE KAZAKHSTAN
Located in the heart of Kazakhstan, the Ironman race was held on the windswept northern steppe, the capital city Astana, on 2 July.
Mr. Chavan chose this venue because of certain advantages like good weather conditions, the country being considerably cheaper for Indians when it comes to expenses, no visa fee, and the warm citizens who welcome athletes with open arms. Overall it was a good stay, he said.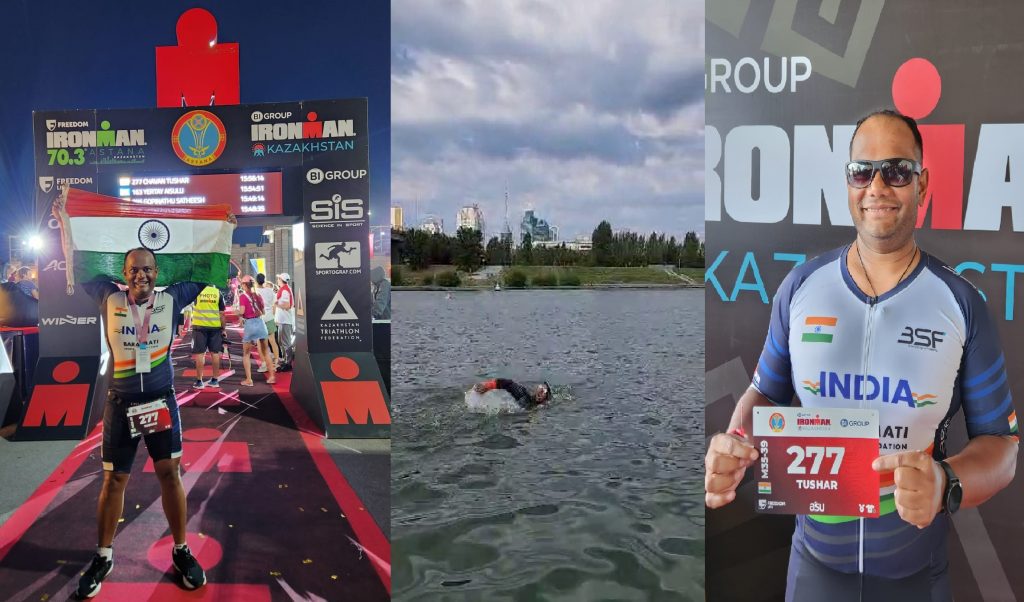 HOW HE BECAME A TRIATHLETE
He started off his triathlon journey with running in 2019, doing around 10 to 21 kms, taking part in local marathons, doing hill runs and short treks near Pune, where he is stationed. Soon, he started cycling, doing up to 20 kms. As for swimming, he has been doing it from his childhood, and is good at it. So, he took the first step towards Ironman race.
"I finished my first half Ironman distance on 29 January, 2023. It was the Bergman triathlon held in Kolhapur, Maharashtra, and I completed it in 8 hrs, which gave me the confidence that I can easily train for the full distance in 6 months."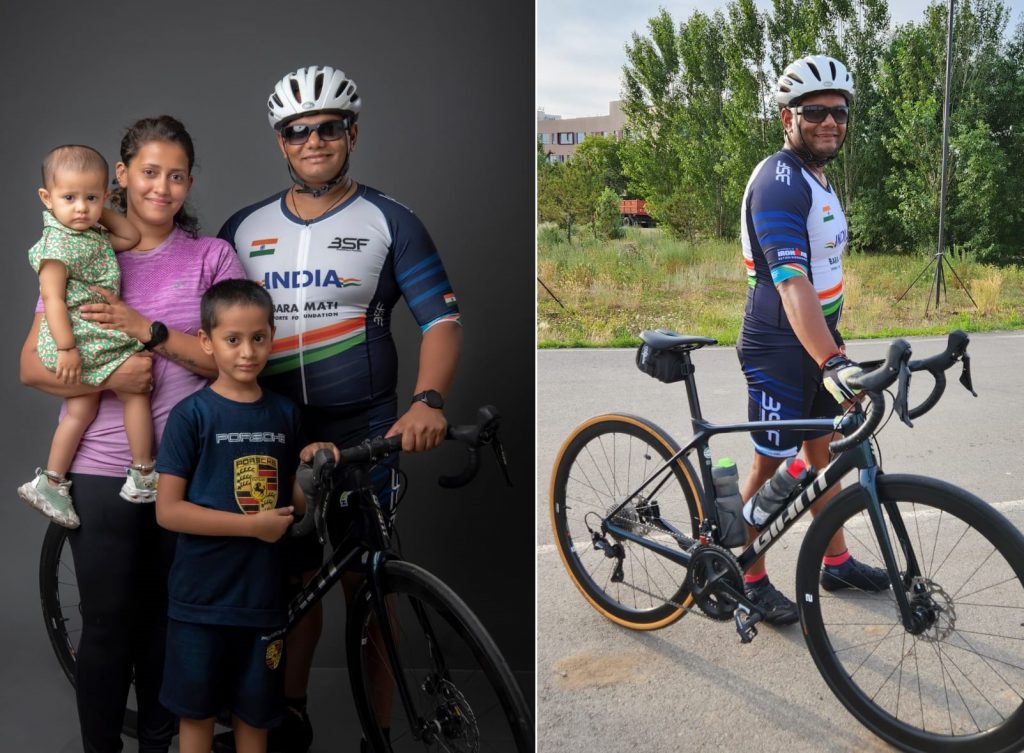 IRONMAN TRAINING
However, here, he faced a problem. The swimming that he practised as a child was of no use as the strokes he knew were not used in the Ironman race. So, he had to start learning the breast stroke first and then switch to freestyle in open water in the last four months of his training.
Realising that he needs guidance, he took help from Ironman coach Satish Nanaware, a three-time Ironman himself. He runs the Baramati Sports Foundation, through which he trains athletes for free. Why? "My agenda is to train athletes for Ironman so that seeing them, people will get motivated towards fitness. It's my passion. How can I charge money for indulging in my passion?", Coach Nanaware, who runs an advertising business in Baramati, told Indian Masterminds.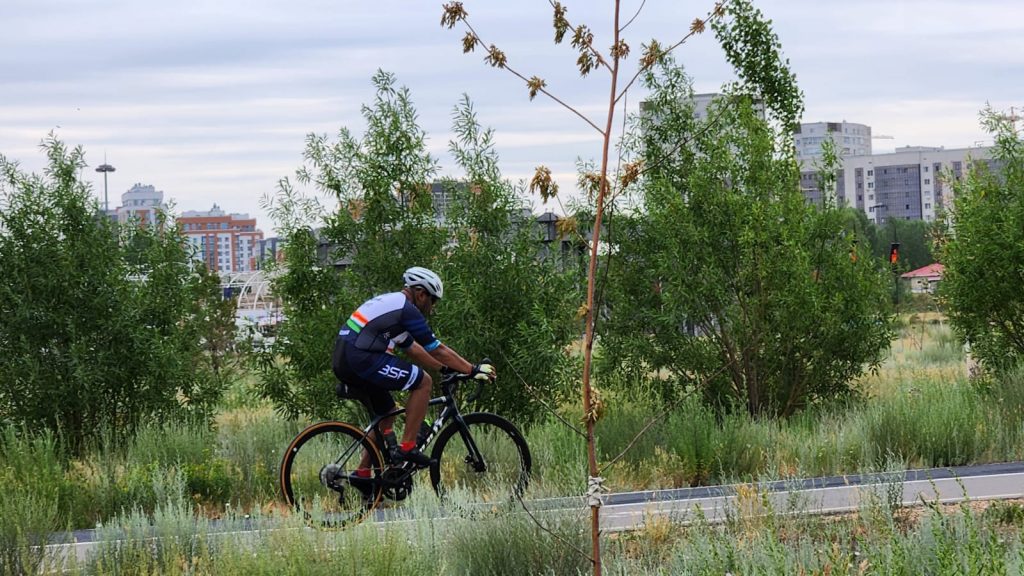 Training was not much of a problem for Mr. Tushar Chavan as he was a sportsperson from his childhood, playing football, hockey, badminton, and was also a gold medalist in basketball during his college days. "Because of that, my core strength is good and I used this core strength in the Ironman race," he said.
Training for three sports was very exhausting, he admits. And having to balance it with work, diet, and family responsibilities more so. However, his wife and two kids supported him all throughout.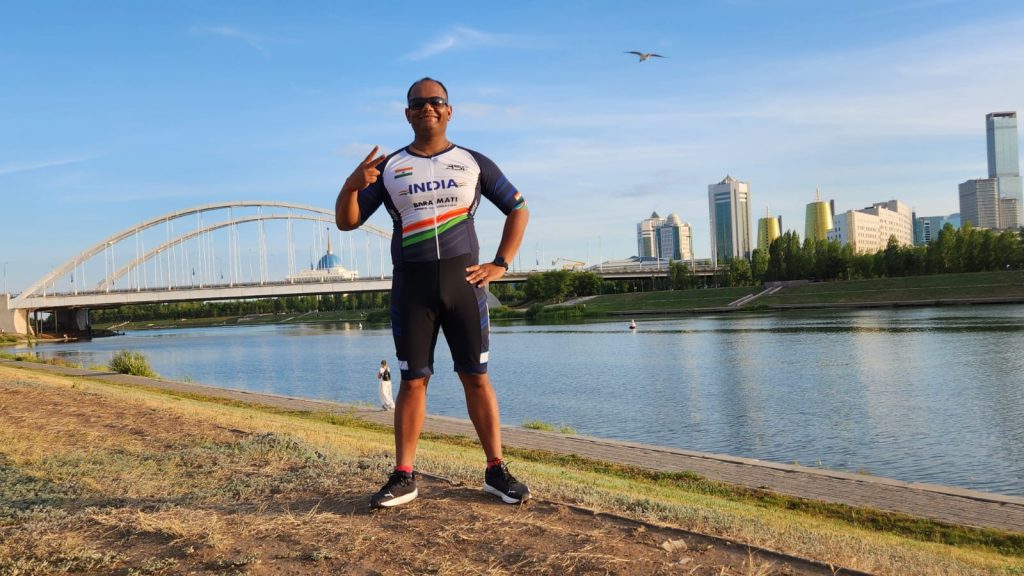 "They sacrificed a lot for me, and so did I. Every weekday morning, I did at least 2-3 hrs workout, 1-1 & 1/2 hr running or cycling and then 1 hr gym. After office, I did 44 mins to 1 hr swimming in the evening. It was a very tight schedule. For six months, there was not a single holiday for me as I used to go for group cycling and swimming on the weekends," he said.
The training, too, is not at all easy, and six months to one year of dedicated workout is required. "The first time I practised swimming 4 kms, I was not able to do anything the entire day," he revealed. But strictly following the schedule given by his coach and going on weekend group swimming and cycling helped build his confidence, and he was ready for the Kazakhstan event as it drew near.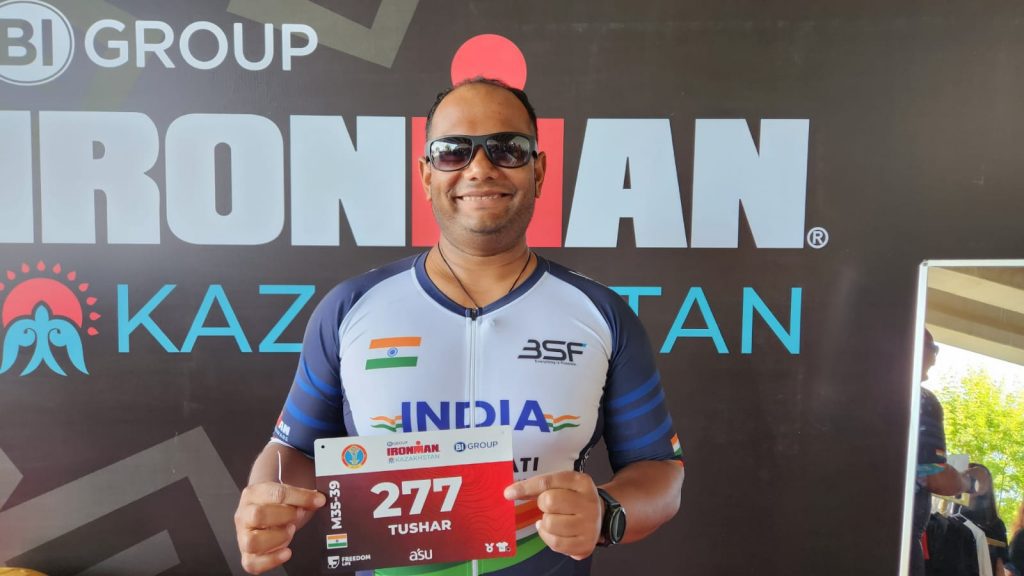 ON THE RACE DAY AT ASTANA
However, on the race day, things did not go as planned. Swimming in the Ishim river in Astana was very challenging, and one doesn't get any support during this phase. The cycling part was even tougher. "Though the road in Astana was flat, the wind was very high. I was expecting my speed to be 34 km per hour but my actual speed on race day was 17-18 km only. So my overall speed came down to 24 km, which was a very challenging task. Though my cycling is strong, race conditions are different in different locations. In Astana, weather changes very rapidly. This affected my cycling."
And, there's more! Running 42 km after a 4 km swim and 180 km of cycling is by no means an easy feat. "Here, mental strength comes into the picture, and one can overcome all the fatigue," he said.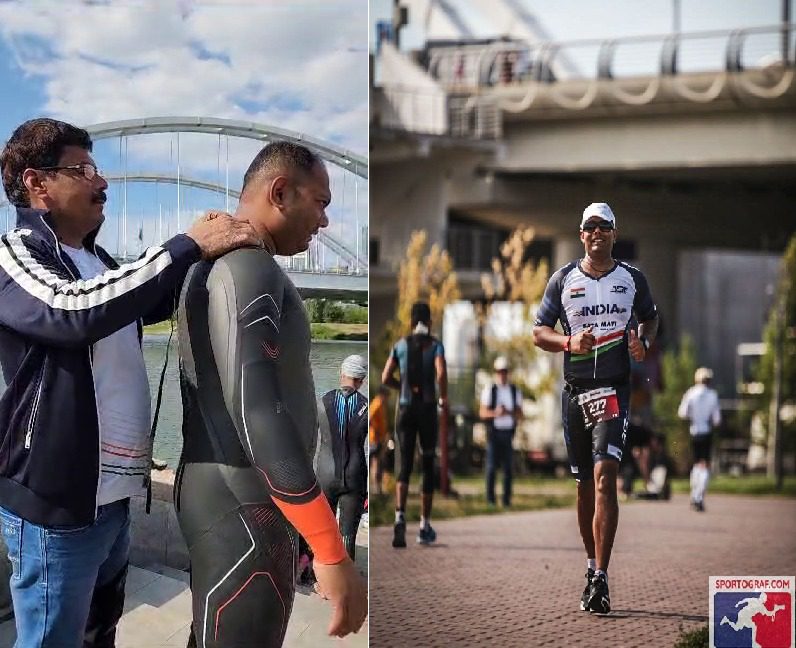 ELECTRONIC DEVICE SUPPORT
He revealed that during his training days, he also took the support of an electronic device to help him with his cycling. Explaining why, he said, "I use sports cycle and have to go in high speed which is not possible in Pune because of speed breakers and high traffic. So, I purchased a cycle home trainer, a device which is connected to the rear wheel, and I could cycle at home, too. This helped me a lot."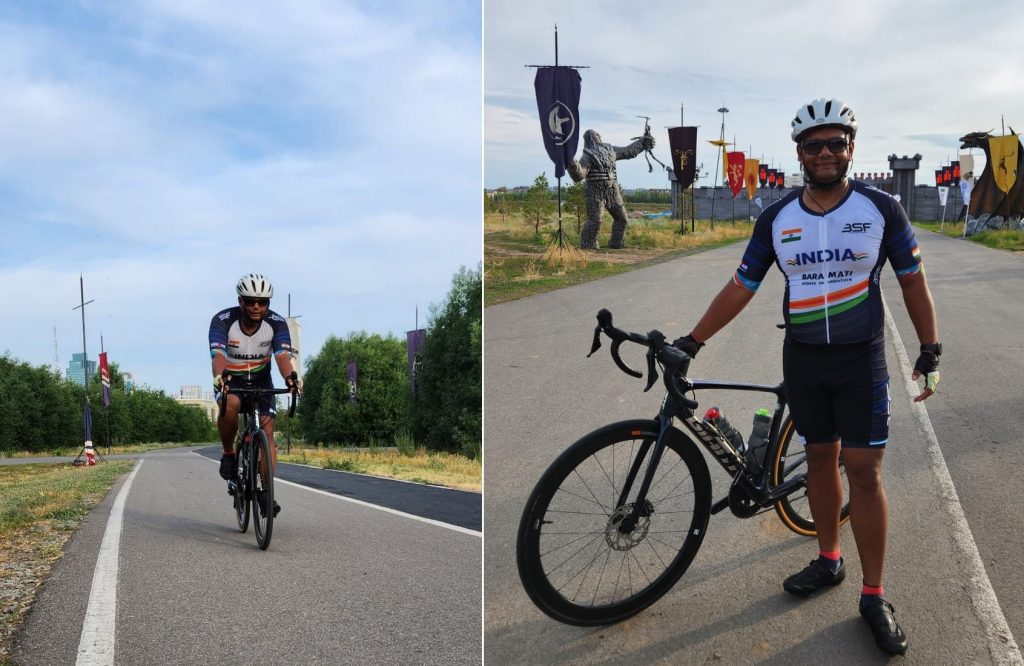 DIET PLAN
As for his diets, his dietician wife, Sayali, took care of all the plans that he experimented with. He changed 2-3 diet plans during the training period.
Elaborating on the plans, he said, "Initially, I opted for a weigh loss plan but it resulted in muscle loss. So I switched to losing weigh slowly, not rapidly. During the final weeks, I switched to the Keto diet which is calorie deficit and protein rich, so that I can reduce weight further. And, just one day before the race, I started carb loading so that my body is ready for the race."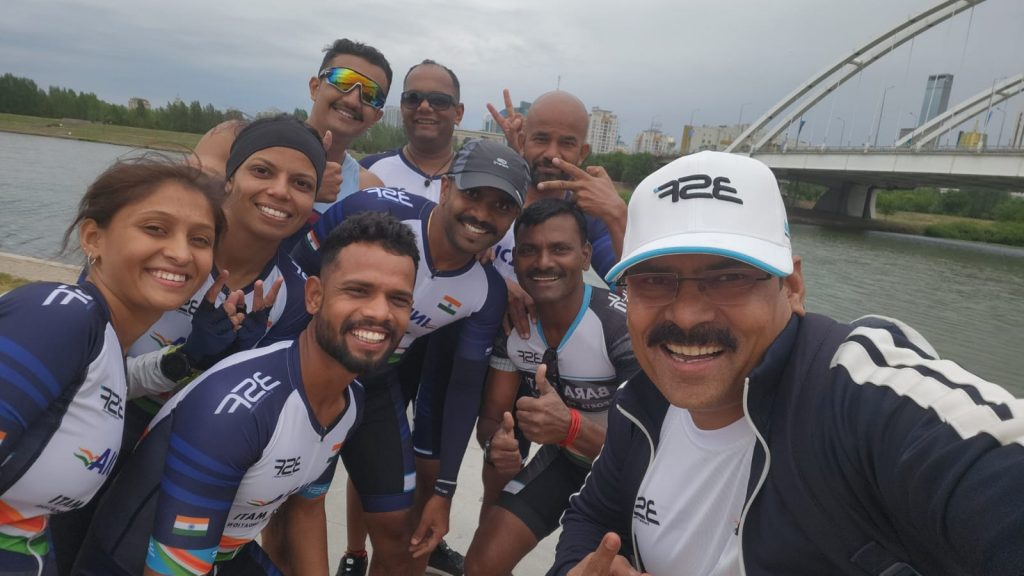 YOU CAN DO IT, TOO!
Unlike some fitness enthusiasts, he does not listen to music during running, cycling, swimming, or even gymming, preferring to instead listen to the sounds of his exhalation, and the sounds of the water bubbles. These are music to his ears.
"I just kind of meditate during my exercises. The race also doesn't allow any electronic devices. You just run and be with yourself."
Flushed with joy from his accomplishment in a foreign land and yet to land in his own country, he made an appeal from foreign soil to all IFS officers, in fact the entire forest fraternity, to go for such events, so that their fitness level increases. "Anyone can do it. Just training and hard work with determination are needed," were his encouraging words for all.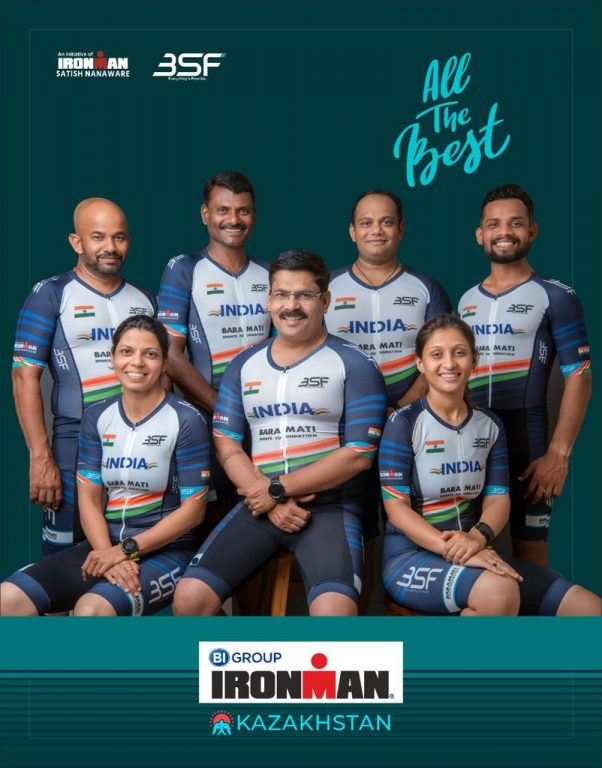 PREVIOUS STORY

A Raid on Illegal Liquor Dens Prompted this DSP...

NEXT STORY

Two AGMUT Cadre Officers Transferred, IPS Aksha...