Changing Tribals' Life Through Canvas
Published on 23 Dec 2022,

1:02 pm IST

5 minutes read
Highlights
The Sendhwa Forest Division under the Green India Mission (GIM) Livelihood component, is promoting traditional tribal painting
A painting workshop was conducted by the forest department where professional like Padma Shri awardee Bhuri Bhai Baria were invited
More than half of these paintings were sold within first two days at International Forest Fair in Bhopal
IFS officer Anupam Sharma with the 40 trainees who attended the painting workshop
Tribals are known for their traditional paintings for long but didn't have a market. Madhya Pradesh forest department has now provided not only a market but also training to meet the market demands. Now Tribals in Sendhwa-Pansemal area have great avenues where they can earn a good living and showcase their talent at national and global stage thanks to IFS officer Anupam Sharma.
Mr Sharma usually visits remote areas and interacts with the villagers and tribals to know about the issues faced by them and how could he extend help while conserving both forest and the wildlife.
Speaking to Indian Masterminds, he said, "The main issues faced by the Bhil/Barela tribes is unemployment and ignorance of their traditional art and culture. That's why these tribals look for alternative ways to earn a living which includes encroachments, selling and cutting of trees. Secondly, while interacting with a lot of villagers I found out that almost nobody had any information or knowledge about their traditional art and cultural practices. Hence, we though of conducting a traditional painting workshop and further hand hold them until they start making paintings on their own."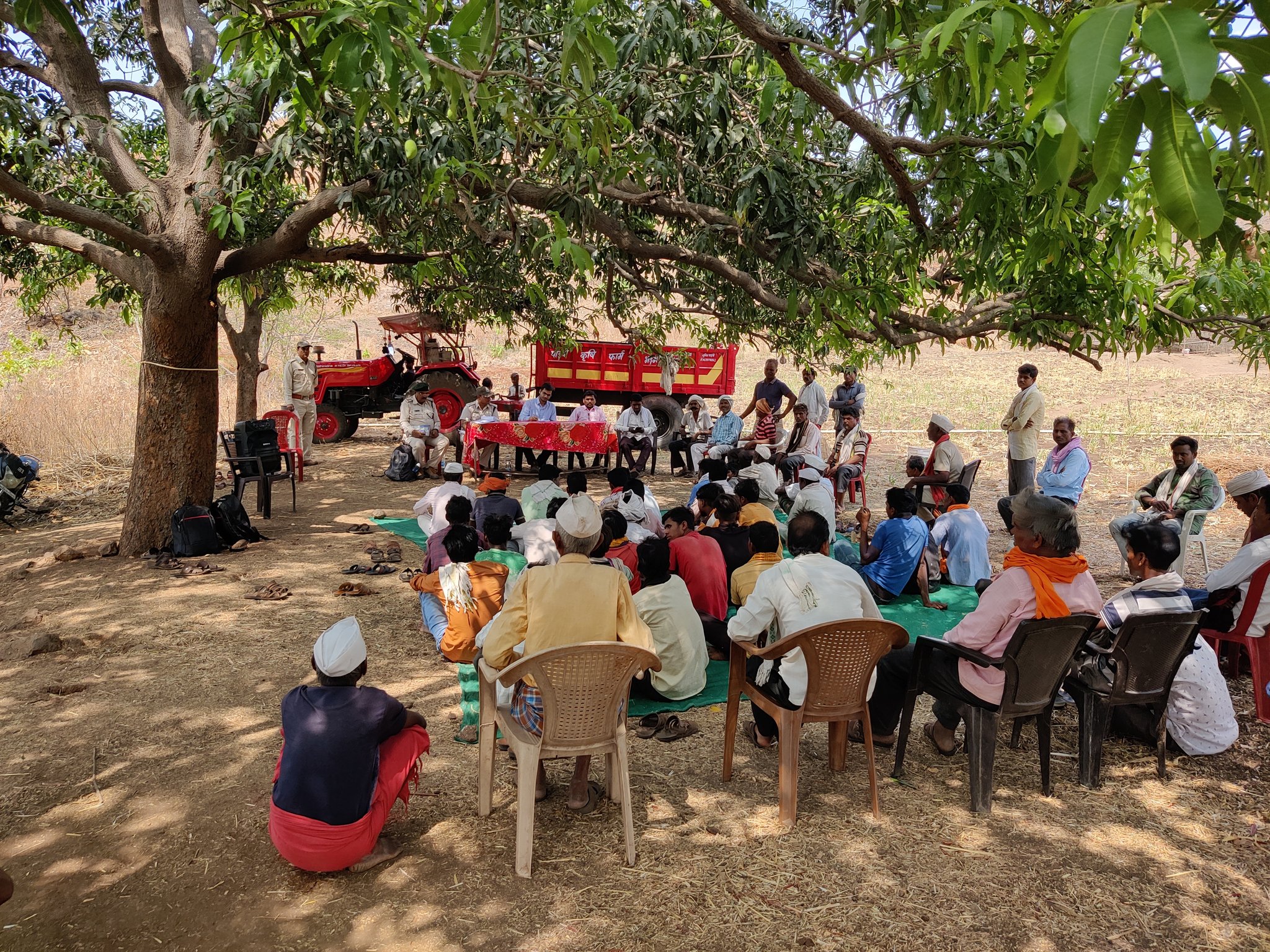 PAINTING WORKSHOP
Addressing these issues, Sendhwa Forest Dept conducted a Tribal Painting Training Workshop using the Green India Mission (GIM) funds on 22 October, 2022. As many as 40 tribal people came forward for the training in traditional Bhil and Gond Paintings. The workshop was attended by Sudarshan Shaw from 7 to 10 October and then by Padma shri awardee Bhuri Bhai Baria, who himself is a Bhil artist. Ms. Baria's daughter and son also attended the workshop and enlightened the tribals about the art.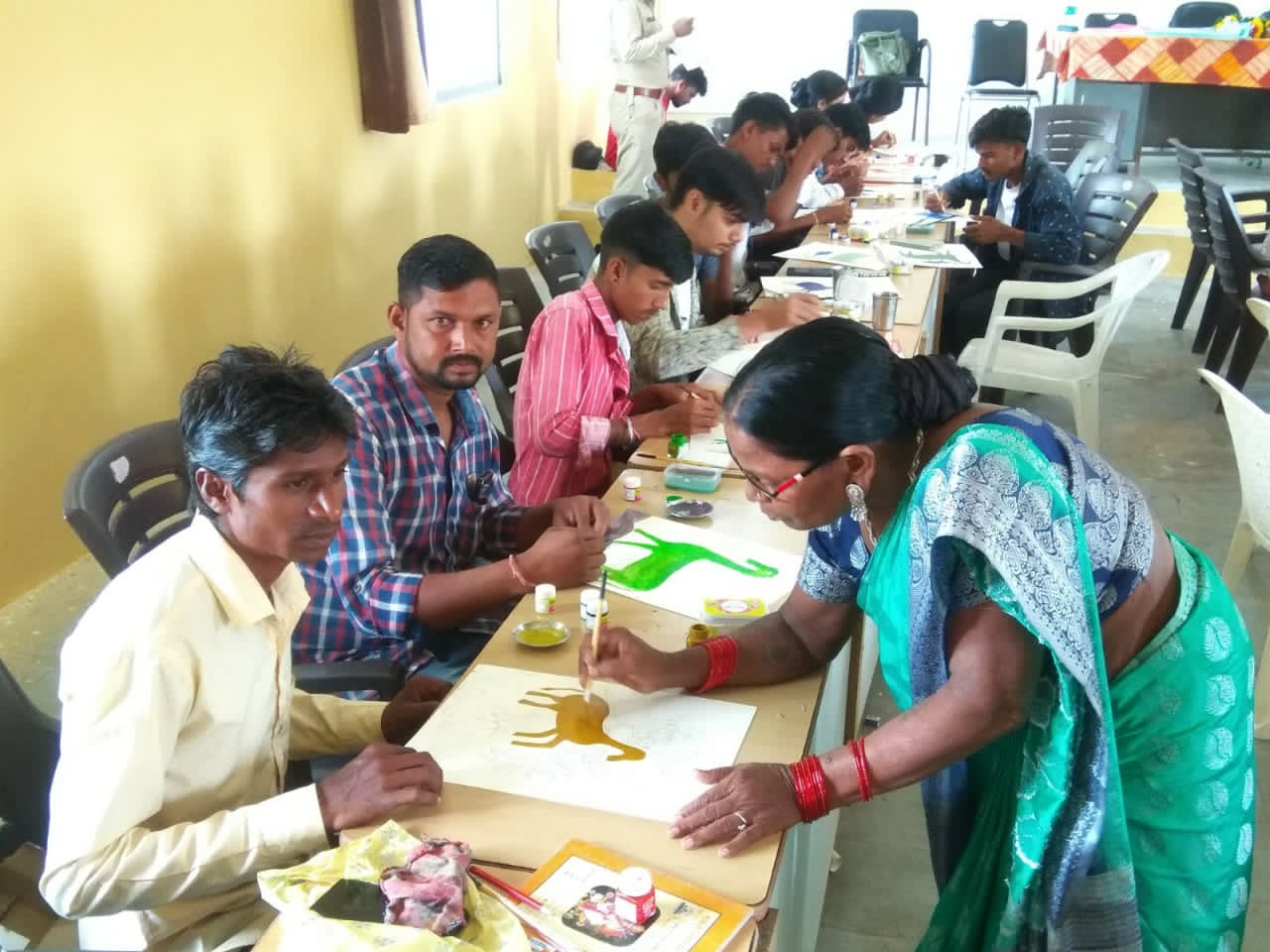 Most of the 40 trainees were from the age from 18 to 40 age group and also included a few young children of age 14 or 15. Mr. Anupam said, "The children who attended the workshop were very talented however, we did not push them to focus of earning a livelihood as we thought that they need to first focus on studies."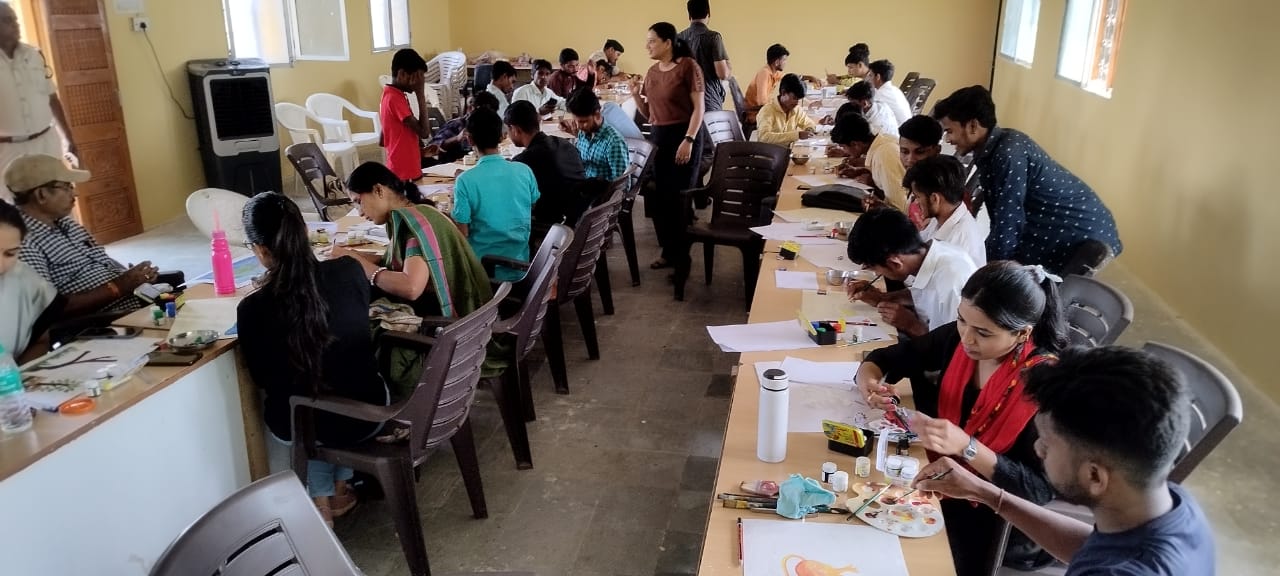 After the training, additional Painting Material (Sheets, Colours, Brushes, Covers, etc) were distributed to candidates. These \materials were procured by the forest department after selling plantation plastic waste to scrap dealer. After getting the training & material, participants started showing their efforts, skills & aspirations on the Canvas. Of these 40, only 15-20 candidates were selected who demonstrated fire in the belly to become artists and were very enthusiastic about the training.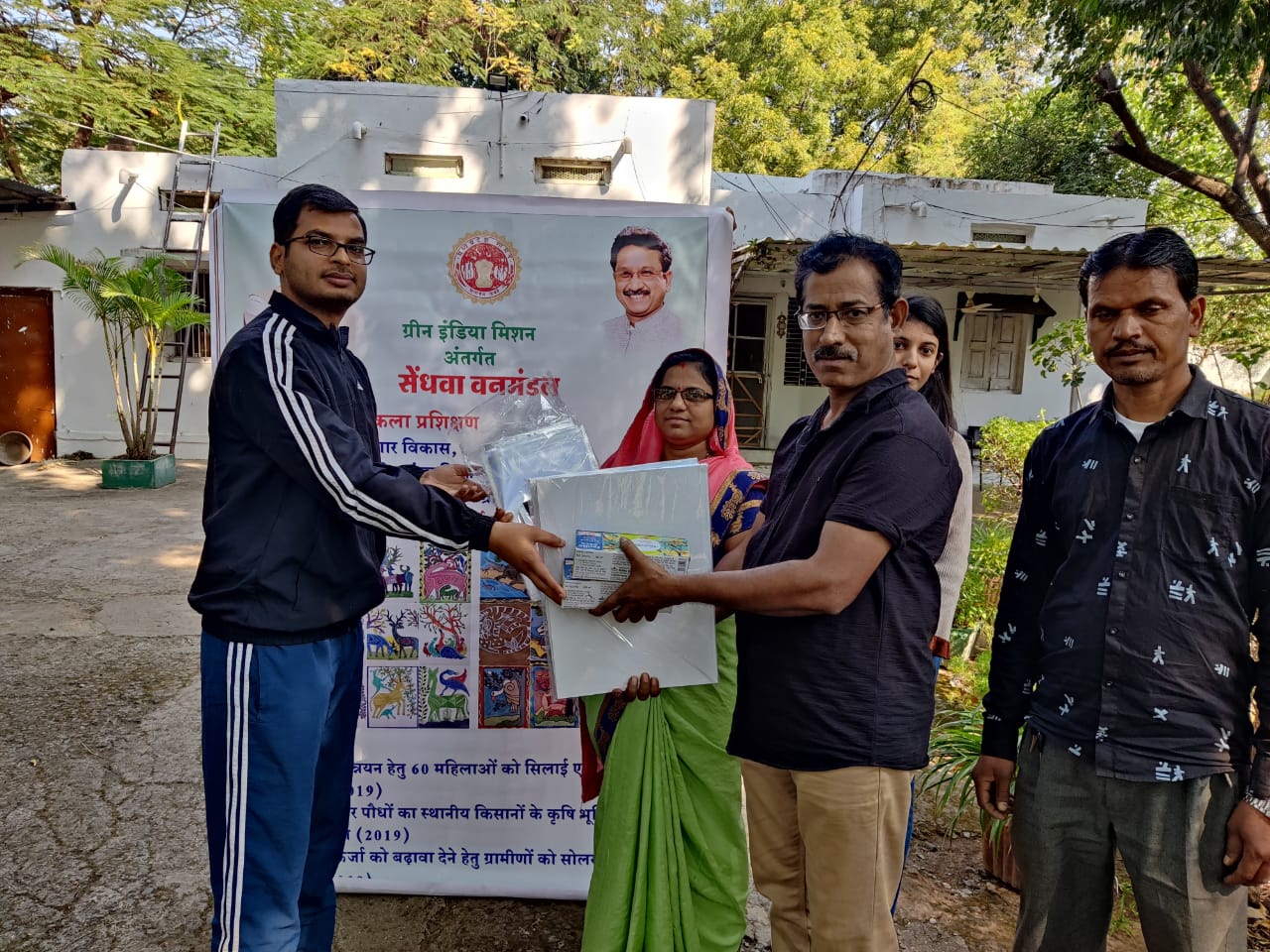 EXHIBITIONS AND OTHER AVENUES
As these artists were now trained by the professionals, they were given a time of 20 days to put that knowledge on the canvas and create as many paintings as possible so that it could be presented for sale. Mr. Anupam said, "We started looking for avenues where we could exhibit these paintings and we tried to reach out to a programme in Khandva and spoke to some tiger reserves and national parks for sale through the souvenir shops. We received a good response from them which boosted the confidence."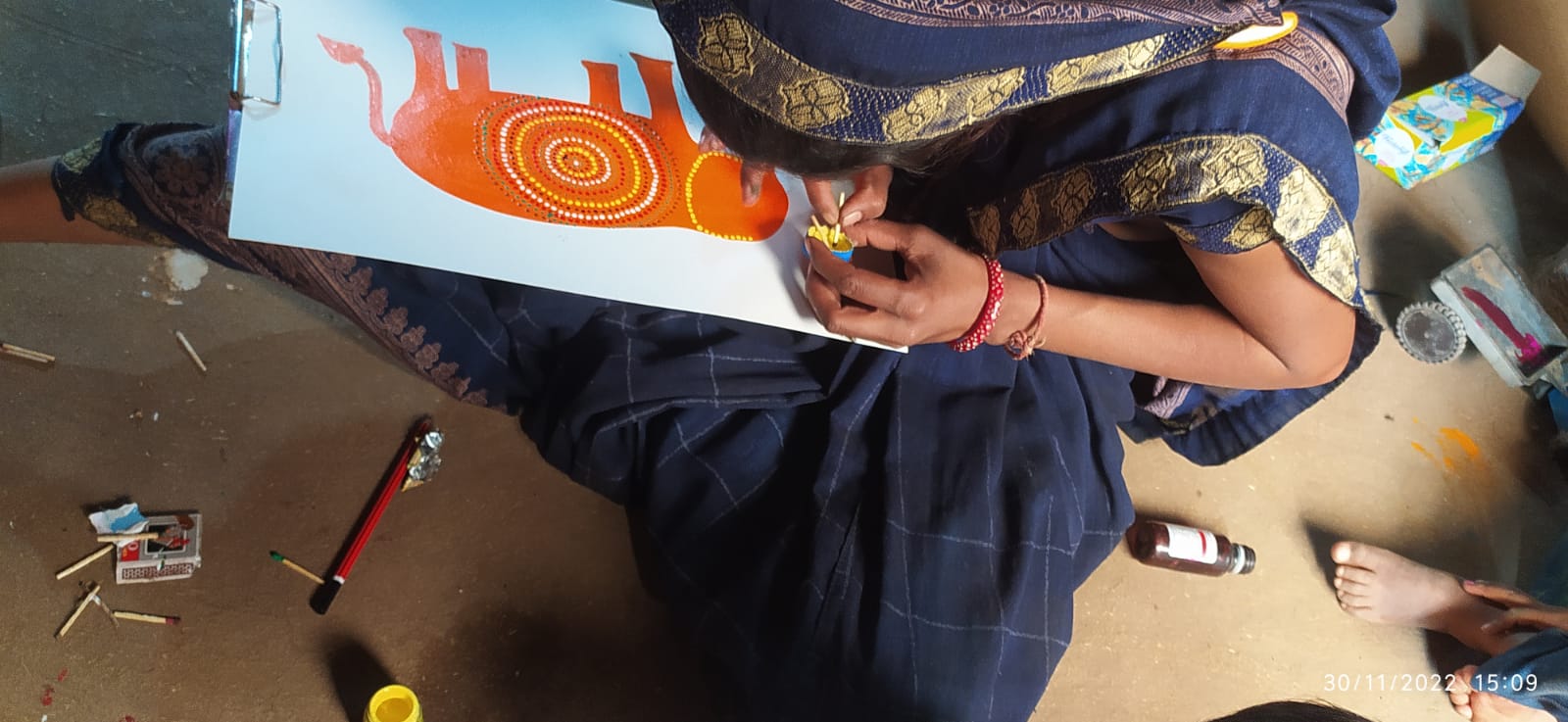 After this the forest department figured that the best opportunity to present these painting was the International Forest Fair which is being organised in Bhopal. CM of MP Shivraj Singh Chouhan inaugurated the Van Mela on 20 December. The paintings made by these trainees were presented there and within two days half of the stock was already sold for around Rs 65,000. Mr. Anupam said, "The footfall at the fair has not even picked up pace and we have already got an amazing response. In the coming days all these paintings will be sold."
THE TRADITIONAL ART
The Bhil Tribe, native to Western and Central India, amongst approximately 50 other Indian tribes, is the third largest community today. Originally, hunters and great archers living in Madhya Pradesh's thick jungles—they have long taken to agriculture and some have migrated to large cities taking up masonry, road making and other manual labour.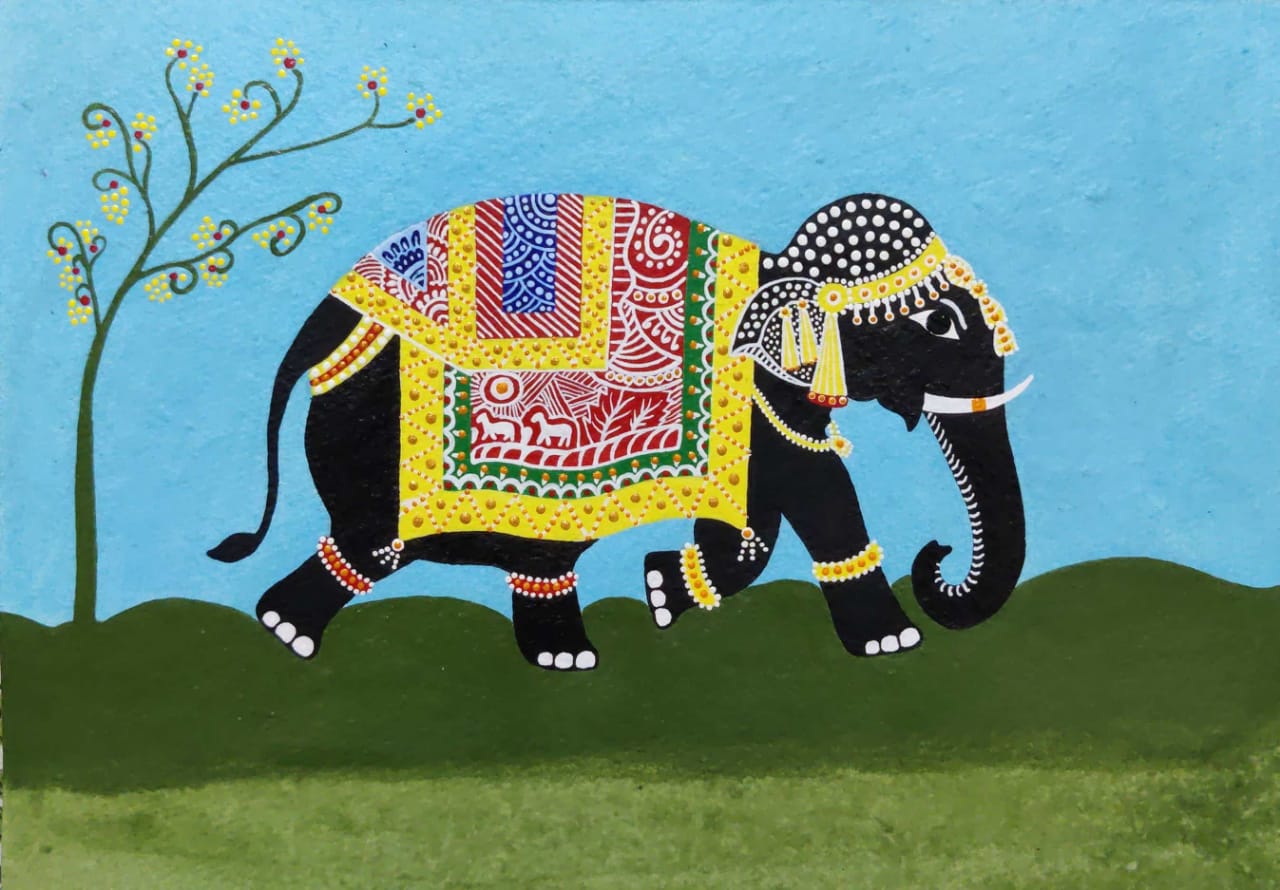 Art is integral to the Bhil community. Steeped in rituals, symbolism and tradition, the rich textures of their paintings connect them to nature and the Adivasi life that is their legacy. The dot pattern is the most primary and important part of the painting as it signifies their dependence and linkages with agriculture. These dotted patterns are mostly used to beautify the paintings.
THE TRAINEES
The trainees life changed completely 1after the implementation of this initiative. Sundar, a trainee, lost his father two years ago. To bear the family responsibilities, he left education & started wall-painting. Now, after the Tribal Painting Training conducted by Sendhwa Forest Dept, he wishes to improve his family's financial condition.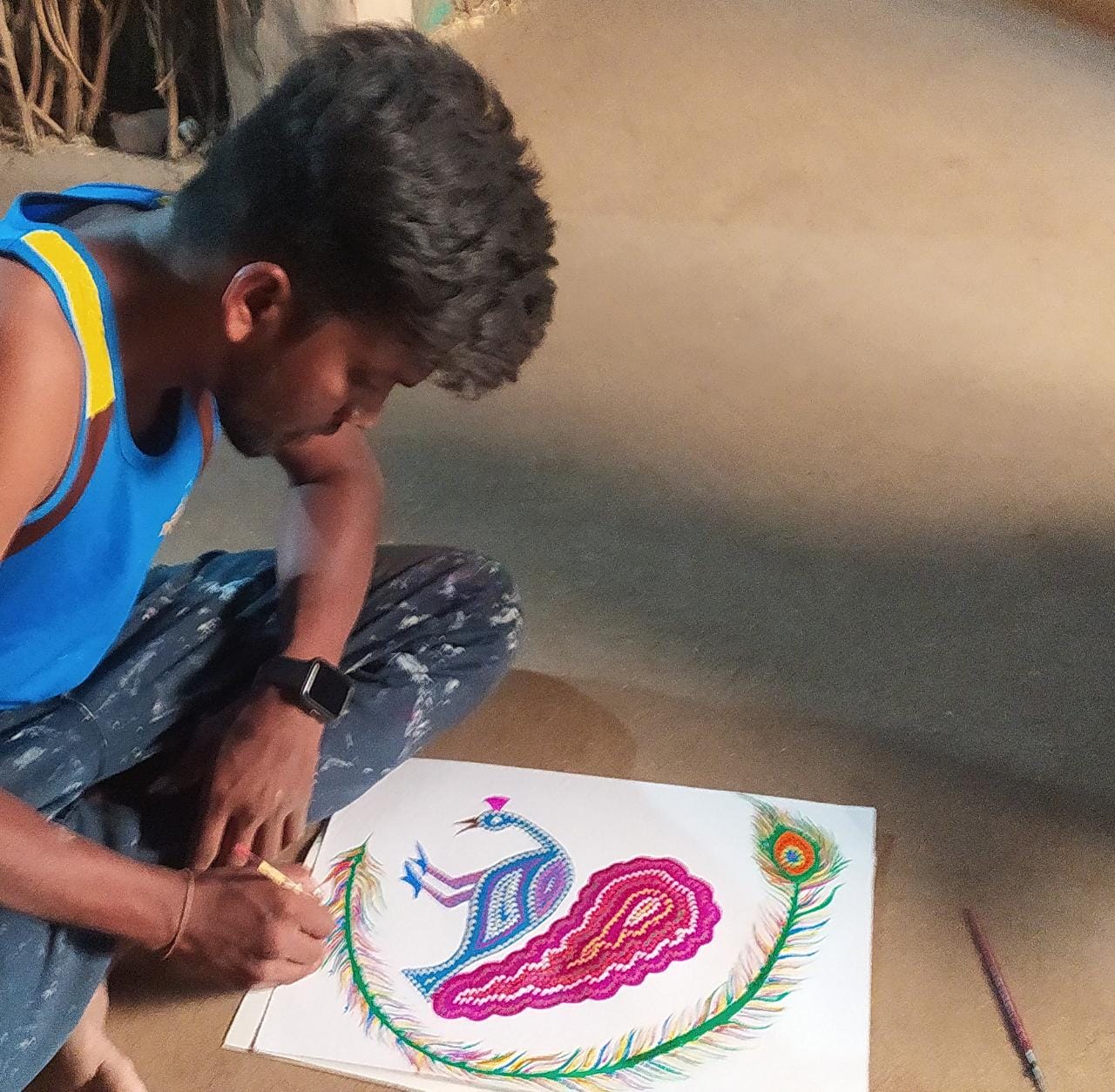 Priyanka, another trainee, lost her father at a young age. Her mother started stitching work to support the family. To assist her mother, she also learnt sewing/stitching & cloth painting. Today, she is a housewife & has 2 kids. She feels empowered after her paintings started fetching her goof price.
Abhay had never held any painting brush before the Tribal Painting Workshop organised by Sendhwa Forest Dept. But now he portrays his imaginations on canvas like a master.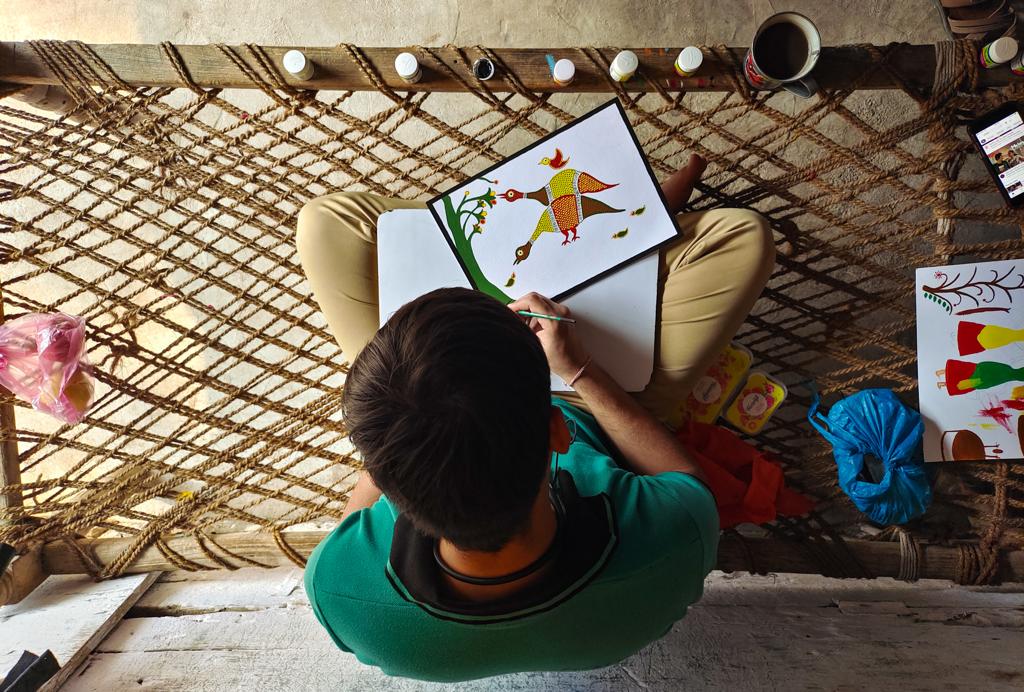 Sarita has interest in Painting since childhood. After getting the training from Sendhwa Forest Dept, she hopes to convert her hobby into a self-employment opportunity & wishes to become AtmaNirbhar.