Making the Big Splash: When IPS, IAS Officers Opt for Politics
Published on 25 Dec 2020,

6:26 pm IST

4 minutes read
Highlights
A number of civil servants have been making switch from administration to active politics. In this new series, we at Indian Masterminds focus on them, and whether they succeed in their new endeavours or fall flat on their faces. After all, politics is a great equaliser.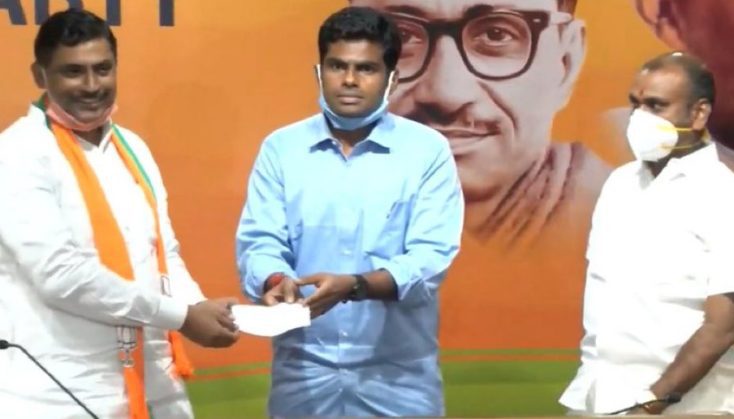 K Annamalai joining BJP after resigning from IPS
Ever since he stepped out of the caves thousands of years ago, man's search for greener pastures has still not ended. Whether it was the Spanish conquest of the vast South American tribal regions, the fortune seekers of Europe setting up colonies in North America and Australia and as recently as three centuries ago the subjugation of India by British, French and Portugese colonists, the goal was always the same: better prospects for them.
At a much smaller degree (though quite significant for the risk-takers) involve the search for greener pastures by the powerful civil servants of India. And what could give them richer dividends than an innings in active politics? This is going to be an ongoing attempt by Indian Masterminds to chronicle the "political journeys'' of IAS, IPS and other officers.
THE `SINGHAM' LEAVES HIS LAIR
Mr K Annamalai, the 2011-batch Karnataka cadre IPS officer who quit services and joined the BJP in August this year, is the latest serving bureaucrat to have made the transition from administration to politics.
Mr Annamalai is a mechanical engineer and an MBA graduate. His first stint was as additional SP, Karkala, for a few months before he was promoted SP, Udupi. During this period, he earned the reputation for dealing strongly with issues of communal tensions and student unrest. Soon, he was called `The Singham of Upupi' for his no-nonsense approach and style of work.
         In 2018, Mr. Annamalai was sent as SP, Ramanagara district.   He was transferred to Bengaluru soon after the B.S. Yediyurappa-led BJP government took over, to head Bengaluru South division where he served till May 2019 before he resigned.
Soon after resigning, he had said he wanted to serve people and correct inefficiencies in the system.
"I am taking a break from directly reporting to the government to serve the people and motivate and help them to be leaders at the grass root level," he had said while launching "To be leaders foundation" at his home town Karur in Tamil Nadu a few months ago.
IAS TO CONGRESS
Soon after Mr Annamalai made the switch, former IAS officer Mr S Sasikanth Senthil  from Tamil Nadu joined the Congress. Though he had resigned in 2019, he joined the Grand Old Party in November 2020. Speaking on the accession, he said, "After 70 to 80 years of independence, if there is a surge in the number of bureaucrats entering politics, it is quite clear that there is a big issue in relation to governance,"
He added: "A divide in values is pushing people in civil services to politics because we have realised the ideological fights currently playing out in the country need a political solution. The current system is not about people versus the government but it is letting people fight other people. That is why, even though the opposition is currently perceived as 'weak' in the country I have decided to join them in the hope that I can help them fight the current government,"
ACTORS STILL CALL THE SHOTS
Although over the decades, quite a few serving and retired bureaucrats from South India have dabbled into the world of politics, the limelight was always on the actors who made this switch. The biggest name, of course, is legendary Tamil actor and subsequently an equally popular Chief Minister M G Ramachandran, followed by his protégé J Jayalalitha. Very recently, matinee idols such as Chiranjeevi, Kamal Haasan and Ramya have been unable to resist the lure of the political arena.
But while most actors are helped by their larger-than-life onscreen persona, the bureaucrats-turned-politicians, no matter how good they had been in their task, had to start with a clean slate. Unless, like T N Seshan, they have a cult following.
PREVIOUS STORY

Andhra Pradesh: R Subrahmartyam got additional ...

NEXT STORY

Odisha govt appointed IAS Suresh Mohapatra new ...