A Unique Awareness Campaign in The Hills
Published on 27 Jan 2021,

1:19 pm IST

3 minutes read
Highlights
In a first of its kind initiative taken by Indian Forest Service (IFS) officer Vaibhav Singh, the Divisional Forest Office in Rudraprayag, Uttarakhand has been given a complete makeover to make aware people about the biodiversity and wildlife in the district.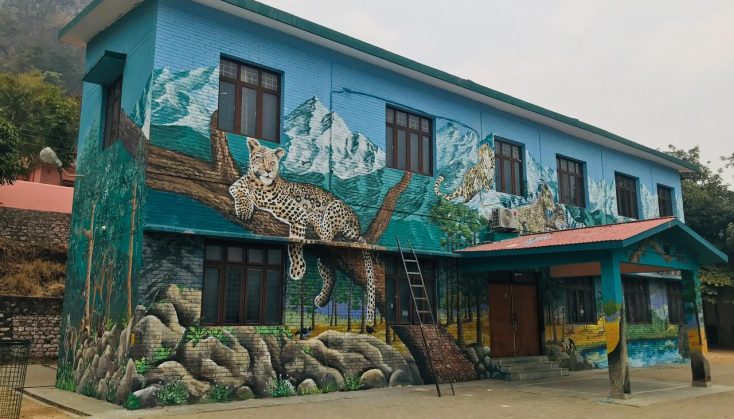 The transformation of DFO office in Rudraprayag, Uttarakhand
With a diverse variety of plants and animals found in India, it becomes necessary for people to know about their importance. As flora and fauna contribute to the aesthetic value of the planet earth, create awareness about them becomes all the more vital. Among several people involved in spreading this awareness, one of them is an IFS officer in Uttarakhand.
The officer in focus is Mr. Vaibhav Singh, DFO of Rudraprayag who has set an example by transforming his own office through beautiful wall art depicting unique biodiversity of the region.
While speaking to Indian Masterminds, Mr. Singh said "Many people in the district visit the DFO office quite frequently, due to which there is a lot of interaction with them on a daily basis. As the engagement between the people and forest department is high, we wanted to spread awareness and generate curiosity among them regarding the wildlife found in the district. For this, we gave a wall art makeover of the office, to give a different feel to the people."
THE MAKEOVER
For conducting the wall art drive at the DFO office in Rudraprayag, Mr. Singh contacted a local artist named Sandesh, who has been doing wall paintings in the district. Mr. Singh said "There was a group of 10 artists who transformed the office by their commendable skills. All of these artists were students of fine arts who were pursuing their education locally from Srinagar and other places also."
The project was completed in two weeks in December last year. While talking about the benefits received by the artists, he said "As part of the Uttarakhand government, our motive is to help such students by providing them with a platform where they can showcase their work and promote Indian art. By giving them such projects, they get an opportunity to present their art, and based on reference, they get more opportunities in other departments and institutions in the state."
THE APPRECIATION
The unique initiative taken by Mr. Singh has been appreciated widely on social media platforms. IFS Association shared a tweet which said, "Commendable efforts by IFS officer Sh. Vaibhav Singh, DFO, Rudraprayag Forest Division, Uttarakhand who gave his office a new look to create awareness about the flora, fauna and unique biodiversity of Uttarakhand."
Uttarakhand tourism department also tweeted "The office of Forest Department in Rudraprayag, Uttarakhand, has got a new look. A ten-member team of Dekhi Art Studio has painted the wall depicting flora and fauna of Uttarakhand."