Backing Up The Youth Of Kashmir Valley
Published on 3 Jan 2021,

11:05 am IST

3 minutes read
Highlights
With the help of Deputy Commissioner Shopian, Mr. Choudhary Yasin IAS and Department of Higher Education, more than 100 civil services aspirants from Shopian will appear for the UPSC prelims exam this year. Looks like the winds of change have started blowing in the Kashmir valley.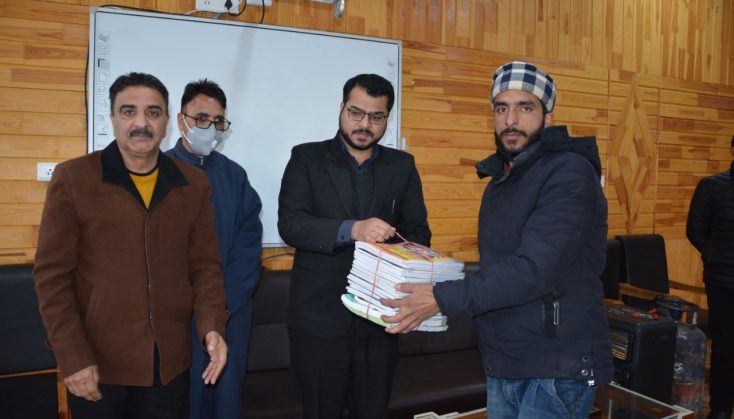 Free books distribution programme for civil services aspirants held at Shopian
Ever since IAS officer Mr Choudhary Mohammed Yasin joined as the Deputy Commissioner Shopian, he managed to bring things under control and give a facelift to this restive district in Kashmir. Apart from strengthening the economy and developing Shopian, he also kickstarted an initiative in collaboration with the Department of Higher Education to encourage the youth to appear for the Civil Services Exam.
This initiative called 'HADAF' took off in the month of March last year and is now entering into a new passion for the district administration as they conducted a programme where free NCERT books of class 6 to 12 were distributed among the aspirants.
The programme was attended by the Dr. Javid Ahmad, Principal Degree College, Nisar Ahmad, HOD Economics, Dr. Umar Farooq, Coordinator HADAF and other faculty members of the college.
In an exclusive interview with Indian Masterminds, Mr. Yasin spoke about the objective of the programme and their vision towards this initiative.
BOOKS DISTRIBUTION DRIVE
Mr. Chodhary Yasin said, "Acting upon the demand of the students, we gave them a set of books which are required to prepare for the civil services. Therefore, we covered the cost as a part of the program as most of the kids are from the below poverty line (BPL) category."
The Principal of Government Degree College, Dr. Javid Ahmad expressed his full support towards the initiative and lauded the efforts made by the district administration and Department of Higher Education. Dr. Umar Farooq also joined the Principal in appreciating both the members for initiating such a noble initiative.
Later Mr. Yasin had a detailed discussion with the UPSC aspirants in which he took note of their queries.
OBJECTIVE AND VISION OF 'HADAF'
Mr. Yasin said, "Out of the 600 applications we received while starting the initiative, a batch of 100 aspirants was selected. These 100 aspirants are either graduates or are still pursuing their undergraduation and will be writing the civil services preliminary exam this year.
"In terms of benefit, the main thing is that people don't have any good coaching institutes in Shopian. Therefore, most of them have to go to either Delhi to prepare for civil services; even for a provincial exam like KAS, they have to go to Srinagar. But that too would come at a cost which they have to pay for room and boarding. Therefore, the intention of starting this initiative was to provide coaching for people in Shopian at their doorstep. Secondly, the idea was to provide guidance as it helped people who were not sure about where to start."

Mr. Yasin added , "HADAF basically focuses on providing free coaching to civil service aspirants, but we are also incorporating elements which would equip them to attempt competitive exams like SSC, Bank PO etc. Later, we can further diversify into other competitive exams like CLAT, NEET etc."
The initiative is progressing in a good way. Study material is being provided free of cost to the students and the classes are being conducted via online mode due to the ongoing Covid-19 pandemic.
Mr. Yasin is hopeful that through this initiative, the students of the districts would get the guidance which they had been missing all this while.
PREVIOUS STORY

IAS officer Vineel Krishna appointed as new Spe...

NEXT STORY

Aishvarya Singh extended as Deputy Secretary in...