He's Not a Potter- He is an IAS Officer!
Published on 31 Oct 2020,

6:31 pm IST

5 minutes read
Highlights
Whether it's arriving at a potter's house to make `diyas', or driving a tractor in the Collectorate, IAS officer Srihari Pratap Shahi is setting new standards in connecting with the environment. And in the process, he is winning hearts of the people of Balia.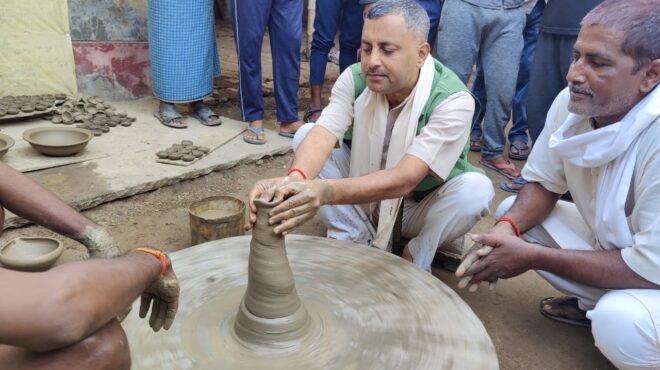 Mr. Shrihari Pratap Shahi, DM Balia (Courtesy : Mr. Shahi)
The festival season has started and celebrations are picking up for the big Diwali bang. During the lead up to the auspicious day, many Indians go out on a buying spree, and while lots of fancy items are up for sale, it's also the time for potters, weavers and traditional artisans to spread out their wares for the appreciating eyes. Perhaps sensing the imbalance, the district collector of Balia in Uttar Pradesh, Mr Srihari Pratap Shahi, decided to try his hands on the pottery.
Trying Out Pottery
In a gesture which has become the talk of the town in Balia, Mr Shahi recently reached a potter's house. He went there with his wife and children, squatted on the ground and started making `diyas'. The symbolism of Mr Shahi's act was not lost, and the impact of his deed has been spreading far and wide since then.
Prime Minister Narendra Modi's `vocal for local' campaign has found a big supporter in the form of Balia district collector.
Mr. Shahi is a true believer of Mahatma Gandhi advice, 'Be the Change you want to see in this World'. Reaching the potter's house, he also placed an order for over 1000 `diyas' for the decoration of the collectorate .
But the truly memorable sight of that unusual visit was Mr Shahi squatting down, near the non-plussed potter, and making a few `diyas' himself!
Soon after the DC's visit, a number of his staff members have come forward and placed orders for the potters' `diyas'.
Action speaks Louder than the words
When Indian Masterminds reached Mr Shahi to know about how he got this idea to visit the potter's house and try his hands on the wheel, he sounded very humble. The officer, who was promoted to IAS in 2012 said, " Each and every festival which we celebrate in our country has a connection to nature. In this fast pace world, we have somehow lost that connection and need to revive it. I was well aware of the condition the potters are facing these days. So, I always wanted to do something, but this time I didn't want it to be limited to speeches. When there is difference in your words and action, then others don't take you seriously. The action speaks louder than the words. So, I visited the potter's area and his house with my family, to convey to them that in these days of hardship brought about by the pandemic, the district administration is with them"
Mr. Shahi says this was just a small gesture and he didn't even think it would go beyond the Balia district. Of course, he's very happy that this step by him has inspired many others all over India.
Mr Shahi disclosed that he was now also planning a fare where all the artist including potters could showcase their art. "If we replace the lights and decorative materials with `diyas', it will solve many problems. We can support our artist and also be able to safeguard our environment,'' he added.
Change Starts from your own House
This is not the first time when Mr. Shahi did something as unusual as arriving at a potter's house with his family. Why, one can often see him driving the tractors or ploughing the field in the collectorate and official residence!
"I have a dream of making the collectorate a model of energy efficient and eco-friendly zone. Only when I am successful in this I will take this forward to our district people. I have understood it a long time ago that people will listen to you only if you set an example yourself. The change start from your own house and in my case it's the collectorate", He said.
Thanks to Mr Shahi's personal initiatives, the Collectorate of Balia doesn't release any waste outside its premises. The dry wastes are either used or given away for the recycle. The waste from the kitchen is used for compost making. He has also started organic farming inside the campus, and sometimes he works in the field with the gardener. He has also arranged renewable sources of energy to fulfill most of the requirement of the campus. Mr. Shahi says that people have already started coming to him for the knowledge of organic farming. He is hopeful that very soon he will be able to apply this model on the entire district.
PREVIOUS STORY

Jishnu Baruah appointed as the new Chief Secret...

NEXT STORY

Re-shuffling of 13 IAS officers in Maharashtra