Civil Servants As Photographers
Published on 19 Aug 2020,

9:25 am IST

4 minutes read
Highlights
A civil servant can be as fluent with a pen as with a camera. On the World Photography Day, many of them demonstrate their normally hidden talent.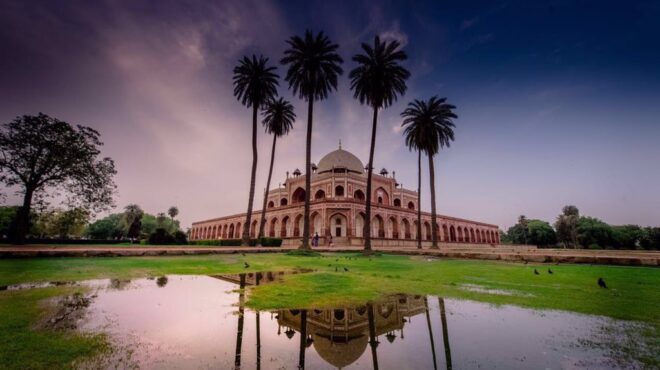 Humayun Tomb picture clicked by IAS Officer Keshav Chandra (Photo Courtesy: Twitter/Amitabh Kant)
On 19 August 2020 today, World Photography day is being celebrated and it is bringing out the hidden talent among many people. Among these are a number of civil servants! Taking time out from their strict routine and responsibilities, they also pursue photography. We will take you to some who have been making waves in this field.
Mr. J K Soni, a 2010 batch IAS officer from Rajasthan cadre, is currently the District Magistrate of Nagaur. As he quoted the great American photographers Irving Penn on twitter, "A good photograph is one that communicates a fact, touches the heart & leaves the viewer a changed person for having seen it. It is, in a word, effective. "
Speaking with Indian Masterminds, Mr Soni said "I was intrigued by photography from an early age, and it became a hobby as soon as I joined the civil services." After asking him how does he manage his work and hobby together, he replied "Mein vyasta hu magar asta vyasta nahi hu (I am busy but not disorganized). Therefore, I take out time for art and photography in addition to my professional commitments."
"In a person's life there are many moments which are captured by that person's eyes but it does not reach other people. Therefore, photographs help you to cherish all the moments which a person has captured while experiencing them.", he said.
Here are some of Mr. Soni's pics:
From Hobby To Passion
Mr. Pankaj Nain, a 2007 batch IPS officer from Haryana cadre was also among the bureaucrats who shared the first known picture in the world on social media, on the occasion of World Photography Day. In a telephonic conversation with Indian Masterminds, he said that "I started pursuing photography as a hobby from the past two years and I simultaneously dedicate my time towards this passion like my duty to the nation."
He also said that he is most inclined towards photographs that show the beauty of nature.
Kohima Started The Itch
Dinesh Kumar, an IAS officer who was recently posted to Kohima, Nagaland as Commissioner and Secretary also posted a tweet in which he captured a photograph of his daughter Mishika and said "Happy #WorldPhotographyDay to all the photographers and admirers of photography. Capturing the moments & memories of life makes it more interesting & meaningful !! The following pic on this day dedicated to my adorable daughter Mishika!"
Mr. Kumar officer told Indian Masterminds, "Photography gradually became a hobby for me when I started clicking pictures of nature, scenic beauty, memorable events and moments. When I moved to this beautiful city known as Kohima, I was amazed by its extraordinary beauty. It's heard that I picked up photography.
Apart from this, many other bureaucrats shared the photographs clicked by them, to celebrate the photography day. They include Mr. Keshav Chandra, the CEO of Delhi Jal Board, whose Humayun Tomb picture was posted by Amitabh Kant, CEO of Niti Aayog on Twitter.
In this era where there is an influx of technology, people have access to various products for several activities. Unlike the old times, where a few people were only inclined towards hobbies like photography, the trend is now changing. Photography may depend, to some extent, on the equipment used- but mainly the results depend on the photographer's creative use of the equipment. The bureaucrats have started telling us how.