Fighting COVID-19 Through Innovative Ideas
Published on 26 Oct 2020,

6:29 pm IST

4 minutes read
Highlights
It's really remarkable how the IAS officer Rajeshwari B contained the spread of Covid 19 in the Dumka district of Jharkhand. She did this by devising many pro-community events, as also by making use of technology.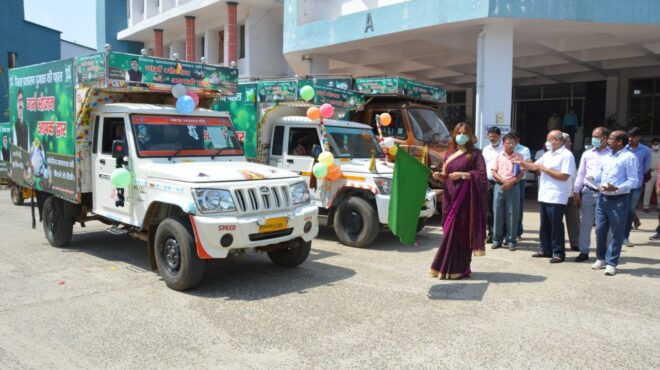 Covid 19 triggered not just fear and panic among the masses, it threw up new challenges before civil servants. The pandemic forced them to come out with new strategies, because nobody had told them to deal with it in the first place. Today, we are focusing on one such officer who has emerged as a true covid warrior.
She is the 2011-batch IAS officer Ms. Rajeshwari B, and heroic efforts helped in containing Covid 19 in the Dumka district of Jharkhand. She has been posted here as its Deputy Commissioner.
UNPRECEDENTED CHALLENGES
With Dumka having a population of over 12 lakh people, dominated mainly by tribals spread out in the semi-urban areas, it was not easy for Ms. Rajeshwari to be prepared for the worst. In an exclusive interview with Indian Masterminds, she discussed how she dealt with the pandemic with the help of the community as well as various initiatives launched by her during this unprecedented time.
"In our career, this is the first time we are seeing a health pandemic and it has also brought a lot of challenges in front of us. At the same time, it gave me an opportunity to understand and tackle the disease. A public health issue has many stakeholders involved, the biggest being the public itself. Therefore, at least initially, there was a strong and widespread fear among the people."Ms. Rajeshwari B, Deputy Commissioner, Dumka
Migrants returning to their homes in Dumka, carrying the potential virus with them, was the first big issue for Ms. Rajeshwari to focus on. Dumka shares its border with both Bihar and West Bengal.
"Being a border district. we needed to deal with the issue of migrants who were returning to Jharkhand. For this, we followed compulsory institutional quarantine for 14 days, and also strengthened the check posts for lesser movement of people. As Dumka is dominated by tribals and semi-urban areas, awareness about Covid was the next step we needed to focus on.''Ms. Rajeshwari B, Deputy Commissioner, Dumka
ONLINE COMPETITIONS TO KEEP PEOPLE INDOORS
As Ms. Rajeshwari points out, creativity doesn't wait for that perfect moment. It fashions its own perfect moments out of ordinary ones, With an aim to make more people aware of the pandemic during the lockdown, she started a series of events called "Corona me Kuch Karo Na" (Don't Make Unnecessary Movements during Corona). She started several online activities that would force people to stay indoors and not venture out. The whole purpose of these activities, she said, was to make 'homestay' a 'fun stay'.
Therefore, every day a new competition like singing, dancing, acting, writing and cooking, etc. was announced from the official social media handle of the administration. Three winners from each event were promised to be awarded with certificates after normalcy was restored in the district. These events became a big hit. People used to participate from home, and post their photos and videos on WhatsApp, Facebook, and Twitter.
TURNING WALLS INTO BLACK BOARDS
Apart from this, Ms. Rajeshwari also focused on the education of the children, as it was being compromised during the forced lockdown.
As a first step, the district administration of Dumka turned practical classes into online training Through new innovative ideas by the community as well as the administration, students were provided with education through several means.
Teachers and parents of Dumrathar school inJarmundi block jointly devised a new idea to teach children even during the lockdown period. In collaboration with the community, the teachers constructed more than one hundred blackboards on the walls of student's houses. A program called "Shiksha Apke Dwar", which is also being run in the many areas of Jharkhand was launched to counter the lack of network and smartphones in remote villages of Dumka.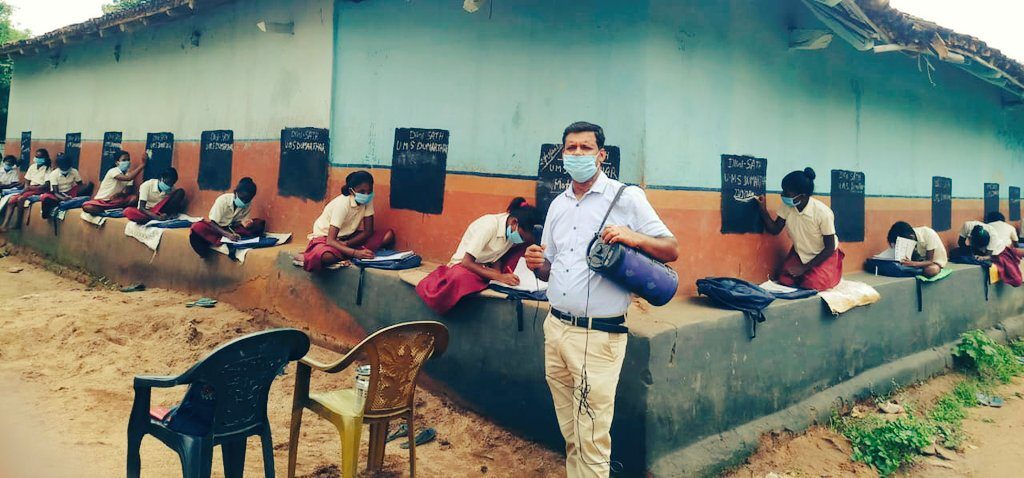 As the online study material was coming from the Jharkhand Shiksha Pariyojna, it was observed that most students in Dumka were not able to use the links as many of them did not have smartphones and internet connectivity.
To tackle this shortcoming, Ms. Rajeshwari said…
"The education department started this 'Digi Sath' program in which the content for every class was sent to the WhatsApp number of the student. Groups were formed firstly at the school level, in which all the students were included in the group, secondly at the block level, where all the educational staff members were included, and finally at the district level."

Ms. Rajeshwari B, Deputy Commissioner, Dumka
Ms. Rajeshwari says with pride that till now Dumka had recorded around 1,300 positive cases of Covid 19, out of which more than 1000 had recovered.