Unknown Facts Of Ayodhya's Ram Temple Revealed By Ex-IAS Mishra
Published on 21 Oct 2023,

9:04 am IST

3 minutes read
Highlights
The Ram Janmabhoomi Temple Construction Committee Chief Nripendra Mishra takes viewers on a guided tour to the temple and it's sanctum sanctorum
Mishra has been Principal Secretary to two chief ministers Mulayam Singh Yadav & Kalyan Singh before becoming Principal Secretary to Prime Minister Narendra Modi
In a video interview he talks about hitherto unknown facts about the temple that is due to open to public in third week of January 2024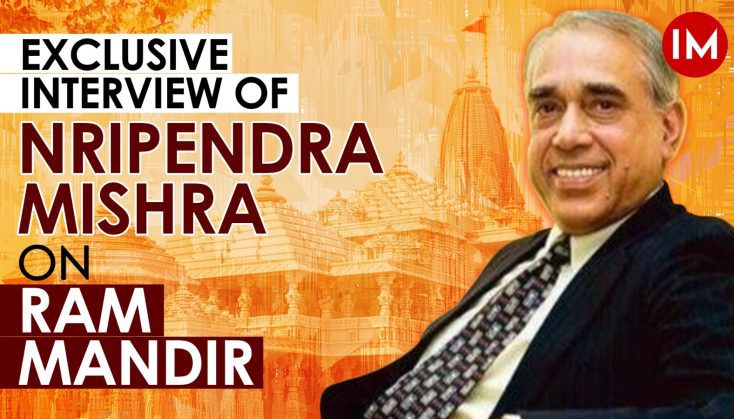 Ram Janmabhoomi Temple is an issue that divided the country for over 500 years. Now, the temple is being built on orders of Supreme Court of India, the main challenge was to maintain social harmony in the country. That was the message conveyed by Prime Minister Narendra Modi to his former Principal Secretary Nripendra Mishra after he was appointed chairman of Ram Janmabhoomi Temple Construction Committee as mentated by the apex court. Mr Modi is likely to inaugurate the temple and declare open for public anytime between 20th and 24th of January 2024.
Despite having held many challenging assignments during his career the 1967 batch IAS officer feels the current assignment has been the most challenging and stressful. After all he was planning and supervising one of the most awaited and controversial projects in the country.
He visits Ayodhya twice a month to ensure the work is flawless and is completed in time. He has a countdown clock installed in his makeshift office at the temple complex. It took us several months of persuasion to make him agree for this tête-â-tête. And he replied too each and every question.
Indian Masterminds interacts with bureaucrats in various assignments being handled by them. We couldn't think of a better person then Mr Mishra, a seasoned UP cadre IAS officer of 1967-batch who seems to have taken up almost all assignments, a civil servant aspires for during his career. He was Principal Secretary to two ideologically opposite chief ministers – Mulayam Singh Yadav and Kalyan Singh – Commerce and Telecom Secretary at the Centre, Telecom Regulatory Authority of India (TRAI) Chairman before being appointed Principal Secretary to Prime Minister Narendra Modi in 2014. In 2019 he relinquished the job to take over what he describes as the 'most challenging and stressful job' of his life. "I can't sleep at nights and often wake up in the middle of the night worrying about the deadlines or some niggling problem coming up during construction.
We needed to know the uniqueness of the temple, its dimensions, timelines, facilities being provided to tourists and of course what instructions he received from the Prime Minister before he was entrusted with the job.
We wanted to know whether the idol kept in the present makeshift temple be kept in the new temple or a new idol would be installed. How will he ensure that the sunrays should fall only for a minute in Ram Navmi day every year in the idol's forehead? What were the challenges? Will the temple construction complete in January 2024? How will construction continue with public visiting the temple? Questions were too many. We tried to do ask everything our readers would like to know.
Please watch the full interview.
PREVIOUS STORY

The Magical Journey from Humble Beginnings to t...

NEXT STORY

Arunachal Gets STPF After Decline in Tiger Numbers