The Life At IGNFA, Unveiled By IFS Officer Arushi Mishra
Published on 15 May 2023,

2:51 pm IST

1 minute read
Highlights
Ms. Mishra from UP's Prayagraj, who is a B.Tech from IIT Roorkee, got through UPPSC-2019 with 16th rank, and Indian Revenue Service (IRS) at 229 rank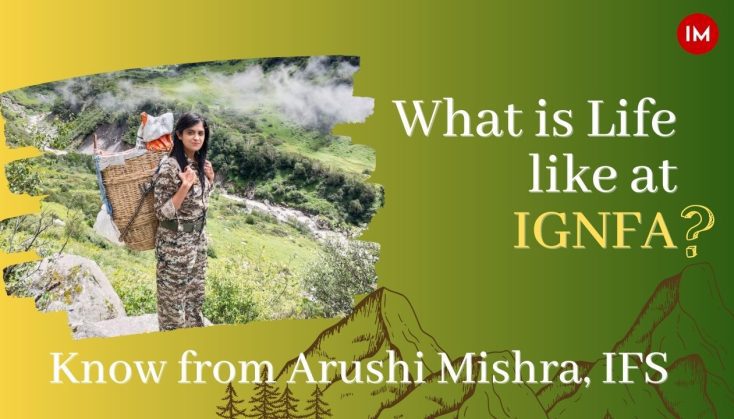 Indian Forest Service (IFS) Officers after being selected by the UPSC, undergo a 16-months training at Indira Gandhi National Forest Academy (IGNFA), Dehradun. Before that, like every civil servant, they undertake a mandatory three and a half-months training at Lal Bahadur Shastri National Administrative Academy (LBSNAA), Mussoorie.
People are generally curious about the kind of training IFS probationers undergo at IGNFA. In an exclusive interview with Indian Masterminds, Arushi Mishra, a 2020-batch IFS officer, shared about her life and experience at Forest Academy, Dehradun. She is presently posted as the Director and DFO, National Chambal Sanctuary, Agra. She says everything learned at IGNFA is something one needs to go back to while solving problems in the present and future.
Ms. Mishra from UP's Prayagraj, who is a B.Tech from IIT Roorkee, got through UPPSC-2019 with 16th rank, and Indian Revenue Service (IRS) at 229 rank. She also cracked the Indian Forest Service in 2018 with an AIR-2. So her choice was obvious.
PREVIOUS STORY

Ex-Noida DM IAS Suhas LY Wins Gold In Thailand ...

NEXT STORY

IAS Vinay Kumar Gets Addl. Charge Of Rural Deve...