Patiala Raises Cleanliness Bar in Punjab
Published on 22 Sep 2023,

9:08 am IST

6 minutes read
Highlights
Patiala district is consistently performing well in Swachhta ranking in Punjab
Recently, DC of Patiala ordered all offices to stop the use of single use plastic
The city also has its own effective model for a cleaner and greener Patiala
On the occasion of Mahatma Gandhi's 145th birth anniversary on 2 October, Prime Minister Narendra Modi had started the ambitious 'Swachh Bharat Abhiyan' (Clean India Mission) in 2014. Ever since, this Mission has benefited the country in a big way. And, Patiala in Punjab has consistently been one of the top performers in Swachchta rankings in the state, and was adjudged the cleanest city of Punjab in 2021.
The city has its own model to work towards Swachhta Mission and make Patiala cleaner, greener and plastic free. Recently, Patiala administration started Indian Swachhata League 2.0 and Safai Mitr Suraksha Shivir on the lines of the Swachhta Mission. Now they are working towards a plastic free Patiala. The administration banned single use plastic in all offices and has a solid plan for waste disposal as well. The good thing is, the initiatives being taken by the administration for Swachhta Mission have become popular among the city dwellers. The sanitary workers, too, are benefiting from regularly organised medical camps.
Indian Masterminds spoke to DC of Patiala, 2014 batch IAS officer Sakshi Sawhney, to know how Patiala became the cleanest city in Punjab.
PATIALA MODEL
Swachhata hi Sewa (SHS) is a prelude to Swachh Bharat Diwas which is celebrated on 2 Oct. It is jointly organized by Swachhta Bharat Mission (SBM) Urban and Grameen.
The initiative aims to mobilize citizens through various activities like the Indian Swacchh League 2.0, 'Safai Mitra Suraksha Shivir', where training is imparted and safety kits distributed to all Safai Mitras apart from connecting them to government schemes and other IEC activities like cleaning drives, etc. The 'Indian Swachhata League' is India's first inter-city competition led by the youth towards building garbage free cities under Swachh Bharat Mission-Urban 2.0.
The theme for this year is 'Garbage Free India' and keeping that in mind, various activities are being organised in Patiala.
Ms. Sawhney said, "In order to mobilize people, we organized Swachhta rally in the district where more than 800 people participated despite the rains. We also organized medical camps for the sanitary workers throughout the district, where around 1700 workers were benefited."
"Swachh Patiala Champions organized a Cycle Rally & Plogging Drive at @mc_patiala as part of #ISL2 #SwachhtaLeagueSeason2.

Youth & citizens actively joined in for the Rally & Plogging Drive, making it a great success! 🚴‍♀️🌿 #YouthVsGarbage #SwachhataHiSeva" pic.twitter.com/esgQ9vJkSV— DC Patiala (@DCPatialaPb) September 17, 2023
NO PLASTIC IN OFFICE
She also ordered that no office in Patiala should use 'single use plastic', suggesting the use of alternatives.
Every month, the employees self-assess themselves based on different parameters and the department that demonstrates zero plastic waste and consumption can declare itself plastic-free and is duly recognized by the administration.
Pledge boards are placed in the offices in order to involve all the employees. The alternative to plastic cutlery is reusable cups, bottles, and other such utensils.
Even the canteens in offices do not use single-use plastic cups while the employees are being encouraged to use cloth bags in place of polythene bags to bring their belongings.
DISPOSAL
Mountains of garbage are a common sight in cities. To ensure that does not happen in Patiala, the administration has put in place an action plan.
There are 17 MRF centers in the corporation area, in Rajpura, Patran, Gaggha, Nabha and Samana, where around 284 tons of waste is processed every day. Four more MRF centers will be developed in Nabha in the coming months.
The city has bio-remediated 3.5 acre land of dumpsite and 2 acres in Rajpura, 2 acres in Patran, 4 acres in Nabha, 5 acres in Samana, and work on 2 acres of land is currently going on in Gaggha.
In order to process wet waste, a new bio-gas plant will be constructed soon. It will have the capacity of processing around 60 tons of wet waste per day.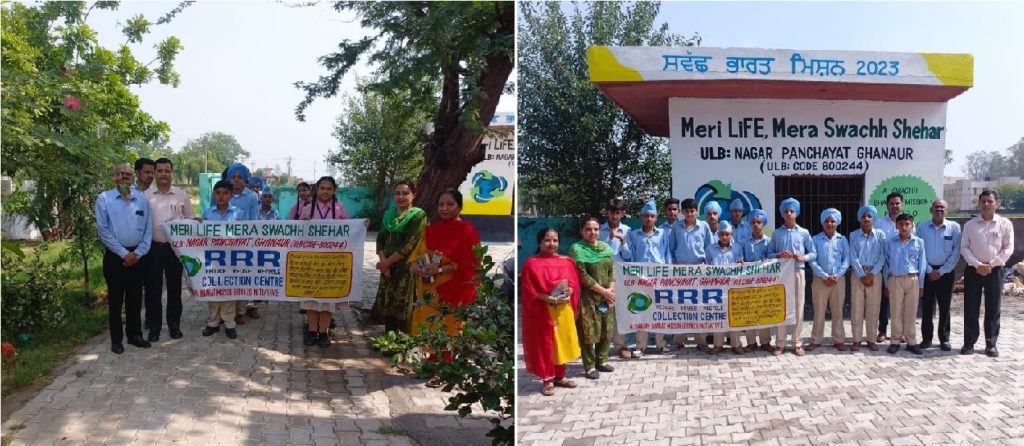 TOWARDS PLASTIC FREE PATIALA
The administration is going to organize a competition among market associations where, as per the parameters, one of them would be declared plastic free and rewarded, paving the way for others in the future.
"We are also going to organize the same thing in the campuses of universities. Also, penalties will be imposed on the owners of vacant plots where garbage accumulates. We are also involving religious places in our initiatives to make festivals single use plastic free," Ms. Sawhney said.
BEHAVIOURIAL CHANGE
In any city, the biggest threat to cleanliness is people's behaviour and habits. To bring about change in such behaviour of littering, garbage disposal in the open, and using plastic, the officer is organsing Nukkad Nataks to create awareness among the people on the adverse effects of plastic waste. Cycle rallies ate also held in order to involve citizens in the awareness campaigns.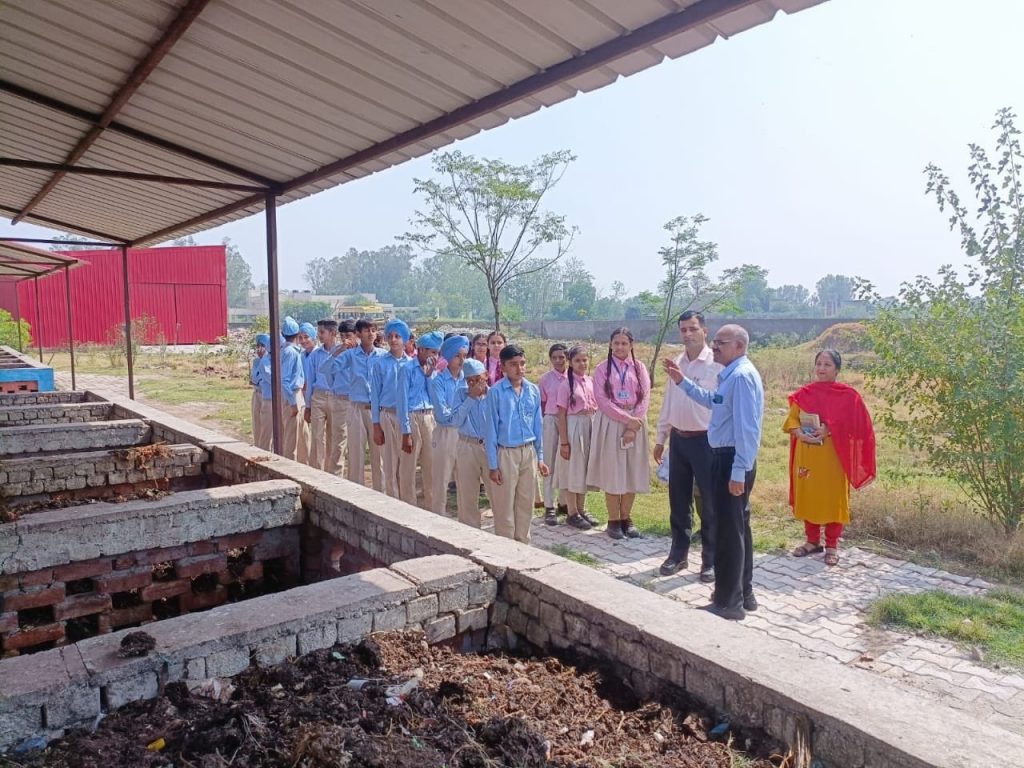 Exposure visits to MRF centers are also being planned for students. There will be a waste-to-wealth competition in schools to inculcate sensitivity towards the environment in the students at a young age.
They explored MRF, RRR sites,& compost pits at NP Ghanaur, gaining firsthand knowledge about waste management & importance of a cleaner, greener future.
GREENER PATIALA
To make Patiala greener, plantation drives are organised every day throughout the district. In this initiative, around 500 citizens are being involved in various plantation and park beautification activities.
While the green belts are being developed, solar panels have been installed in government buildings.
"The move towards greener and cleaner cities begins with each one of us. Small actions that we take today pave the way for a better tomorrow. Together we can transform the city, connect with nature, and envision a better lifestyle," Ms. Sawhney summed up.
We're excited to kick off our journey in the Indian Swachhata League(ISL 2.0)! In a productive meeting with all stakeholders,we witnessed the unwavering determination of #TeamPatiala to create a cleaner, greener environment for all. let's build a vision of a plastic-free Patiala! pic.twitter.com/cUbf6dFUw3— DC Patiala (@DCPatialaPb) September 15, 2023
ਦੂਧਨਸਾਧਾਂ,ਘੱਗਾ,ਪਟਿਆਲਾ ਕੈਂਟ ਦੇ ਸਰਕਾਰੀ ਸਕੂਲਾਂ ਦੇ ਵਿਦਿਆਰਥੀ ਅੱਗੇ ਆਏ,ਪਰਾਲੀ ਨੂੰ ਅੱਗ ਨਾ ਲਾਉਣ ਵਿਰੁੱਧ ਇਕਜੁੱਟStudents have taken the lead in raising awareness to tackle stubble burning, showing their commitment to environmental responsibility & a cleaner future🌾🌍 #StubbleBurningAwareness pic.twitter.com/03pgHcTVvn— DC Patiala (@DCPatialaPb) September 20, 2023
PREVIOUS STORY

From Public Servant to Bestselling Author: The ...

NEXT STORY

Two Haryana IPS Officers to be In-Charge of SIT...