Smart Move in a Smart City: A Welfare Initiative for Women and Lactating Mothers
Published on 17 Feb 2021,

1:49 pm IST

4 minutes read
Highlights
A brainchild of Ms. Aditi Garg, the CEO of Smart City Indore, it's a `women-only' centre set up at four different locations in the city. Aptly named 'SHE-Kunj', these centres act as waiting or feeding rooms for women at the most crowded spots of Indore.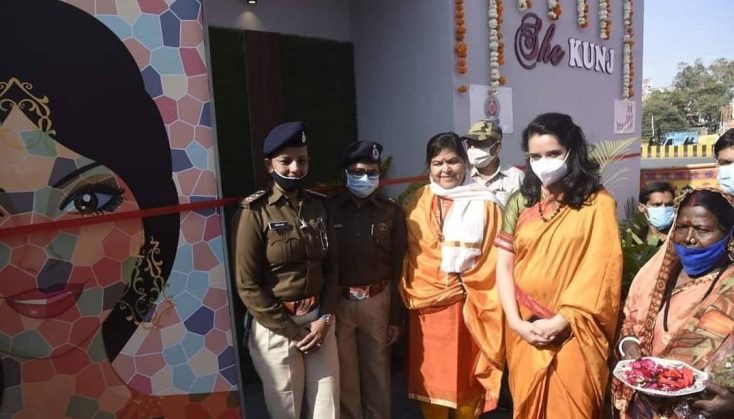 Ms. Aditi Garg launching SHE-Kunj centre in Indore
Yet again, IAS officer Aditi Garg and the Indore Smart City have added another feather in their caps. This time it's not about preserving Indore's heritage or earning revenue from reducing carbon emission (as we reported earlier in Indian Masterminds), but for the first time a centre named 'SHE-Kunj' has been launched which aims at providing much needed convenience to women. With the help of this facility, women can now avail sanitation facility, separate feeding rooms, diaper & sanitary pad dispensing machines and other amenities at some of the most crowded places in Indore.
The initiative has been taken up at four locations: Palasia Women Police Station, Chappan Dukan (56 Shops), Vijay Nagar and Meghdoot Upvan, with the aim of providing a clean and safe environment for women where they can avail specialised and required amenities.
While speaking to Indian Masterminds, Ms. Aditi Garg discussed about the purpose and benefits of this novel idea.
THE IDEA
She said, "We have identified some areas in the city which are heavily crowded such as market places, bus stops, hospitals etc. and are coming up with 'SHE-Kunj' centres, which are a mix of women toilets and feeding centres."
"If a feeding mother is out with her young one in a crowded place and wants to find a safe and secure spot where she can comfortably sit, relax and have the right environment to feed the baby, the 'SHE-Kunj' center will assist them with all their specified needs," she added.
Apart from the four centres which are already functional, 21 more such centres are coming up in Indore with the ardent leadership and diligent planning of the Smart City team.
THE PURPOSE BEHIND THE INITIATIVE
While speaking about the need to launch such an initiative, Ms. Garg explained "Before this initiative, women used to have access to only public toilets and no feeding centres or waiting rooms, unlike in foreign countries. We also felt the need to provide such facilities to women because such centres do not even exist here."
"The need also arises from the fact that these centres are non-existent and secondly, in the age of Covid pandemic and social distancing, such simple tasks become more difficult for women. This is mainly because of no access to a clean environment, safety, security, privacy, and social distancing. But by launching the 'SHE-Kunj' centres, all of these hurdles can be incorporated," she emphasized.
Each centre is built in an area covering 400 square feet and offers home-like facilities in the middle of a market or any other crowded place. Apart from the sanitary pad machines, women there also have access to beauty and cosmetic products. The centres are guarded by the deployed caretakers and women guards.
BENEFITS OF THE INITIATIVE
Taking the instance of the 'SHE-Kunj' which has been built near a police station, Ms. Garg listed out some benefits which she noted after the facilities were started there. She said "There is a regulation that you cannot have a woman waiting inside a police station, so we started realizing that women are using these centres to wait and relax, instead of waiting inside the police station. With this, we saw a kind of synergy and effect which we did not even expect coming out of this initiative."
This idea has left the local police coming up with demands of opening more such waiting rooms in the same vicinity so that women have ease to sit and relax in a safe environment. This welfare initiative has been prepared on the basis of the Public-Private Partnership (PPP) model in which the contractor would also maintain this centre for the next 15 years.