A Superhuman Bureaucrat
Published on 10 Sep 2020,

10:16 pm IST

7 minutes read
Highlights
Mr Virendra Ojha is a civil servant who is an ultra-distance runner, A UPSC coach, a Novelist and a Poet. The 1993-batch IRS officer packs 48 hours of work in a day.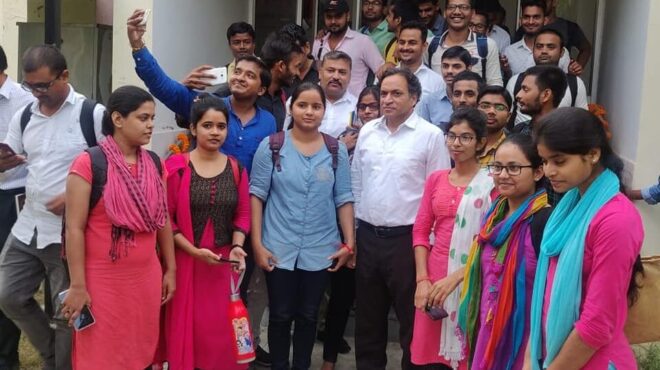 Could somebody be a poet and a novelist and an ultra distance runner and a mentor for UPSC students besides being a serving civil servant? Yes, if his name happens to be Virendra Ojha who has two websites, a YouTube channel, two Facebook pages and a Telegram channel relaying his online lectures twice every day.
Posted as Income Tax Commissioner in Ahmedabad, Ojha runs 10-15 Kms every morning, writes at least 2000-words daily for an ongoing novel, attends his 9 to 6 office and takes online lectures for UPSC aspirants. How does he manage to squeeze in so many things in a day? "I get up at 4 in the morning and go out for my daily jogs. After coming back, I devote time to write the next part of my novel – Allahabad Diary, before leaving for office", he told Indian Masterminds.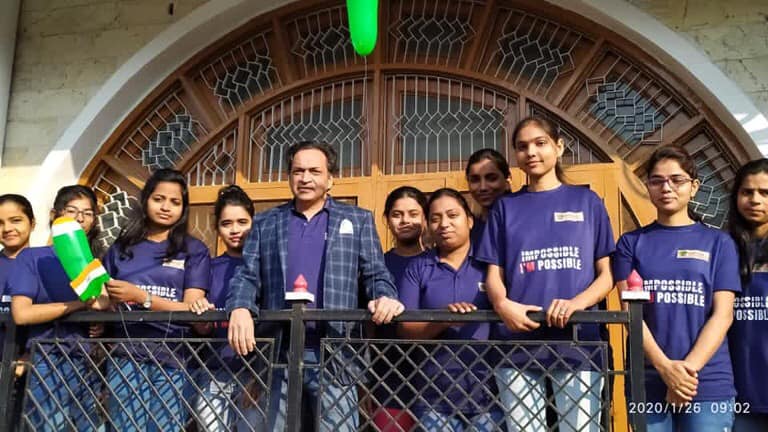 Then you must be teaching students in the evening? "Finding time for teaching is the most difficult part. I take a 45-minute online lecture during lunchtime. I have foregone my lunch for this. The second lecture takes place late at night. In between whenever I get time and ideas, I write poetry", he says.
For the 1993-batch IRS officer from Allahabad, reading, writing and running are as much passion as teaching. Soon after his selection in the civil services, he had started teaching UPSC students. But, then running and writing consumes so much time that he returned to teaching only in 2015. He has started free coaching – called Margdarshan (guidance) – for the underprivileged with help of about half-a-dozen like-minded colleagues from civil services.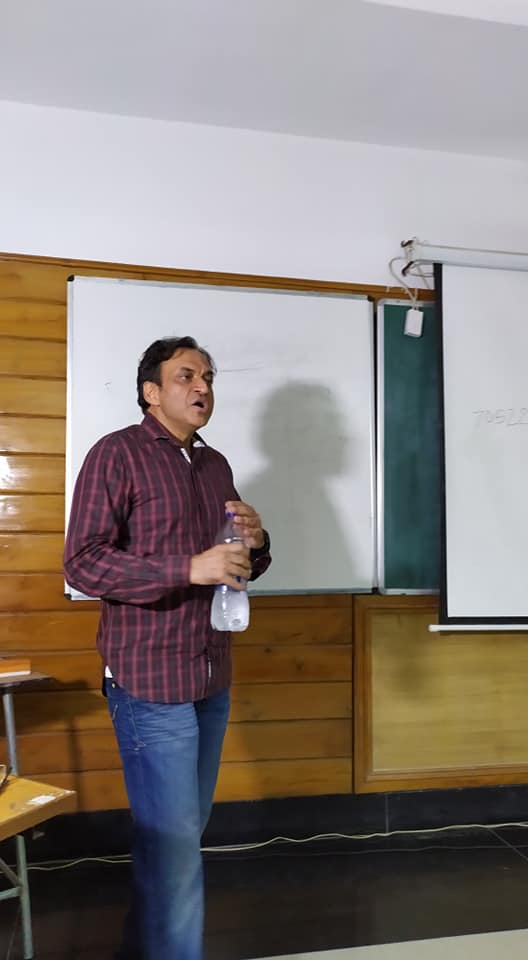 FREE COACHING FOR THE POOR
How did the idea of launching a free UPSC coaching crop up? "I am an ultra-distance runner doing inter-city week-end running. It was during one such run that I found underprivileged school-bound students gawking at my beacon-fitted car. They asked me can they too get this red beacon car and that triggered the thought of training students like them to be a civil servant", he says.
But, teaching doesn't come easy, least of it for UPSC students, who have already mugged up almost everything. To be fully-prepared to teach them, Ojha did intense self-study for an year and a half. Then he found couple of helpful people back in Allahabad who facilitated setting up a coaching in a 5000-sq ft area two years ago. The premises has a fully packed library with all books and literature required for UPSC preparation and a classroom with state of the art projector for Ojha's online classes.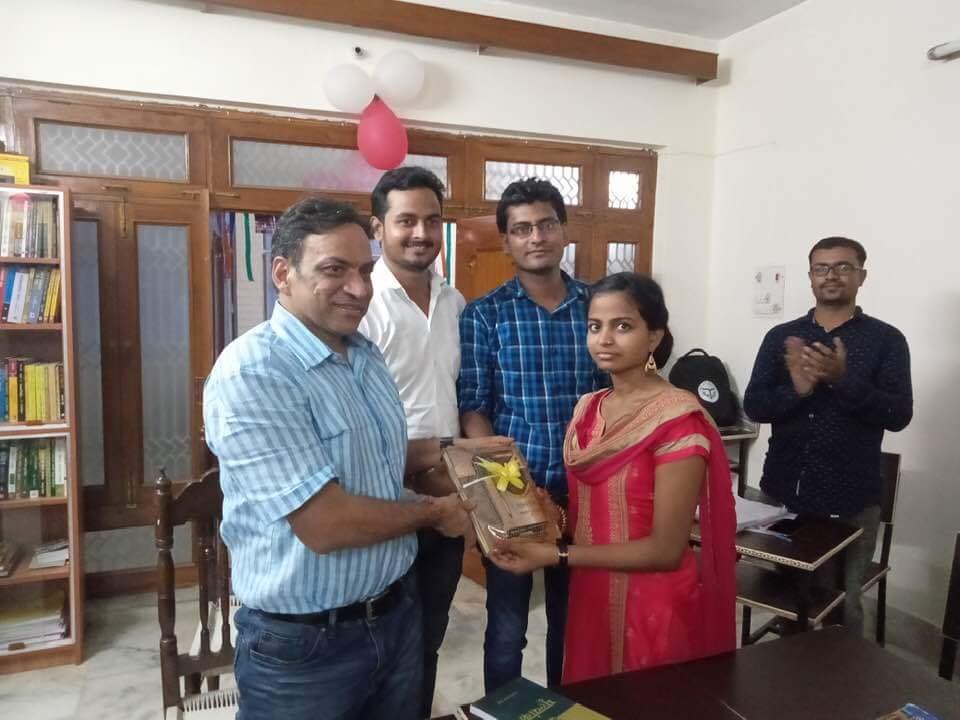 STUDENTS SPEAD ALL OVER
These lectures are also relayed over Facebook, YouTube and his websites to help students all over the country. Each of his class is attended by 45-50 students in his Allahabad centre besides about 3000 students attend it online from different parts of the country.
With the advancement in technology, it doesn't matter whether teacher is stationed at Allahabad or Ahmedabad; or whether students are in Ballia or Bikaner, teaching has become so much easy – given the teacher should be able to captivate the students with his knowledge, oratory and teaching style.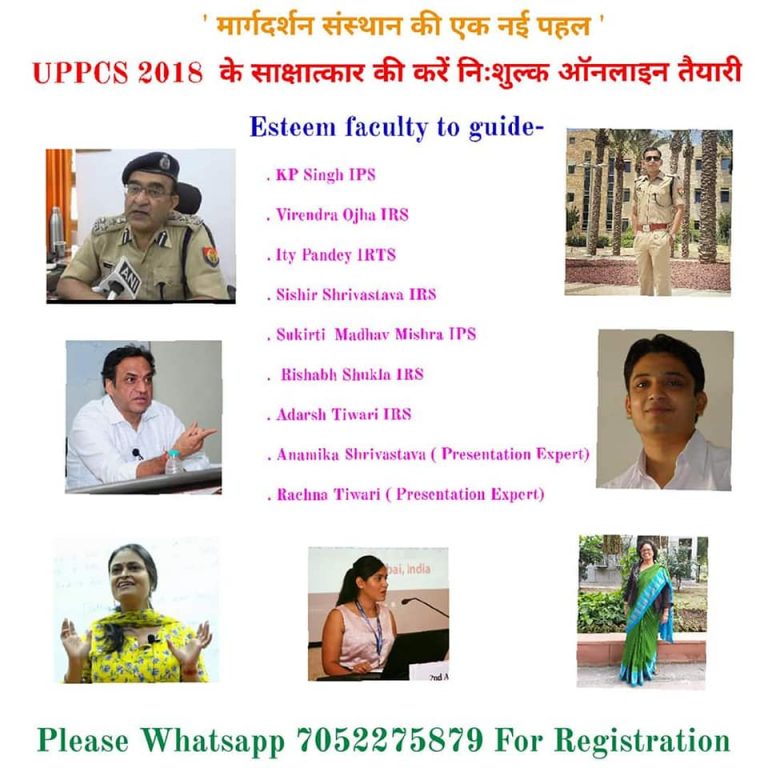 As the work progressed about half a dozen colleagues from civil services too chipped in. These included people like his wife Ity Singh IRTS, KP Singh IPS, Shishir Srivastava IRS, Sukriti Madhav Mishra IPS, Rishabh Shukla IRS, Adarsh Tiwari IRS, Mohit Jain IRS, Rajgopal Sharma IRS, Manoj Gupta IRS, motivational speaker Amit Seth besides presentation experts Rachna Tiwari and Anamika Srivastava.
Not only do they don't charge a single penny from the students but they also extend monetary help to the needy meritorious students. They have been giving smartphones to brilliant students who can't afford it. The coaching conducts a test and an interview to select its wannabe students.
STUDENTS BAGS AIR-12
Has his hard work produced some results? "Oh yes, Ajay Jain, who has All India Rank (AIR) 12 this year, was my fellow teacher in the coaching", Ojha exclaims adding, "We are just two years old and yet to find out feet properly" Jain, an Electronics Engineering graduate from MLN Engineering College, Allahabad, had AIR 399 in 2017, AIR 141 in 2018 and AIR 12 in 2019. And he had taken Geography as an optional subject.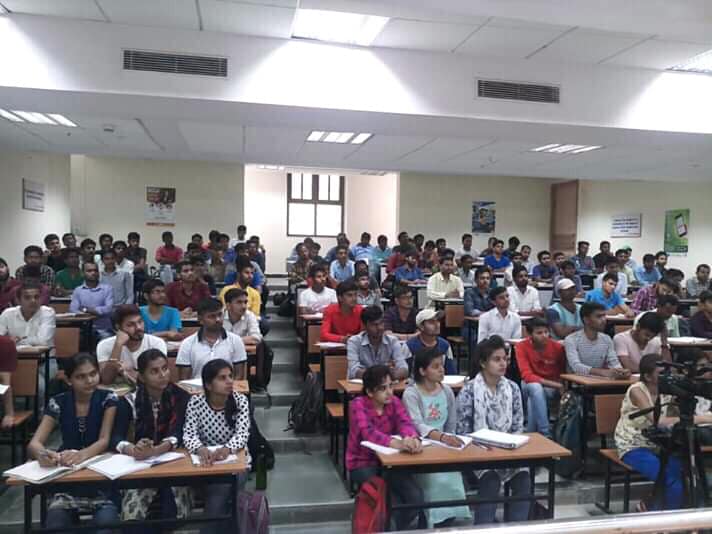 His wont is to experiment continuously. This is why he plans to change his strategy. "I am going to catch them young – at 19-20 years age – who can prepare for the UPSC while completing graduation. I already have couple of supremely talented students in that age bracket and am sure that they will crack the ultimate test," he says. Ojha never gives written notes. He simply gives lectures expecting students to prepare their own notes. So far there are over 600 lectures and 100 mock tests lying on his website and Youtube channel. And with every passing day, the number keeps on growing.
But, doesn't so much running drain him physically? How does he get so much energy to write poems and novels, complete his office work and then teach till late nights? "On the contrary, it invigorates me physically, mentally and spiritually. It is a habit like eating and drinking," he says.
100-KMS A WEEK RUN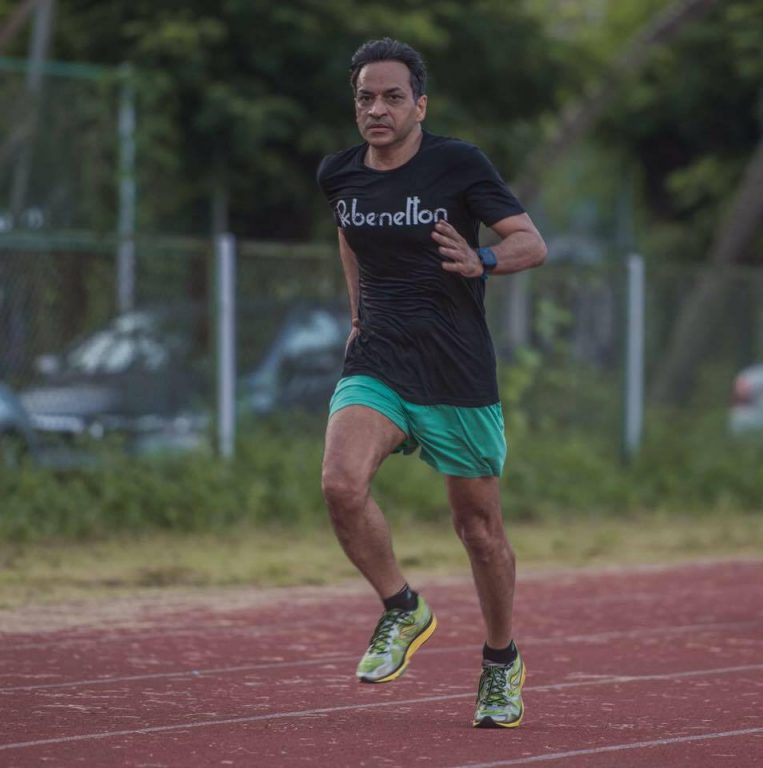 He has undertaken inter-city runs like Guwahati-shillong (100 Kms), Guwahati –cherrapunji (54 Kms), Mumbai- Lonavala (83 kms), Mumbai-Pune (176 Kms), Shimla-Kalka (96) and Durban-Pietermaritzburg (74 Kms). He usually starts his run around 11 pm on Friday or Saturday night and finishes around 7-8 in the morning. "I have a target of running at least 100 kms a week. I run 10-15 kms on weekdays and complete the target on the week-end", says Ojha. He usually clocks just 45 minutes to complete 10-kms run.
And how does he sustain his writings? "That is for inner satisfaction. My first book Kuchh Shabd Mere, a collection of my poetry, was released two years ago by then Union Minister Kalraj Mishra and then West Bengal Governor Kesari Nath Tripathi in Allahabad. My second book Kuchh Samvad Mere, against a poetry collection, is lying with a publisher for publication. I am currently writing three novels simultaneously", he told The Indian Masterminds.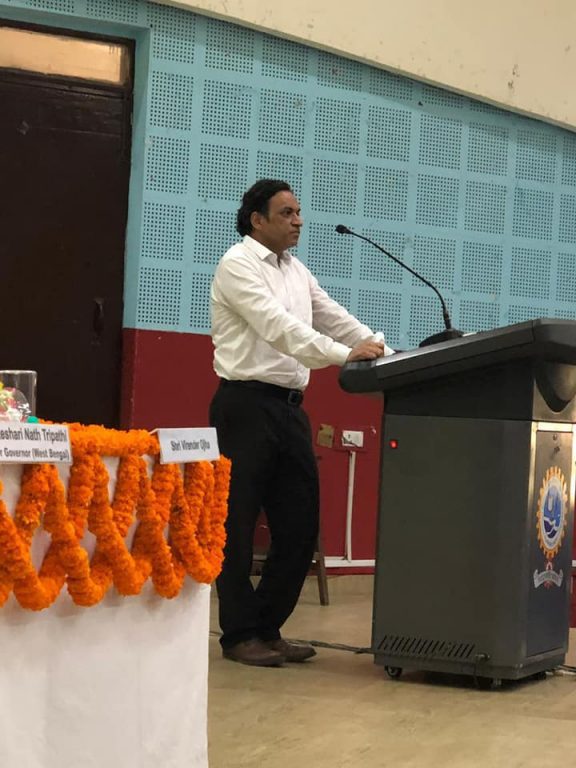 FIRST BOOK ON FACEBOOK
Three novels simultaneously! Isn't that too much on his plate? He says he was writing a novel on an urban love triangle and in between came up another plot – of an underprivileged Hindi medium student of Allahabad University, Anurag Sharma, cracking the UPSC. He put up glimpses of his second novel – Allahabad Diary – on his Facebook page and it received tremendous response. He has thus put the other novels on hold and has been serialising Allahabad Diary on Facebook. This is in fact, first such attempt at serialising an unpublished book on Facebook.
The novel has been chronicling Anurag Sharma's preparation for civil services, his competitors in the University and then the mad race to get him married. He has already put out 139 episodes – each about 1500-2000 words long. How long will it continue to conclude?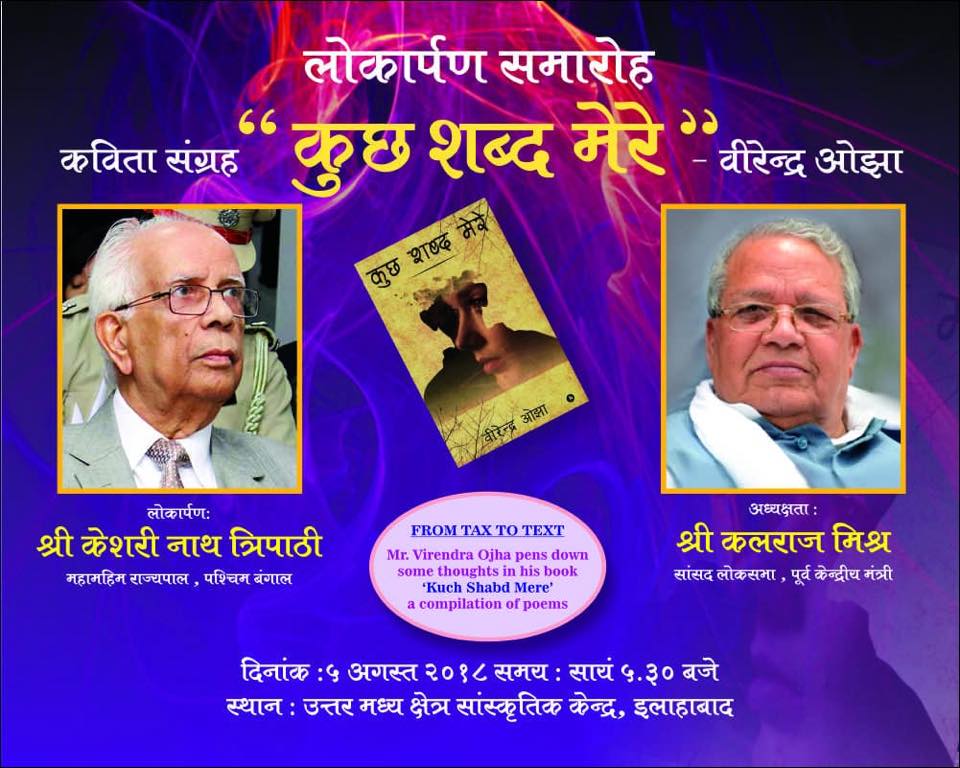 "I hope to complete it by early next year. Many twists and turns are awaiting readers. There is so much pressure on me to write two episodes per day, but that's not possible, given my hectic schedule. Every day, I have been receiving 150-200 messages and reactions over that day's episode", he says.
He plans to compile all the episodes into a book. "It is being received so well that I got more compliments and congratulations when my protagonist Anurag Sharma, got selected in the UPSC, than when I myself got selected in the Civil Services in 1994", he says.
Seems we are yet to hear a lot more not only on Anurag Sharma but also on Virendra Ojha, who is more than keen on passing off his 26-years experience in service to wannabe civil servants.