Why Has This IFS Officer Been Installing Cameras in His Office Since 2015?
Published on 22 Jun 2023,

9:18 am IST

5 minutes read
Highlights
IFS officer Alok Katiyar installed CCTV cameras in his office, including his room
His aim is to bring transparency at workplaces
He says that it makes people more time bound and alert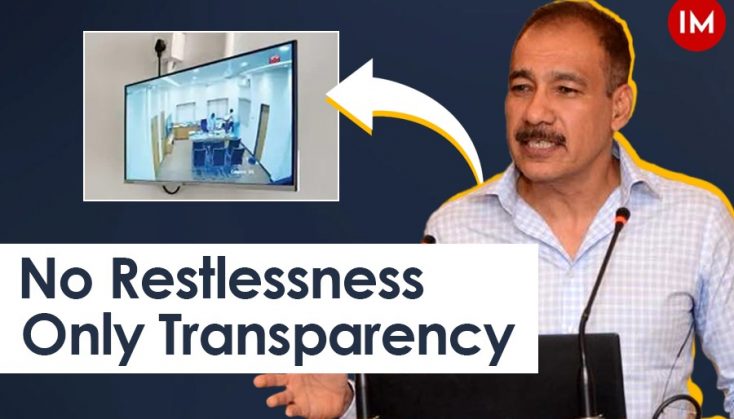 Imagine that you have come to meet a government officer at his office. You wait for hours but do not know where he or she is, and what's going on inside. Most of us has faced such a situation at some time or the other. It not only affects transparency at work place, but also makes the visitor restless.
But, there is an officer – 1993-batch IFS officer of Chhattisgarh cadre Mr Alok Katiyar – who has been trying to change this type of environment in offices since 2015. He installs cameras in the entire office, starting from his room, to bring transparency at work, so that every employee knows what the other is doing. The significant part is, not just employees, even visitors can watch what the staff and officers are doing behind closed doors on the screens providing output of the CCTV cameras in the reception, gallery and waiting room!
Indian Masterminds spoke to the officer to get more details.
WATCHDOG FOR OFFICERS
It is usually left to the higher authorities to become the watchdog in offices. But, who watches them?
Speaking with Indian Masterminds, Mr Katiyar said, "Transparency is not just that you asked someone for authentic papers and he provides you. I believe that transparency should be visible in every action. Whatever is your approach and methods, all that should be visible. Being a public servant, your conduct and character should also be transparent. That was the motive behind this initiative, which makes everyone see what the officers do inside."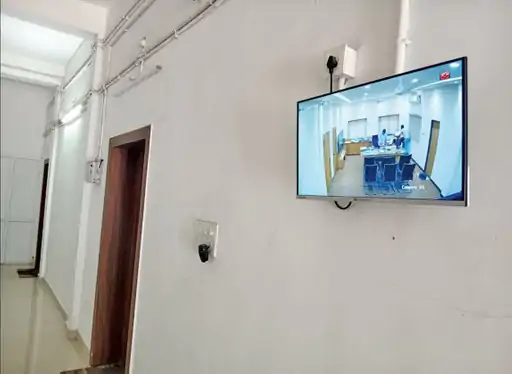 THE THIRD EYE
In 2015, he was appointed as the chief of Chhattisgarh Rural Road Development Agency, which runs and implements a very important scheme, the Pradhan Mantri Gramin Sadak Yojana (PMGSY). There were many problems in the department at that time. Many complaints of corruption in the department had reached the Centre. Dozens of complaints were made when the road needed to be built somewhere was built elsewhere. Because of this, the Center had withheld the funds. At that time, more than 200 contractors were registered in the office.
Mr Katiyar said, "There used to be a crowd of contractors in the department. Fifty to 60 contractors used to gather in the office every day. They used to think that I was deliberately not meeting them. Then, I came up with the idea that the entire office should be equipped with CCTV. I installed a camera in my room as well, so that people can see what I am doing inside. I felt that since I was monitoring everyone, so I should also be monitored."
CCTVs were not very common at that time and were installed in very few places. But, the officer got these cameras installed in every space of the office, including the parking lot. Also a big screen was installed in his room from where he monitors everyone. All the recordings remain safe and are kept in records. One can also get to see recordings that are months or years old.
HELPFUL FOR EVERYONE
Since then (2015) wherever Mr Katiyar has been posted, he has installed the offices with CCTV cameras. Presently, he is in charge of three departments. He is the Chief Executive Officer of CREDA, in-charge of the Director of Jal Jeevan Mission, and CEO of Pradhan Mantri Gramin Sadak Yojana. He has made CCTV cameras arrangement in all three offices.
He said that when people outside the office wait for a long time to meet an officer, they get very restless and want to know what is happening inside, and why they are being made to wait.
"That is why we installed a screen giving the output of the cameras in the waiting room, too. Now people could see us and what we are doing. from there. We also installed cameras at the entrance gate. One advantage of this is that if I am not in the office, the camera will be off and visitors for me will get to know that I am not in, so there is no need to wait," Mr Katiyar said.
CHANGED PERCEPTION
In 2005, transparency in governance was introduced under the Right to Information act. People become more aware and conscious, but the fight against corruption is still on. When asked about, Mr Katiyar said, "Everyone has their own perception regarding this. But if everything is transparent, then definitely, it will give better result and people will be happy."
He shared an interesting incident about the time when a technician who had come to install cameras was asked to install one in Mr Katiyar's room too. He refused saying that this is not done. Only viewing access is given to the officer.
"After installing camera in my room, the attitude of the contractors changed, there was improvement in the department, and funds started coming from the Center," he added.
GOOD RESPONSE
The initiative has garnered very good response from everyone. In the offices, employees started talking very modestly. They only talk as much as needed. They became punctual too, because people waiting outside get to know if they are late. On the ther hand, people who come to the office do not behave indecently since everything gets recorded.
Mr Katiyar said, "Both the common people and I started benefiting from this. I myself take care to maintain decent and restrained behaviour."
PREVIOUS STORY

Bureaucrats Show Flexibility with Difficult Yog...

NEXT STORY

Karnataka: IPS Officers Transferred, Pravin Paw...