Civil Services Foundation Course starts at LBSNAA online, thanks to Covid-19 protocols
Published on 12 Oct 2020,

5:32 pm IST

2 minutes read
Highlights
95th Foundation Course of Civil Service probationers started today. There were happy faces all around but, all covered by masks, thanks to Covid-19 conditions.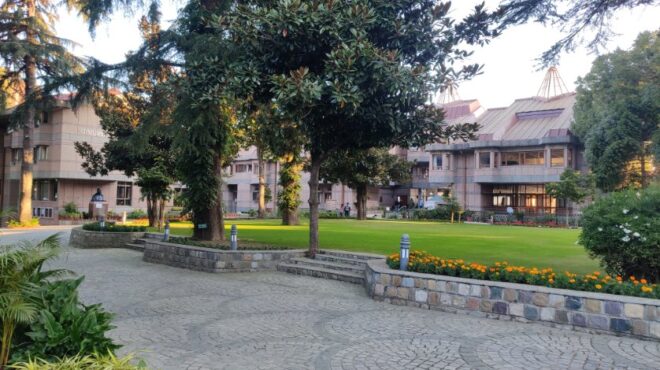 A birds eye view of LBSNAA at Mussoorie
All of them all glee personified – grinning from ear to ear. After all, they had just arrived at Lal Bahadur Shastri National Academy of Administration (LBSNAA), Mussoorie, having beaten about eight lakh candidates who appeared for Civil Services Examinations 2019. However, only 428 of the 829 successful candidates managed to reach LBSNAA where Foundation Course kickstarted today.
How LBSNAA Transformed Over The Years
They were acquainting themselves with their new surroundings, getting to know their new colleagues and congratulating each other. Their happiness was slightly muted as first week of the foundation course was going to be online due to Covid-19 protocols. In fact, all of them were supposed to take RT-PCR test for Covid-19 and only those were allowed to register themselves at the Academy, who tested negative. All the 429 candidates will now be confined to the comforts of their rooms only for next seven days.
They have been given double-occupancy rooms where among other things they have been provided with a set of N-95 mask, sanitiser, thermometer and Covid-19 instructions. The foundation course will run from October 12 to December 18 and LBSNAA Deputy Director Vidya Bhushan is the Course Director.
LBSNAA's 95th Foundation Course To Commence From 12 October 2020
Physical classes will begin only from October 19 and probationers will be required to maintain social distancing and wear masks during classes. They have been advised not to venture out of the Academy unless absolutely necessary.
Civil services officers to get trained in archery as well
Some seniors like Rajeshwari B, became nostalgic while some others like M Shayin IAS, had a word of caution for the young brigade at LBSNAA…
Herewith some tweets by probationers expressing happiness…
PREVIOUS STORY

Nothing can stop a girl from achieving her dreams!

NEXT STORY

3 GAS Officer Promoted As IAS In Gujarat Cadre