India Observes Police Commemoration Day
Published on 21 Oct 2020,

12:40 pm IST

2 minutes read
Highlights
Prime Minister Narendra Modi today led the nation in observing the Police Commemoration Day. On this day, we pay tributes to those men and women in uniform who, in the line of duty, made the ultimate sacrifice of their lives.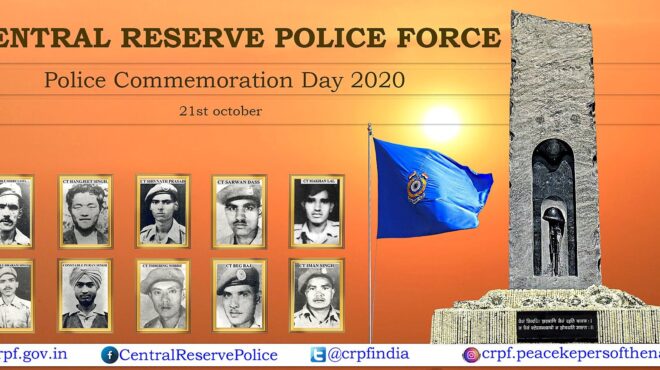 National Police Commemoration Day
Today on 21 October, Police Commemoration Day is being observed all across India, to pay homage to 10 CRPF officials who were ambushed and killed by the Chinese troops in Ladakh's Hot Spring area way back in 1959. Every year since that incident, the nation also remembers all those police officials who attained martyrdom.
PM Modi took to Twitter and expressed gratitude to the police personnel. He tweeted, "Police Commemoration Day is about expressing gratitude to our police personnel and their families all across India. We pay tributes to all the police personnel martyred in the line of duty. Their sacrifice and service would always be remembered."
It was a chilly day in the Hot Springs area of Ladakh where the CRPF tried to control the aggression of the Chinese troops but were outnumbered. The Chinese Army opened fire and threw grenades on a small troop of CRPF consisting of 20 personnels.
10 of them died during the incident, whereas seven were taken as prisoners and the remaining three managed to escape. To honor the courage of that 10 CRPF personnel who sacrificed their lives during the battle, National Police Commemoration Day is celebrated.
Many government leaders and civil servants have also risen to the occasion to honor them on Police Commemoration Day.
Home Minister Amit Shah also addressed the nation at Police Memorial Ground in New Delhi.
Many civil servants like Arun Bothara, Navniet Sekera, RK Vij, Sonal Goel, Bhaskar Rao, Anjani Kumar, Sandeep Mittal, etc. also took to Twitter to remember the Martyrs who sacrificed their lives in this incident.
PREVIOUS STORY

In Himachal Pradesh, this IPS Officer is teachi...

NEXT STORY

Up and Close with IAS Officer Ms Sonal Goel