Top Gun Modi lends an ear to IPS probationers
Published on 5 Sep 2020,

1:48 pm IST

3 minutes read
Highlights
The young IPS officers shared their experiences of their phase -I field training with PM Modi at theirconvocation function in Hyderabad on September 4, 2020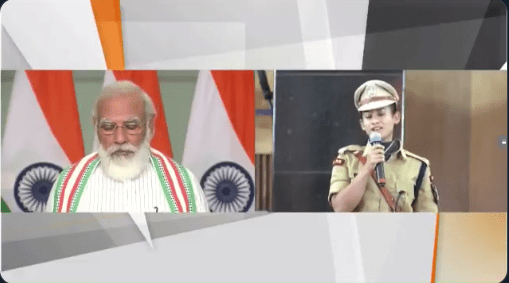 PM Modi interacting with J&K cadre IPS officer Tanushree
For the first time Prime Minister Narendra Modi addressed the IPS probationers during their 'Dikshant Parade' event at Sardar Vallabhbhai Patel National Police Academy in Hyderabad.  Usually, either Union Home Minister or Union Home Secretary address the Dikshant Samaroh (convocation) of IPS probationers.
This event saw the presence of 131 officers including 28 female who have completed the phase-1 training at the academy.  Addressing the young officers, PM Modi pointed out how Singham like work style won't always work and it's the duty of an officer to make the police station a place of social trust.  He also focused on changing the culture of a police station and increases the usage to technology for a smooth functioning.
Last year Home Minister Amit Shah participated in the same event. This time the event was graced by the presence of the Prime Minister. Few officers also got the chance to share their training experiences and ideas for a better India with Mr. Modi that will definitely boost their morale.
While interacting with PM Modi, IPS officer Aditya Mishra of MP cadre talked about the responsibilities that come with the Khaki. This young officer who got positive with Coronavirus, pointed out the role played by the officer in a pandemic situation like this. He also remembered the sacrifice of his senior officer Devendra Chandravansi by reciting one of his favourite poems.
Om Prakash who hails from Nagaur, Rajasthan, has been allotted the Gujarat cadre. He talked his training experiences in Valsad district and emphasized on the challenges faced by the migrant workers and students during lockdown.
Partha Protim Das is a computer science engineer and hails from Assam. He has been allotted the Assam-Meghalaya Cadre. He shared his experiences while working on the borders of Assam-Bengal following the 'Movement of stranded Passengers Guidelines' issued by the government of India.
Tanushree from Bihar will be serving in J&K Cadre. She shared her experience with an anti-terrorism operation against Junaid Sehrain of Hizbul Mujahideen. A graduate from NIFT, Gandhinagar said, "During the operation, I closely observed the human side of the police force. Three groups were working simultaneously. One ensured the safety of children & women while others launched anti-terror operation."
Kiran Shruti from Tamil Nadu talked about the mental stress faced by police professionals. She also brought into notice a well-being program run in Tamil Nadu for the police staffs. From constable to senior Police officers are offered mandatory counselling under this program.