Beyond Uniform: Standing up for voice-less Hill Folks
Published on 10 Nov 2020,

5:44 pm IST

5 minutes read
Highlights
In his younger days, before he became an IPS officer, Robin Hibu would often be at the receiving end of insults and slights usually reserved for the people of North East region. He is the first IPS to emerge out of his Arunachal Pradesh-based tribe. Significantly, the success made him genuinely helpful to the people in need.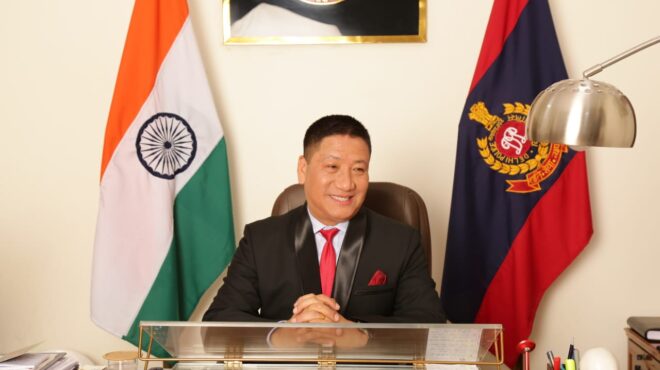 Arunachal Pradesh's first IPS officer, Robin Hibu
No matter how much everyone denies it, but racism in our countries still rears its ugly head once in a while. In many places, for instance, people from North-East areas are still considered foreigners, often forced to face derogatory remarks and behavior. One such man who found himself at the receiving end of this behavior, in his younger days, is now an IPS officer. Robin Hibu is his name.
It was, in fact, this unfair treatment meted out to him that he resolved to bridge the gap between North-East and Delhi. Talking to Indian Masterminds, he tells about his journey from village to city and his numerous accomplishments.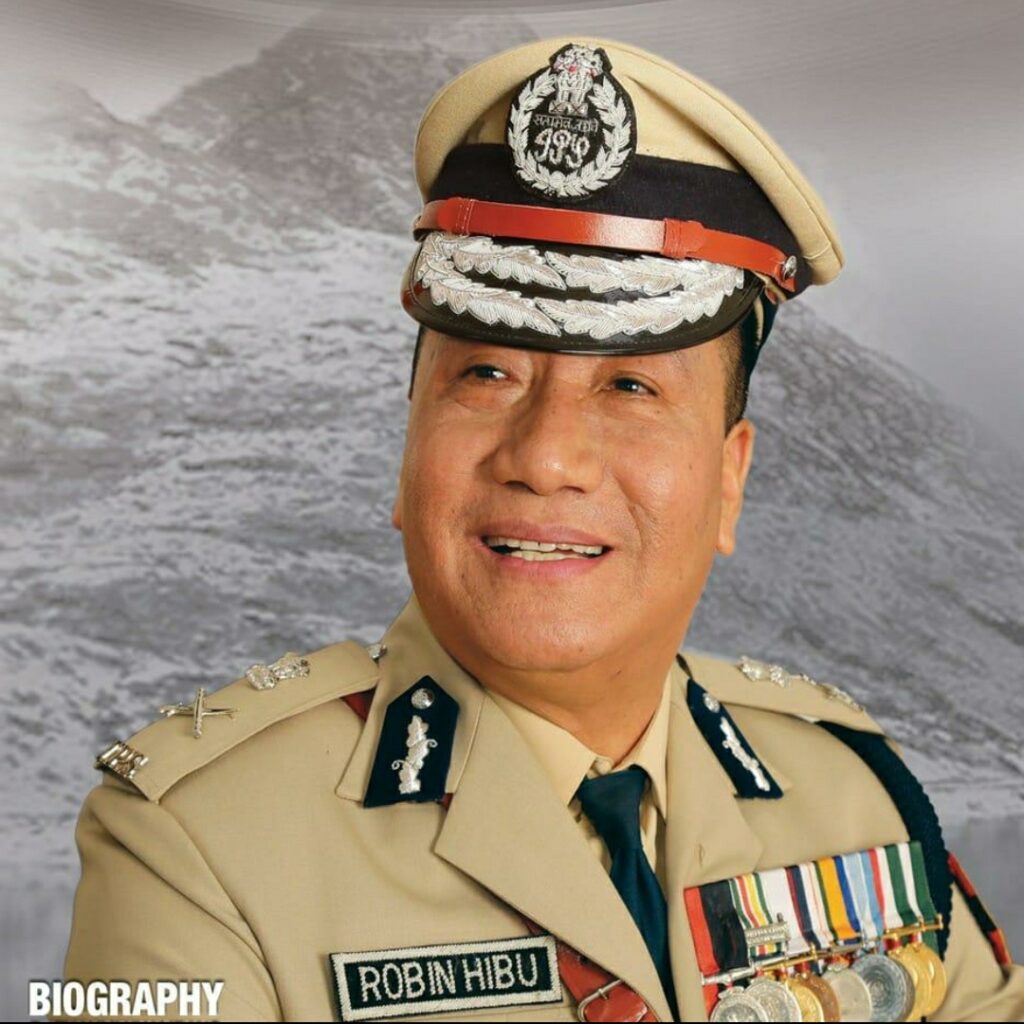 Interestingly, Mr. Robin Hibu is the first IPS officer selected from Arunachal Pradesh's Apatani tribe that he hails from. Apatani is a tribal group of people living in the Ziro valley in the Lower Subansiri district of Arunachal Pradesh in India. The tribe speaks the language Apatani, English, and Hindi.
Apatanis are an interesting tribe and are non-nomadic in nature. the older women of the tribe sport facial tattoos and massive nose rings, a tradition that dates back to pre-modern times when Apatani women were considered to be the most beautiful in Arunachal Pradesh. Apatanis practice permanent wetland cultivation in hilly terrain by slicing hills.
The incident which affected him the most happened when he was made to sit near the toilet of a train- despite having a reserved ticket. The unscrupulous group of people in the train compartment probably did not take too kindly to his North Eastern appearance. He was called derogatory terms like 'Bahadur', which really pierced him. He, therefore, decided to become "something in life'', so that he would never have to face such a discriminating behavior again.
Mr. Hibu cleared UPSC in 1993, with AGMUT as his cadre. At present, he is the Additional Director General of Police, Delhi. In 2016, Mr. Hibu launched an initiative called 'Helping Hands' to address the agony of young men and women from the region suffering mistreatment at the hands of people or social media due to their race or appearance.
When Love Turns into Poison
He addressed the tragic conditions of North-East females who were impregnated and abandoned by their partners. These poor females now had the responsibility of bearing societal shame as well as the responsibility of their newborns on their heads. Mr. Hibu names such incidences as "Love turns Poison". These girls turned to 'Helping Hands' for aid and now the administration is helping in tracking down the culprit males and providing them relief as well as advocates for fighting the case.
"It breaks my heart to see North Eastern females somehow surviving in cities, holding tightly to the fatherless children. It moves me when I come across these children, their fragile fingers clutching on to their psychologically and physically battered mums, sadness visible in their innocent faces," said Mr. Hibu, the agony in his voice quite palpable.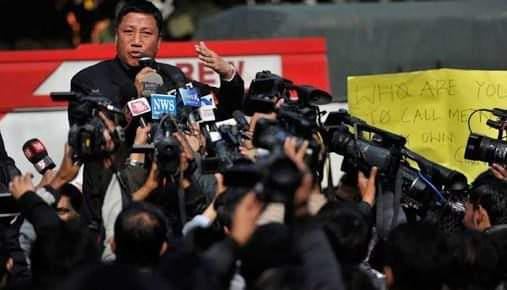 Blood for North East People
Mr. Hibu also opened a blood donation camp in Delhi, specifically for poor North East folks. And he has made one thing clear that "our North Eastern blood is not for rich patients in top hospitals, for officer patients, for alcoholics turned liver cirrhosis patients, or even for affluent North East people flying down from NE to Delhi, staying in cozy hotels, luxury guest houses, seeking blood donations from NE blood banks."
The blood collected in these donation camps is only provided to poor people and to those who don't have a good financial background. In case of an emergency, one can send the name of the patient who needs blood along-with their bed number, ward, and whom to contact to handover the blood bag from NE Blood bank. For any government hospital in Delhi, there are donors who will rush to donate blood at any time. Although he feels upset about the fact that even after so many appeals, very few people have come forward to donate their blood in the bank.
Purple Hearts project
Standing up for your own people in times of acute crisis is considered commendable. During peak lockdown, the most hard-hit segment of the community was the migrant laborers. In such a time, Mr. Hibu distributed ration to migrant families coming from outside which also included people of UP and Bihar along with NE states and Delhi. Not just that, during the lockdown, a number of people died in cities. For the poor citizens who had no savings to even lay their dead family members to rest, Mr. Hibu arranged for the burial and cremation. He also protected people who were shattered otherwise due to lack of jobs, no proper shelter, and no income to feed their children.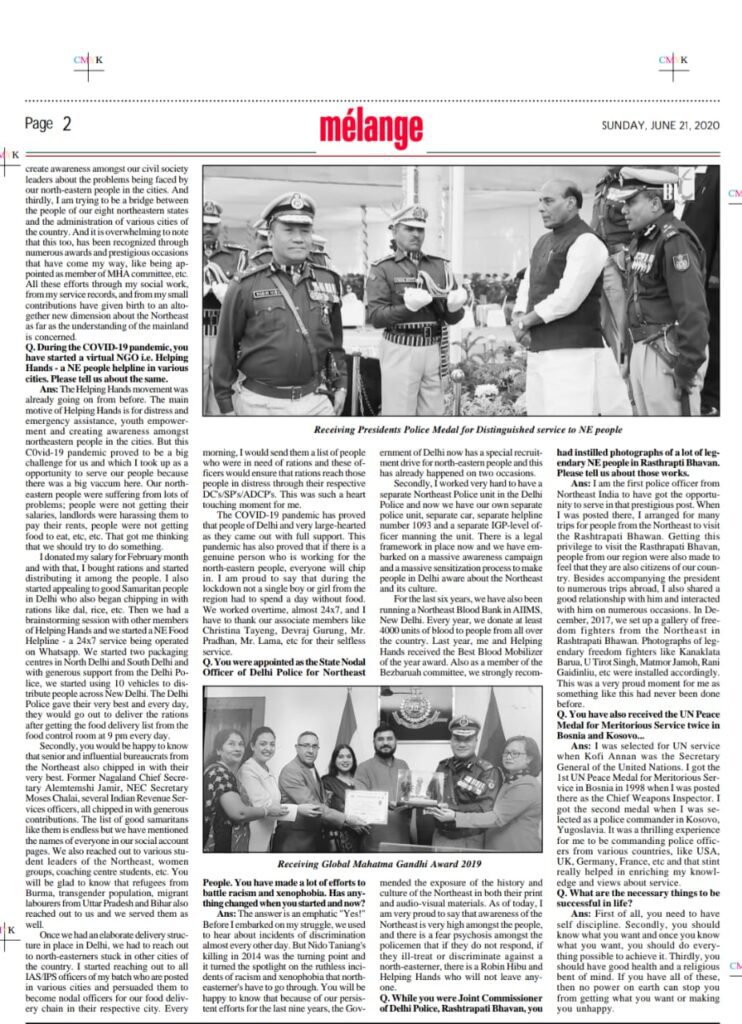 "Many grateful NE folks, even refugees from Myanmar, migrant labors from UP and Bihar who endured the traumatic time during lockdown have conveyed their deep gratitude to me," said Mr. Hibu.
Mr. Hibu graduated from Jawaharlal Nehru University (JNU), New Delhi. And though a senior bureaucrat now, he is known for his compassionate, benign and dignified demeanor. Without fail, he reaches out to people in distress.