A Controversy Between Minister Of State and Senior IAS Officer In Uttarakhand
Published on 28 Sep 2020,

12:25 pm IST

2 minutes read
Highlights
Uttarakhand CM TS Rawat, has ordered an inquiry into the fracas between a minister and a bureaucrat. The senior IAS officer who claims he was under home quarantine, has been alleged to be missing for 48 hours by state minister Rekha Arya.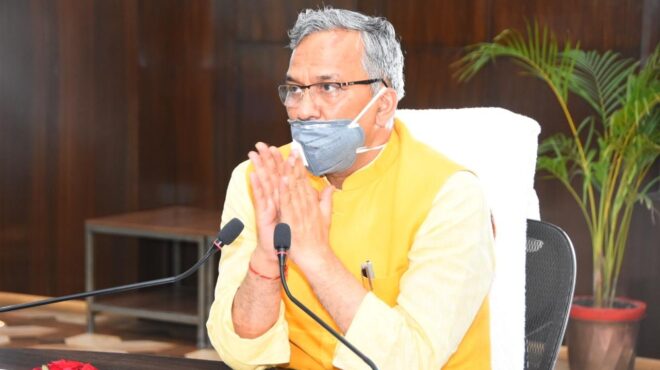 Uttarakhand Chief Minister Mr. Trivendra Singh Rawat (Photo Source: Facebook/Trivendra Singh Rawat)
A senior IAS officer from Uttarakhand, V Shanmugam who did not attend office for two days was "claimed missing" by state minister Rekha Arya in a letter she wrote to the deputy inspector general (DIG) Dehradun.
However, the officer who is the Director of Women Empowerment and Child Development in Uttarakhand, claims that he was under home quarantine and had also applied for a leave.
Rekha Arya in the complaint letter also mentioned that the IAS officer may be hiding from the ongoing irregularities in the recruitment process in his department.
This case has reflected the ongoing controversies between the government and the civil servants and has become a topic of discussion in the power of corridors.
CM Orders Inquiry
It has also reached the sight of Uttarakhand Chief Minister, Mr. Trivendra Singh Rawat as he ordered an inquiry in this matter after speaking to Chief Secretary Mr. Om Prakash.
Additional Chief Secretary, Ms. Manisha Panwar is the inquiry officer for this case and will be submitting the inquiry report to the Chief Secretary.
Minister Doubts The Inquiry
However, Arya has expressed her apprehensions over the fairness of the probe, saying that an inquiry by an IAS officer involving another IAS officer would not be impartial. "I have my doubts when an IAS officer is given the task of probing a matter linked with another IAS officer. It would have been better if a retired High Court judge is handed over the probe," Arya told media.
PREVIOUS STORY

The Art Of Saying No To The Chief Minister And ...

NEXT STORY

EdTech Startup Cymatic Launched Its First Live ...