Ashok Khemka suggests decentralization of MSP amid farmers' protest
Published on 15 Dec 2020,

9:22 am IST

1 minute read
Highlights
Amid the ongoing protest of farmers, Haryana cadre IAS Ashok Khemka wrote to decentralize MSP.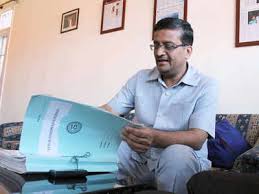 IAS officer Ashok Khemka has come up with a solution on Monday amid the ongoing protest of farmers against the three New Farm Bills passed by the Central government.
Khemka, Haryana cadre IAS officer of 1991 batch, took to Twitter and wrote: "Benefit of central MSP may be equitably distributed by the Center amongst all States, rest should be the respective State's burden. States may guarantee MSP to its own farmers as per need and capacity. Decentralise MSP."
Notably, farmers of different states have been protesting at the Delhi border for the past 19 days. They are concerned about the MSP and APMC. The Union government assured to amend the New Farm Bills but agitating farmers want the rollback of three laws.