From Khaki to Khadi Is An Overnight Journey For Bihar DGP
Published on 23 Sep 2020,

5:42 pm IST

5 minutes read
Highlights
Mr Gupteshwar Pandey takes voluntary retirement, is relieved immediately, likely to contest Assembly elections due a month later
Bihar Ex-DGP Gupteshwar Pandey
Its not everyday that a top bureaucrat resigns from service voluntarily and it is not only accepted instantly and he is relieved with immediate effect. The act has assumed significance because Bihar DGP, Mr Gupteshwar's Pandey's 'voluntary retirement' has come barely a month before the state is to go into Assembly elections. Though he hasn't delineated his future yet, but speculation is rife that he would contest Assembly elections on ruling JD(U) ticket from his home district, Buxar, on UP Border.
Pandey had hogged limelight couple of months ago by not only lodging a suspected murder FIR into the death of Hindi film actor Sushant Singh Rajput but also promptly dispatching a police team headed by an IPS officer to probe the case in Mumbai. The act resulting in a faceoff between Bihar and Maharashtra police over jurisdiction, was resolved with Supreme Court ruling for a CBI inquiry into the case. The case sparked off a widespread campaign – Justice for SSR – throughout Bihar, which might well turn out to be a major poll issue this time.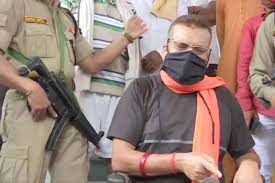 Mr Pandey's request for voluntary retirement was approved on Tuesday by the Bihar government, which has waived a three-month mandatory cooling-off period. He seems keen on contesting the Bihar election as a candidate of the ruling National Democratic Alliance (NDA) from Sahpur in Buxar district.
Whose aukat?
After the Supreme Court endorsed the CBI investigation recommended by the Bihar government, Mr Pandey, as police chief, had bragged that Sushant's reported girl friend Rhea Chakraborty "does not have the aukat" to comment on the Chief Minister. He was referring to her remarks in the top court about the Nitish Kumar government using the Sushant Singh Rajput investigation for political capital.
He defended his comments even today. "The word aukat means stature. I only said that Nitish Kumar is Chief Minister and Rhea Chakraborty had no right to make comments on him," he said.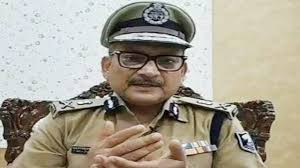 Mr Pandey had earlier admitted that the Sushant Singh Rajput case had turned political and said it was "unfortunate" that "allegations were being made against Chief Minister Nitish Kumar" – comments that were seen to be unusually political for an Indian Police Service (IPS) officer.
Used SSR Case as a stair into politics
So did Pandey used SSR case to catapult his political career? He denies that. He said today that his decision had nothing to do with the Sushant Singh Rajput case. But politics is definitely on his agenda. "Iwould soon decide on how best to serve society after speaking to the people flocking my residence from Buxar, Jahanabad, Begusarai and Aurangabad", he said.
He wears his political ambitions on his sleeve though. Ask him how he sees Nitish Kumar as Chief Minister and he gloates on and on saying, "he is one of the toughest chief ministers as far as crime and law and order issues are concerned".
Black tee and saffron scarf
The former police officer, having ditched his khaki uniform for a casual black tee-shirt, jeans and saffron scarf, was non-committal about contesting the election but he stressed that he was no longer bound by any service rules or government code of conduct. "I am no longer DGP (Director General of Police) today therefore not bound by service conduct rules," Mr Pandey, 59, said.
"I have not said that I will contest polls yet," he insisted, when asked whether he was angling for a chance to contest the state election. "I haven't joined any party. When I do I will tell all of you. Politics is not the only way of serving society."
When pressed about his transition from "khaki to khadi", he shot back: "What is wrong in politics? The system, legislature, everything exists because of politics. You and I are part of that system. There is nothing unconstitutional or illegal about joining politics? I may take the decision but only after speaking to people."
'Would have been accused of bias'
Defending his decision to quit, he said there had been "thousands of calls" over the past two months, during the Sushant Singh Rajput case controversy, asking whether he would resign. "There was so much confusion that bias during polls became a question. If I had been DGP during the election, I would have been accused of bias," Mr Pandey said.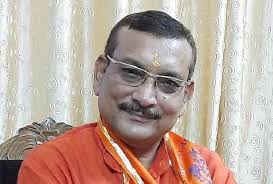 This is not the first time that Pandey spurned Khaki for Khadi. He resigned from job in 2009 reportedly seeking BJP ticket from the Buxar parliamentary constituency. However, BJP leaders thoygyt otherwise and Pandey rejoined the service on Nitish Kumar's intervention. Today, he claimed that his 2009 move was over "personal reasons" but added: "It is true that I am interested in politics. But I was anari (naïve) then and I am anari now."
On Nitish Kumar's role in his big career move,  he said: "Our Chief Minister is very professional. He likes those who work with the system. But it was my decision."
PREVIOUS STORY

Prime Minister Narendra Modi to interact with V...

NEXT STORY

The IAS Officer Who Firmly Put Kerala on Digita...