In Bastar, the Hotbed of Naxalism, this Officer is bringing Winds of Change
Published on 22 Jan 2021,

12:29 pm IST

4 minutes read
Highlights
The women impacted by naxalism in the Bastar district in Chhattisgarh are on their way getting back their confidence, with the help of the Inspector General of Police Sundarraj Pattilingam. In fact, he has taken several measures to assist the people of the region.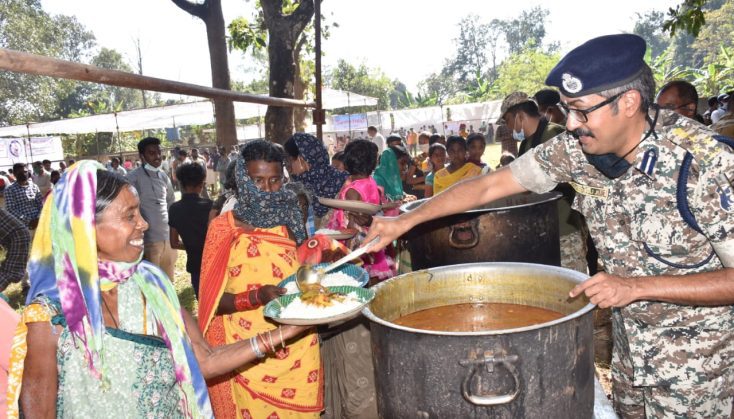 IPS officer, Mr. Sundarraj Pattilimgam distributing food amongst naxal victims
For decades now, the Bastar district in Chhattisgarh has been a Naxal affected region. The Naxalites in the region have claimed a lot of lives till now, or in other ways, have paralyzed people in such a way that they are unable to perform any acts or do any work. Naxalism is something that can't be erased from the country overnight. The most that government could do is to provide relief to the victims in a way that might ease their lives a bit- and IPS officer of the 2003 batch posted here, Mr. Sundarraj Pattilingam, did the same.
In an exclusive conversation with Indian Masterminds, he talks about it in detail.
GOVERNMENT PROVISIONS FOR NAXAL VICTIMS
Mr. Pattilingam explained that there have been a number of civilians that have lost their lives due to communist-Maoist violence. On average, about 40-50 people have lost their lives every year for the last 10 years. The government is doing its bit in providing relief to them by giving monetary compensation.
"Five lakh rupees is provided to the families where a member is killed, 3 lakh for someone who is seriously injured, property damages are met and employment is transferred to members of the family in case of death. These are the optional provisions" he stated.
In the case where the deceased is a member of an extended/joint family, the remaining members of the family are given training so they are able to work and earn a livelihood for themselves.
LAUNCHING AN ALL-WOMEN POLICE PETROL PUMP
As part of their welfare scheme, the Bastar district has launched several police petrol pumps in the district. The government permits them to open centers and petrol pumps for police personnel wherein if a police person is injured or suffers from some disability and won't be able to participate in groundwork, they can get employed there and fend for themselves.
Looking at this, Mr. Pattilingam made up his mind to give a chance at life to the poor victims of Naxal violence. Beginning from the Narayanpur district, he decided to help Naxal violence-affected girls by opening a petrol pump that is 100% women operated.
"Two of our personnel will do the managerial work and the civilians will be engaged in other activities of the petrol pump. This initiative was launched last week and we have received support from the Chief Minister as well" he told Indian Masterminds.
'BASTAR THA MATTA' CAMPAIGN
Mr. Pattilingam launched the 'Bastar Tha Matta' campaign which is a counter-propaganda campaign aiming to expose the real and ugly face of Maoist cadres. Under the campaign, they take general awareness issues and showcase them in a raw manner to the civilians to counter the false and fabricated image presented by the Maoists.
"Bastar Tha Matta is like the voice of Bastar through which we want to give away true information to the civilians, which is otherwise presented to them in a twisted and untrue way. The campaign made the people recognize the various schemes that were profitable and also made them understand that the work being done by the government was for their help and benefit. We use local languages of the tribal people like Gondi and Halbi so that they are able to understand it in a better way" said Mr. Pattilingam.
MALARIA MUKT BASTAR
The Health Department's initiative – Malaria Mukt Bastar – to fight Malaria in the district was another initiative looked after by Mr. Pattilingam.
"Malaria is correlated with malnutrition and malnourished people are more vulnerable to various diseases. Therefore, in order to keep a check on them, there is an integrated team to handle the situation."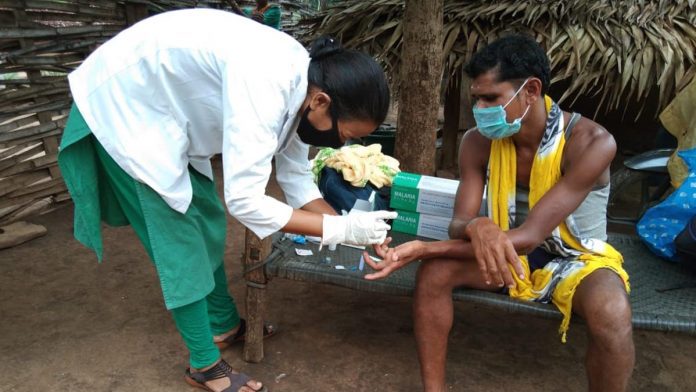 Government officials walked miles across the hills and crossed rivers to access remote villages, identified the tested patients and treated them to improve their health. The campaign was a huge success and brought the Annual Parasite Incidence (API – Malaria) down to 1.97 from 16.80.
Thanks to Mr. Pattilingam that Bastar district is now on it's way to development.