Five Steps to Defeat Coronavirus
Published on 19 Dec 2020,

2:54 pm IST

6 minutes read
Highlights
Jodhpur in Rajasthan saw a decline of 9.3 percent in the test positivity rate of Covid 19 from November 23 to December 30, 2020. Read how a large part of the credit goes to the five-step masterplan launched by the District Collector of Jodhpur, Mr Inderjeet Singh.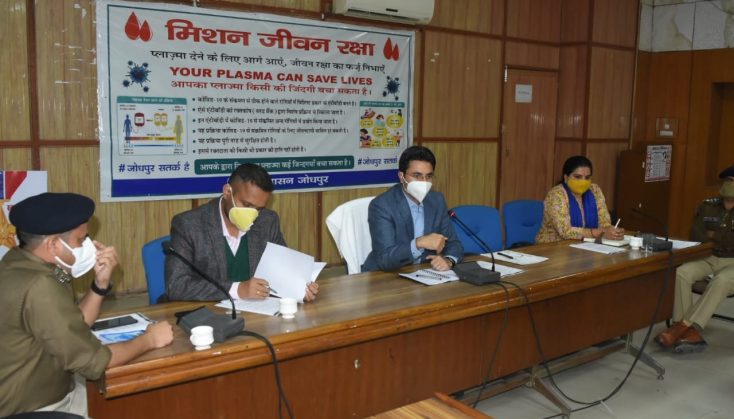 Mr. Inderjeet Singh, District Collector Jodhpur meeting with the incident commanders and other officials
It was in the first week of July, two months prior to the first wave of Covid-19, that Jodhpur got a new District Collector. This move was rather in the favor of the district as it has seen a steady decline in the number of active cases and positivity rate even after going through the second wave of Covid 19in November.
The credit for this goes to Mr. Inderjeet Singh (DC Jodhpur), as his five-way strategy of controlling the virus became successful and is now being lauded by the state government as well as by Niti Ayog, the policy think-tank of the Government of India.
However, working out this plan practically was a collective contribution of the administration as well as the people living in the district. In an exclusive interview with Indian Masterminds, Mr. Singh spoke about how he battled with the virus, not only in Jodhpur but also personally.
THE PERSONAL BATTLE
Four days into the service as the DC of Jodhpur, Mr. Singh along with his whole family was diagnosed with Covid 19. He recalled, "At that time getting infected with the virus was a stigma as compared to now where things have been normalized. We all got infected very early, and my wife got quite serious. It was pretty surprising as she was not comorbid and was also among the younger lot. Despite that, the virus reacted differently in her body and it was a very tough time for me- both on my professional and personal front."
By the time his wife was discharged from the hospital, he got an understanding about the district, its management, and had a fair idea about what he needed to do. He broke up his Covid 19 management into five building blocks – regulation and awareness, testing, home isolation, treatment, and feedback.
REGULATORY ACTIVITIES
With a population of more than 15 lakh, Covid 19 management in Jodhpur was an uphill battle. For this, the administration divided the city into nine zones, and in each zone, an incident commander was appointed. Mr. Singh said, "The way a collector runs the district, these incident commanders (senior officers of state service) would run Covid management in their zone. They were helped by medical officers-in-charge as well as personnel of police and Municipal Corporation."
More regulatory activities included imposing fines and challan on people who were violating the basic norms of wearing a mask and maintaining social distancing. Strict actions were also taken against owners of shopping complexes and shops who were found violating the rules.
AWARENESS
The next most important step was to make people aware of the importance of masks, social distancing, and sanitization. For this, the administration started a campaign called 'No Mask No Entry'. Mr. Singh said, "We wanted to give a clear message to people that mask is like a vaccine and is the only thing which can protect them from the virus. Therefore, we got the shopkeepers, private establishments, factory owners, and local vendors on board to refuse service to the people who come without wearing a mask."
He added, "The next thing was to make the masks available to every individual in the city. So I told my team members to go and procure masks and then distribute these among the people. We made a mask bank wherein people could come, donate, and also collect masks from there."
Jodhpur administration started another initiative called the 'Toko (Nagging) Campaign'. Mr. Singh explained, "We had nine vehicles, one each in one zone which included social volunteers who would roam around in the city and indulge in public shaming activities with people who were not wearing a mask. Even the Radio Jockeys and FM were involved in this campaign."
This is how the administration managed to distribute more than 10 lakh masks and also made people understand their importance.
TESTING / SAMPLING
In Rajasthan, Jodhpur has the maximum capacity of treating people after Jaipur, with three major labs in the district – AIIMS lab, ICMR lab, and its medical college lab. The city also has a testing capacity of 5000. To use this testing capacity positively, the Jodhpur administration started a campaign called 'Early Detection, Early Treatment'.
Mr. Singh said, "In this campaign, we had mobile OPD vans consisting of doctors and medical officers who would go out right to the doorsteps of residents and ask whether the person was facing symptoms of Covid 19, besides collecting samples. Hence, we used testing as a tool for disease control and surveillance."
Sampling of close contacts, high-risk category, elderly, chronic disease patients, pregnant females was done on priority basis.
HOME ISOLATION
With the rising cases, it was next to impossible to keep a check on every infected person sent on home isolation. To rectify this, the administration launched the 'Neighborhood Watch' campaign in which the neighbor of the person who is infected signs an affidavit promising to keep a watch on him.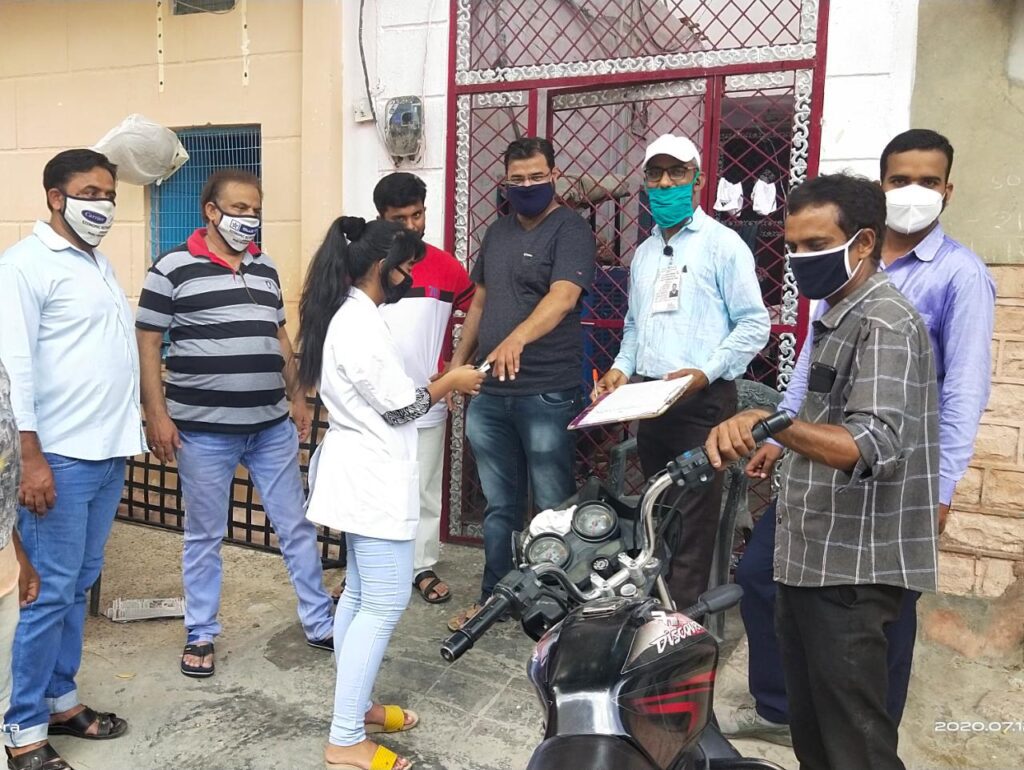 Apart from this, the medical team used to go immediately to a person was found positive and start his or her contact tracing.
TREATMENT
Last but not the least, treatment was the most important part to curb the disease as well as the fatality rate. For this, extensive use of latest treatment modalities e.g., CT scan, latest drugs like remdesivir, tocilizumab were used. The main motive was to keep the infected people alive and treating them as soon as possible.
In this drill, extensive training of manpower in Covid 19 management, oxygen therapy, ICU care was conducted in AIIMS Jodhpur, plasma donation camps were organized and a plasma bank was established active and passive surveillance was done by survey and sampling. Lastly, dedicated control rooms were allotted for grievance redressal.
The administration also started a campaign called 'Star Performer Award'. The objective was to promote Covid 19 appropriate behavior in shops, shopping complex, and other private places of business. In this a `star' was awarded to those shops who ensures strict compliance for social distancing, masks and sanitization etc.
Jodhpur was hit by two waves of Covid, one in September after the state elections and second in November after the Diwali celebrations. But by working diligently on the five building blocks, the district ensured a drastic decline in the Covid 19 cases as also positivity rate from November 23 to December 13.
PREVIOUS STORY

Three IAS officers promoted in Jammu and Kashmir

NEXT STORY

GoI transferred 25 IAS/IPS officers to AGMUT cadre