No More Deaths
Published on 1 Sep 2020,

2:15 pm IST

3 minutes read
Highlights
How Ujjain District Collector Asheesh Singh brought down the highest mortality rate in the country due to Covid-19 to almost zero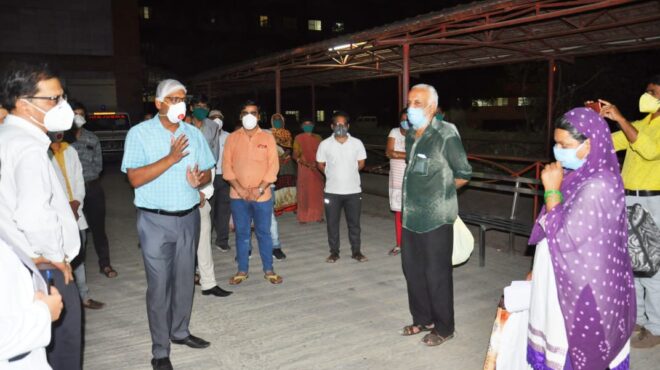 Ujjain Collecttor Asheesh Singh inspecting a hospital
By end of April this year Ujjain had earned the dubious distinction of having highest mortality rate in the country due to Covid-19. Ujjain's figure of 184 Covid patients was far less than Indore's 1681. But Indore had seen 81 deaths where as 40 persons had died in Ujjain, nearly 23% mortality rate.
It was on May 5 that Chief Minister Shivraj Singh Chauhan tasked IAS officer Asheesh Singh to bring things under control bye posting him as district collector of Ujjain.
Singh assessed the situation. Things were pretty bad. The only medical College there was incapable of testing for Covid-19. Hospital conditions were pathetic. People were afraid of going to the RD Gardy medical college even if they had developed Covid symptoms. They preferred home treatments then going to the Medical College hospital. Most had died without proper testing and treatment as test report used to come 15 days after the sample collection.
Moreover, there was no particular area in Ujjain identified has Corona hotspot. Cases were coming from almost all over the city. So a complete lock down or declaring a particular area as containment zone was not a feasible option.
Leading from the front
Soon after taking over as Ujjain DC, Asheesh Singh took up cudgels himself, put on a PPE kit and assessed the situation not only in Medical College hospital but also in Covid ward and ICU. He spoke to patients, doctors and nursing staff to understand basic problems and arranged for whatever was possible immediately. "There was no other way. I knew if I didn't lead from the front, situation cannot be controlled", Singh told Indian Masterminds.
This instilled confidence among people who started coming forward for testing and treatment. At least 400 such teams were working at a time, visiting reach house 10-15 times, educating people about corona, its symptoms, prevention, immunity boosters testing and line of treatment. They basically busted various myths and misconceptions prevalent among people there.
There was a sense of apprehension among Muslim dominated areas because of countrywide sentiments against them because of campaign that the virus outbreak happened because of a religious congregation (jamaat) in which people from all parts of the country has participated.

That's why he set up mohalla clinics in such localities and posted doctors of the same community to instill confidence among the people. Specialist doctors also joined these local doctors in mohalla clinics. "As a result lot of people started coming out in our outdoor patient department (OPD) and things started getting better and better", he says.
Current Situation
Today, Ujjain has a cumulative figure of 1024 patients of whom 813 have been treated successfully. The death figure which was 40 on May 5 had grown to 71 on September 1. That means only 31 more casualties during past four months. Not a mean achievement for a district which once had highest mortality rate in the country.
Saving Life Past-Midnight
Asheesh is a workaholic. Recently he issued Ayushman Health Insurance Card to an old cobbler at 1.35 am since latter was lying in coma in a hospital. His family didn't have money for the expensive surgery in a private hospital, neither did he have Ayudhman card. When Asheesh came to know of the situation, he got down to work in middle of the night and issued the card at 1.35 am. As a result surgery was performed on the old man next day morning and his life could be saved.