An IAS 'Chef' Passionate About Inventing New Dishes and Preserving Old Recipes  
Published on 30 Sep 2023,

9:00 am IST

2 minutes read
Highlights
IAS officer Dr. Prithvi Raj Sankhala has a passion for cooking
He loves to experiment with various cuisines and techniques for cooking
Dr. Sankhala, who is Secretary, Agriculture, inherited this interest from his mother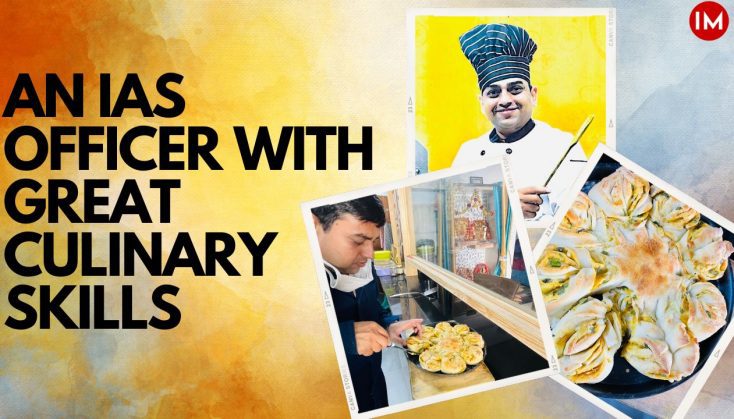 Cooking can be a necessary life skill for many, while for some, it could be a tedious task. But, here is an IAS officer who started his journey in kitchen with various spices to help his mother. Soon, it became a requirement for him as he had to live away from his family for his studies.
Now, cooking is a hobby and passion for him, and, moreover, it is a way to connect with his daughter. Not only does he experiments with various cuisines but is also keen to dig out forgotten recipes and food heritage of our country.
IAS officer Dr. Prithvi Raj Sankhala is currently serving as Secretary, Agriculture & Horticulture in Rajasthan. He is an author, scholar, public speaker and a keen cook. In an exclusive video interaction with Indian Masterminds, he shared his special connect with food and cooking. 
MY MOTHER IS MY FAVOURITE CHEF 
Dr. Prithvi credits his magical cooking skills to his mother. He has eight siblings and on any function or festival, a great many things used to be cooked in his house. So, the first time he entered the kitchen was to help his mother. Soon, he picked up the skill and started experimenting with food himself. Every now and then he spoils his family and friends with delicious dishes cooked by him.
He told Indian Masterminds that his mother is his favourite chef and has taught him various authentic food from his home place and state. Even now, he likes to cook with her and learn different techniques.
PRESERVING ROYAL HERITAGE
His love for food is not limited to cooking only. While he wants to learn various international cuisines, at the same time, he wants our Indian food to go international. He has formed a royal heritage food society to research and preserve various recipes and food. He says that it hurts him that we are focusing more on food from outside and forgetting our own tastes. He also believes that understanding the evolution of food could help us understand our history too.
Click the video link here to know more: 
PREVIOUS STORY

Major Reshuffle in IRS: 147 Commissioners Reall...

NEXT STORY

Goa IAS Transfers: Sneha S Gitte Made North Goa...