The Day After, How Makeshift Ram Temple Was Built In Ayodhya
Published on 23 Oct 2023,

9:00 am IST

2 minutes read
Highlights
Vijay Shankar Pandey, a 1989-batch officer was appointed District Magistrate of Ayodhya (Faizabad) on December 7, 1992, a day after Babri Mosque was demolished
In this interview he describes how he got the towns evacuated, damaged structures repaired, and confidence restored
Pandey, who studied in Faizabad in his childhood, is happy now that a grand temple is set to be inaugurated soon and the temple town is spruced up to be on international tourist map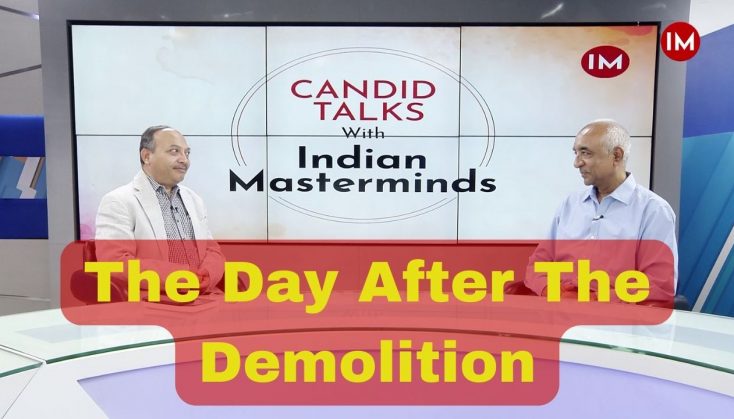 December 6 was a historic day. Babri Masjid had been razed to the ground by thousands of unidentified kar sevaks, who would not listen to BJP leaders like Lal Krishna Advani, Murli Manohar Joshi and Rajmata Vijaya Raje Scindia and VHP leaders like Ashok Singhal and Acharya Giriraj Kishore. Then Kalyan Singh-led state government was dismissed in the evening and the state was put under President Rule. Curfew was imposed in Ayodhya. Both DM and SP were put under suspension.
Mr Vijay Shankar Pandey, an erudite IAS officer, was appointed new DM with the onerous task of bringing situation under control. The road between Ayodhya and Lucknow – especially the eight-kms stretch between Faizabad and Ayodhya – was teeming with lakhs of kar sevaks. They won't allow any movement of any government official, much less the security forces, towards Ayodhya till the makeshift temple came up. Mr Pandey had to be flown to Ayodhya in a helicopter to take charge. On the way he could understand that he had a tough task at hand.
In an exclusive interview with Indian Masterminds, Mr Pandey describes the circumstances in Ayodhya when he took over as the DM. Religious structures, commercial establishments and residential premises of Minority community had been damaged some of them put on fire. Please watch the video to know Mr Pandey, a local boy – he had studied in Faizabad in his childhood – brought things under control.
Watch The Interview Here-
PREVIOUS STORY

India's Indigenous Kalari Cheese Gets GI Tag

NEXT STORY

UP: 3 IAS Officers Transferred, Mahendra Prasad...