Inside story behind the transfer of Munger DM and SP
Published on 30 Oct 2020,

6:42 pm IST

2 minutes read
Highlights
Somebody said – Maa Durga is angry, won't budge. The rumour spread like wildfire. Ensuing clashes between police and devotees resulted in death of a devotee and the transfer of Munger SP, DM .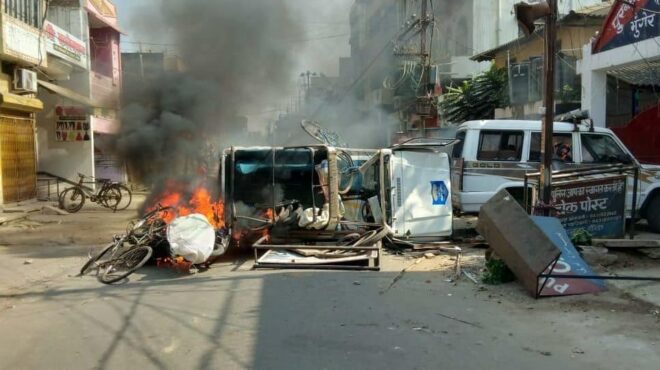 It was just a rumour that cost Munger district magistrate Mr. Rajesh Meena and Superintendent of Police Ms Lipi Singh, their job. Election Commission transferred out both of them for ordering firing on Maa Durga devotees going for idol immersion barely hours before the voting for Assembly elections was to start.
As per the tradition the largest Durga idol, called Badi Durga in local parlance, leads the immersion procession followed by Chhoti Durga and other idols from different localities of Munger including Jamalpur town.
District administration nudged those pulling the mighty Rath to hasten the pace so that immersion takes place early, allowing the police personnel a few hours of rest before polling duty the next day. Chariot pullers resisted saying, let other processions to join them before they move together for immersion, as is the tradition.
Tension built up between the devotee chariot pullers and the police with the latter using mild force on devotees. This resulted in chariot pullers running away.
It was then that the police asked others to pull the chariot. Chariot pulling brings a specialist job, could not be handled by others. This led to a rumour – Maa Durga is angry at police for baton charge hand has refused to budge.
Tension kept building up. Duty is from other localities also joins the chariot pullers resisting the police. Munger also happens to be the epicenter of illegal arms manufacturing in India. Some miscreants from the crowd opened fire on the police and the latter retaliated. In cross-firing and subsequent lathi-charge, one person was killed and 7 others injured.
However, the next day's polling passed off peacefully with no untoward incident reported from anywhere in Munger or in any of the 70 other constituencies which went to the polls on October 28th.
But by the end of polling, the Election Commission issued orders for the transfer of both Mr. Meena and Ms. Singh from their respective positions.
Political Connections
Incidentally, Ms. Singh is politically well connected and has the reputation of being an upright and strict officer earning her the moniker – 'Lady Singham'. Her father Mr. RCP Singh is a Rajya Sabha member from JDU and is a close confidant of Bihar Chief Minister Mr. Nitish Kumar.
Manavjit Singh Dhillon has been named the new Munger SP and Rachna Patil the new DM.