'A sound mind and sound body go together', says PM Modi while interacting with fitness influencers
Published on 24 Sep 2020,

5:01 pm IST

3 minutes read
Highlights
Prime Minister Narendra Modi stressed on the importance of mental health while interacting with the fitness influencers from all over the country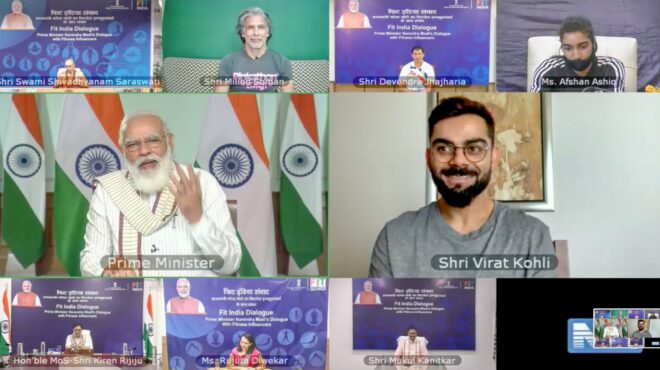 PM Modi in conversation with cricketer Virat Kohli
As the country is celebrating the first anniversary of Fit India Movement, Prime Minister Modi said the mental health is equally important. He interacted with fitness experts and influencers from all over the country and shared their fitness mantra in the Fit India Dialogue held online on Thursday. To mark the occasion PM Modi launched the 'Fit India Age Appropriate Fitness Protocols'. During the interaction, he emphasized on mental health and said the reverse ' In a sound mind is in sound body is equally true. He also quoted Swami Vivekanand and said "Strength is life, weakness is death'.
Mr. Modi also said fitness should be in the daily routine of everyone's lives. Every should play or exercise for at least half an hour daily. "Fitness ka Dose Aadha ghanta roj", he added. 
Many famous personalities of the country was part of this online interaction, including Cricketer Virat Kohli, model, actor and runner Milind Soman, Paralympic javelin gold medalist Devendra Jhajharia, nutritionist Rujuta Diwekar,  footballer from Jammu and Kashmir Afshan Ashiq and Swami Shivadhyanam Saraswati.  They all thanked Mr. Modi for this opportunity and stressed on staying healthy. 
Swami Shivadhyanam Saraswati highlighted the importance of yoga and discipline while Jhajharia stressed on the importance of not giving up because goals of fitness can be hard to achieve, but they give the gift of healthy life. Swami Saraswati also talked about the concept of 'yoga-capsule', which constitutes 'mantra', 'aasan', 'pranayaam', 'chitrikaran' and 'dhyaan' as its components. 
While interacting with Cricketer Virat Kohli, Mr. Modi first wished good health for him and his wife Anushka. He had a warm chit-chat with the cricket captain and asked his fitness regime. Kohli told him how he became motivate for being fit and now he never misses to work out no matter what.
Milind Soman who is popular among youths for staying fit in his age said that Fitness knows no limit. Mr. Modi also wondered how Milind's mother follows the fitness routine at the age of 81. He said that she is inspiration to everyone including him.
Ms. Ashiq said that she wakes up early and ensures to work out every day without missing. Whereas Nutritionist Rujuta Diwekar stressed on healthy eating habits and avoiding packaged food. She also said that only eating home-made healthy food can ensure every one's health.
PREVIOUS STORY

Transforming Schools- That's Where Her Heart Lies

NEXT STORY

An IAS officer and a Classical Dancer Par Excel...