The Cop who Captured India's Most Notorious Serial Killer Passes Away
Published on 16 Nov 2020,

7:02 pm IST

3 minutes read
Highlights
Alex Fialho, the Mumbai policeman who put a lid on serial killer Raman Raghav's career in crime, is no more.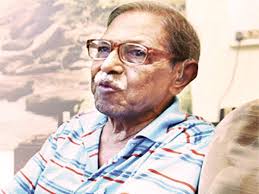 Alex Fialho, who nabbed Raman Raghav
Alex Fialho, the Mumbai policeman who rose to fame half a century ago by apprehending India's most infamous serial killer Raman Raghav, has died at the age of 92.
Charged with killing 41 people in Mumbai with the single blow of a hammer, all his victims sleeping on pavements at the moment of sudden death, Raman Raghav for long remained the most sought after criminal for a bevy of trophy-hunting cops. His killing spree, which terrorized Mumbai and sent shockwaves all across the country, continued from 1966 to 1968.
In 1968, Alex Fialho, then a sub-inspector at Dongri Police Station, apprehended Raman Raghav from the Bhendi Bazaar area of the metropolis. It happened just like that, in the blink of an eye. No informer-based tip off, nor any other kind of prior information; why, Alex did not even have proper photograph of the killer. It was just a chance meeting between the two on a busy road. It was exactly the kind of stuff a crime novelist conjures in his or her imagination. Only this time, it was for real.
Raman Raghav has been the central character of many television dramas and films. Noted film director Anurag Kashyap- of Gangs of Wasseypur fame- also made a film on the dreaded serial killer.
Alex Fialho, the cop who put a full stop on Raghav's story, breathed his last on Friday. According to his son Brian, he died of heart failure.
Soon after apprehending Raghav, Alex Fialho was promoted as an ACP in the Colaba Division.
In fact, the incidents leading to Raman Raghav's arrest read like a fast-paced thriller. Like many fictional detectives such as Sherlock Holmes, Hercule Poirot or Miss Marple, who relied more on their instincts rather than the evidence at hand, Alex Fialho too acted on a mere hunch when he first met the serial killer. But it was a hunch tempered by years of sleuthing.
At the time of their chance encounter, Raman Raghav was dressed in khaki trousers, blue shirt and canvas shoes. He was holding an umbrella in one hand. Something about him raised suspicion in Alex Fialho's mind- perhaps the result of accumulating years of mental impressions while dealing with criminals of all shades and types. He decided to test the man with umbrella. Very casually, the cop approached him. On seeing him, Raman Raghav did not panic- but he crossed over to the other side of the road a wee bit too quickly. This was enough for the trained eyes of Alex Fialho and he wasted no time in swooping upon the man.
Once in the police station, Raman Raghav tried to give an alibi as well as a fictitious name. But soon, his game was up.
It was perhaps decided by destiny that an ordinary sub-inspector carrying the name of Alex Fialho, with no great future prospects in sight, would one day cross the path of a dreaded serial killer on a busy Mumbai road. And from that moment, the lives of both of them would change dramatically.