Can IIT Allow Companies to Collect Caste, Category, JEE Rank Details During Placement Process?
Published on 21 Nov 2023,

1:08 pm IST

7 minutes read
Highlights
There are few issues which students must consider whenever a company demands sensitive personal information
Personal information like caste or sub caste can be used for profiling of candidates in the placement process
We have the Digital Personal Data Protection Act 2023 that places lot of restrictions on collection of such personal data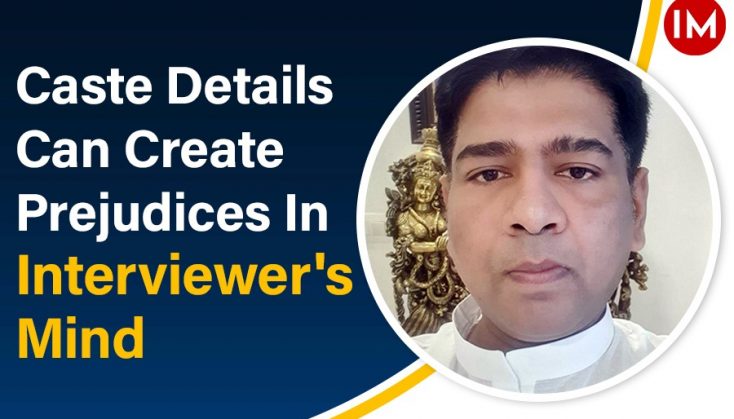 Recently, a news report in Edex live, Indian Express, reported that many companies such as L&T (Larsen and Toubro)), Merilytics, Navi Technologies, Niva Bupa Insurance, Jaguar Land Rover (JLR), Tata Group of Companies, and others, have allegedly placed a criterion where students need to enter details like the community they belong to and details such as their General JEE (Joint Entrance Examination) or advanced rank during the placement process.
The news report showed detailed snapshots which were collected through a form in the placement portal.
Now, there are few issues which any student needs to consider whenever a company is demanding such sensitive personal information like caste or sub caste during the placement process. We have the Digital Personal Data Protection Act 2023 and this act places lot of restrictions on collection of sensitive personal data which can be used for profiling of various candidates in the placement process
DETAILS CAN INFLUENCE INTERVIEWER
Firstly, the question to be asked why these companies are asking General JEE Rank and not basing their hiring process only based on CGPA. Now let us look at this scenario where there are two computer science IIT graduate, one through general merit and another through reserved category. Now if both had the same CGPA of 8.00, collection of the past performance data will surely have an impact. Now, only when we take the CGPA-JEE rank comparison alone, one can find out which of the following has higher weightage. For example, CGPA might have a higher weightage. Now IIMs consider past performance in recruitment, but they collect the % marks and there is absolutely no comparison of general rank and reserved rank.
In IITs, many SC/ST/OBC kids get selected on general merit marks and many those who don't get also catch up during the process and get decent CGPA. However, collection of these category details can influence interviewer decision substantially in the hiring process. Now whether this is illegal. We need to look at the Article 15(1) of the Constitution which clearly prohibits discrimination on grounds of religion, race, caste, sex or place of birth except some beneficial provisions are provided through reservation or affirmative action to SC/ST/OBC students.
Ideally speaking, if a company is collecting this information for increasing diversity in organisation like providing more employment to OBC students, then it may be allowable. But, if the same is used for segregation of candidates, then we have a serious issue. It is in this background that many candidates from SC/ST/OBC who have decent CGPA may be completely apprehensive of the placement process. 
COMPANIES VIOLATING DPDP ACT 2023
Now, this category information like caste/sub caste is covered under section 2(t) of the Digital Personal Data Protection Act 2023. IITs/IIMs being government organisation have to adhere to protection of personal information. There are many companies in the industry building databases for carrying out background checks. Now, the problem of collecting caste/category details is that they can get into these databases of independent companies and it can influence the future hirings too. For example, if a SC/ST/OBC kid wants to make a switch to a better job, it can hamper his opportunity to get into a better job. 
Now as per Digital Personal Data Protection Act 2023, Section 4(1) clearly states that the personal data of a candidate can be collected only in accordance with the provisions of the act and only for lawful purposes. It makes it clear that explicit consent is necessary and can be used for legitimate purposes alone.
Now in the IIT placement case, what appears is that companies are forcing the candidates to share personal information without their consent and also it is not clearly known whether they are benefiting from this information or not.
Interestingly if we go through Section 5(1) of the Digital Personal Data Protection Act, the purpose for which it is collected needs to be expressly stated by the companies before collecting the caste/category details. For example, if the company has asked for JEE Entrance rank, they need to specify clearly how this information is going to be used in decision making. Without consent and without conveying the basis of collection of data, the act of collection of caste during placement is illegal and appears to be done with the sole intention of segregating SC/ST/OBC students in IITs.
Once these companies have collected the caste details it is warranted that if the information is not used and on request from even the person who has consented to share the information can withdraw the consent any time. Clearly the companies are violating various provisions of Digital Personal Data Protection Act 2023.
HOW INTELLECTUAL SEGREGATION IMPACTS
Now, it is very easy to write off the performance of SC/ST/OBC on the pretext of Merit. On a similar lines, there is a case which was decided in Supreme court on whether intellectual segregation is possible in schools. For example, can you have separate classrooms for high performers and duds in schools? The courts observed that the separation of classrooms on the basis of intellect results in the creation of a sense of inferiority in a child, and thus denies the students the right to development and growth at par with other children.
The Court further observed that institutions of learning providing elementary education are mandated by the Constitution to create an atmosphere that promotes a sense of equality. Therefore, denial of equal opportunity to learn within educational facilities is in violation of the RTE Act, as well as the rights to education and equal opportunity under the Indian Constitution.
This reasoning is also coming from the one decision 'Brown vs Board of Education in US' in supreme court, wherein segregation in classrooms where separate educational facilities were created for two different groups were treated as inherently unequal. This ruling covered all forms of segregation which can induce a feeling of inferiority amongst students and also results in psychological impact on the segregated students.
SEGREGATION VIOLATES ARTICLE 17
The broad contours of segregation is also covered under Abolition of Untouchability under Indian Constitution and segregation of SC/ST/OBC in placement process using the category is violative of Article 17 of the Constitution. Article 17 of the Constitution of India has abolished "Untouchability", its practice in any form is forbidden and enforcement of any disability arising out of "Untouchability" is an offence punishable in accordance with law. So, the words "any form" is important as I feel that the segregation in placement is covered under this. This has penal consequences for companies and even IITs allowing this.
DEI POLICY NEEDED
Now the next important question is, it is not that all SC/ST/OBC kids are getting placed at IIT. Some decent number of kids are going unplaced. Recently there was a news circulating that even for internships which is mandatory for completion of courses at IIMs, many SC/ST kids have not got placed. These are all larger issues and it shows that the overall performance of all the SC/ST/OBC post entering IIMs and the placement record should be made available publicly so that it can be seen on whether institutionally some mechanisms can be placed to publish these details at all universities.
Special Cell and Diversity, Equity and Inclusion (DEI) policy should be introduced in all the workplaces so that every individual has equal opportunity to progress in one's career.
IITs MUST BRING IN GUIDELINE
I humbly request IITs to bring in a guideline and asks corporate companies not to demand caste details which can create prejudices in the minds of the recruiters and interviewers. However, in case you are collecting, ensure that at least you are recruiting 50% from the SC/ST/OBC categories. If you are collecting this data and recruit just 10% SC/ST/OBC, then your company is segregating on castes basis.
PREVIOUS STORY

Centre: IAS Rugved Milind Thakur Appointed As D...

NEXT STORY

IAS Jacintha Lazarus Appointed as Executive Dir...