The Unputdownable Kiran Bedi
Published on 17 Jan 2021,

7:01 pm IST

5 minutes read
Highlights
Many retired and even serving bureaucrats (after resigning from service) have been joining politics, for any number of reasons. In this series, starting with Kiran Bedi, we bring to our readers those IAS, IPS and IFS officers who have successfully made the transition.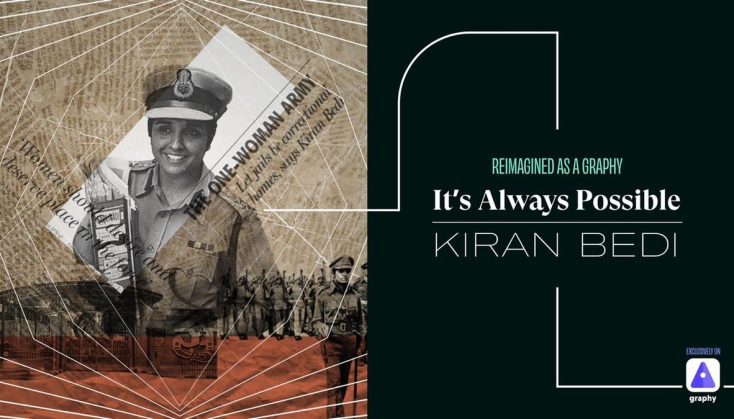 Ms Kiran Bedi, India's first woman IPS officer
How many lives can a person live? If you are Kiran Bedi, India's first woman IPS officer and at present the Governor of Puducherry, the answer would be: Many!
Ask anybody who was living in Delhi in the 80s as to what Kiran Bedi was widely known as then, the answer would be a prompt "why, Crane Bedi of course!''. That was the fearsome reputation this officer had. The reference to crane come from her strict observance of traffic rules, where an improperly parked vehicle would be towed away in a police crane.
CONTROVERSIES, CONTROVERSIES
From the very start of her career, Ms Bedi had developed a knack for gravitating towards troubles and controversies. But of course, this did not deter her from bagging the coveted Ramon Magsaysay Award and several other national and international recognitions later in her career.
Speaking of controversies, the infamous lathi-charge which the Delhi Police carried out at the lawyers in Delhi's Tis Hazari court premises in the late 80s, put the spotlight firmly on Kiran Bedi. The attack, it was widely alleged, was ordered by her. Ugly scenes followed for more than two years. For months on end, the lawyers of Delhi went on a strike, demanding action against Ms Bedi. Hapless litigants were forced to pay the price of this prolonged police-lawyers feud.
The Government even appointed Goswamy-Wadhw Commission to look into the infamous incident. But nothing much came out of it, and neither the feud with lawyers nor the unbinding findings of the Commission could stop Ms Bedi's march to more professional achievements and personal glory.
It seems that for some people at least, strife and public spats act like stair-cases to bigger things in life. Ms Bedi undoubtedly happens to be one of them.
Do you know that Ms Bedi is also a sports buff? And she was state champion in tennis?!
Recipient of President's Police Medal, Ms Bedi was appointed the head of Delhi's Tihar Jail in 1994. And how she rose to the occasion! The reforms which she brought about in the jail got her national and international attention, and she received awards for her work, the most famous of these being the Ramon Magsaysay Award. But more achievements were to follow.
AWARDS & INTERNATIONAL RECOGNITION
2003 turned out to be a watershed year for Kiran Bedi. In this year she was appointed the Police Advisor to the Secretary-General of the United Nations, in its Department of Peace Keeping Operations.
Each accolade, award and recognition only spurred Ms Bedi to more "action'' in the field. Unlike most bureaucrats, she was not cut out to sit back and bask in her laurels. She was always on the lookout for new grounds to run, to test her skills in new situations.
So what new would a restless Kiran Bedi come out with after her successful stint in the management of Tihar Jail? Not one, but two things. The first was her effort which led to the formation of `India Vision Foundation'.
According to the web-page of India Vision Foundation, `the foundation was established in 1994, when the first female Police Officer of India, Dr. Kiran Bedi was conferred with the Ramon Magsaysay Award (equivalent to Asia's Nobel Prize) for forging 'positive relationships' between people and the police through creative leadership during her tenure as Inspector General of Tihar Prison, Asia's largest prison. The Foundation seeks to carry forward its service in all those areas which were the basis of the award; namely Police and Prison Reforms; Women Empowerment.'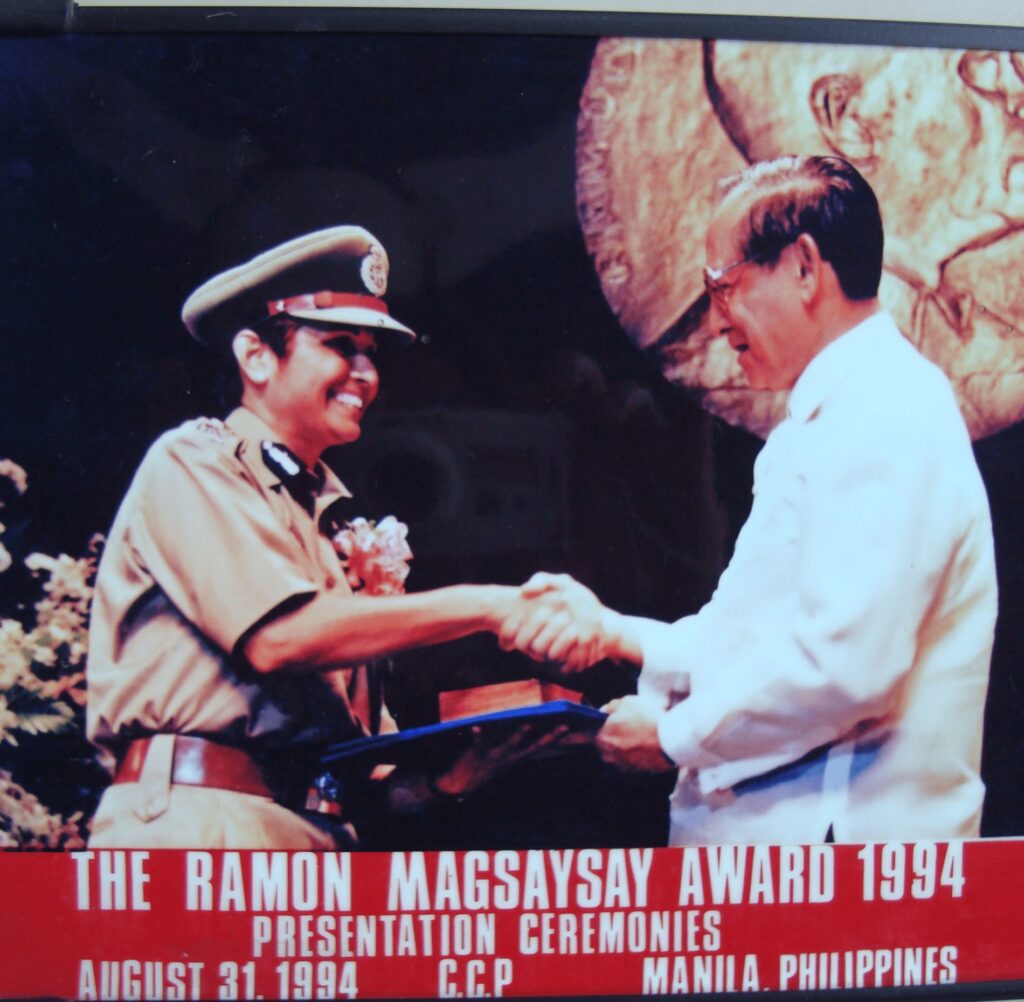 At around the same time, Ms Bedi focused her attention to writing. She has authored three books: `What Went Wrong and Why', `Himmat Hai' and `Empowering Women as I see it'.
Now, as Ms Bedi approached retirement from service, one would have assumed her to take life easy and, to use a military phrase, hang her boots. But once again, the fiery officer who dared one and all with her determination, never afraid to call a spade and spade and pick out new weapons for a new battle, surprised her detractors. She decided to wade into the not so pure and clean waters of Indian politics.
HER INNINGS IN POLITICS
2015 saw Ms Bedi joining the Bharatiya Janata Party (BJP). In the Delhi Assembly elections held in the same year, she contested Krishna Nagar constituency on BJP ticket, but lost to Aam Admy Party's S K Bagga by 2,400 votes. Gracefully accepting the defeat, she tweeted: "Full marks to Arvind (Kejriwal). Congratulations. Now take Delhi to the heights it belongs to. Make it a world class city.''
However, Ms Kiran Bedi's innings was still not over. In 2016, the NDA Government appointed her the Governor of Puducherry. To this day, this never-say-die former IPS officer, author, prison reformer and Ramon Magsaysay award winner, is holding on to her present position.
What next for Ms Bedi, one may ask? Whatever it may be, one thing is for sure. she is not going to hang up her boots in a hurry.