Guiding Light for The Ones in Dark
Published on 3 Feb 2021,

9:45 am IST

4 minutes read
Highlights
Taking care of the transgender community and people suffering from HIV/AIDS, IAS officer, Mr. Deepak Jacob is taking meaningful steps for their upliftment. A 58,000 sq.feet mural in one of the busiest stretches of Chennai, depicting their plight, is one of his several achievements.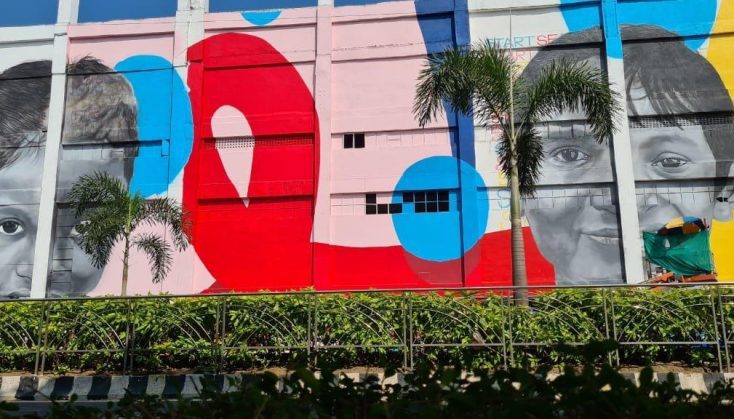 Our society divides people on various parameters and gives positive attention to some, while totally ignoring others. Such is the case with the transgender community and people suffering from HIV/AIDS. This is a prevalent mindset in almost all of India. But IAS officer of the 2014 batch, Tamil Nadu cadre, Mr. Deepak Jacob is continuously working to raise awareness about them and making their lives better.
In an exclusive conversation with Indian Masterminds, He describes his work in detail.
MURAL FOR HIV PATIENTS
As a part of World Aids Day 2020, Mr. Jacob wished to create a landmark to depict the fight against HIV/AIDS. And since art can be a form of a permanent structure, he decided to do something in the field.
"To make people aware of patients suffering from AIDS and their atrocities, I decided to get a mural painting made in a prominent landmark of the city, one that would come into everyone's notice and raise awareness," he told Indian Masterminds.
The mural depicts faces of real-life people fighting HIV/AIDS, along with people without HIV and ensures the message of equality amongst people, irrespective of their physical barriers. "It states that we are all the same and it's our shared responsibility to fight it together" he pointed out.
Mr. Jacob chose Indira Nagar station in Chennai as the canvas since it is not layered in structure and has a plain surface that makes the painting stand out. The painting is massive; spread over 58,000 sq. feet on the busiest road in the city. The mural is called #WeAre and ideates a unique, enlarged feature to spread awareness about people fighting HIV/AIDS. The fresco is almost complete and will be formally inaugurated soon.
UPLIFTING TRANSGENDERS
Currently posted as the Project Director & Member Secretary of Tamil Nadu States Aids Control Society (TANSACS), Mr. Jacob also deals with transgenders from a health perspective.
The involvement of transgenders and their intervention with the community comes under mainstreaming or greater involvement of people living with AIDS. It is a part of the mainstreaming activity that TNSACS does.
"Through this, we want to uplift the living condition of transgender so that they don't engage in unsafe sexual practices, which indirectly help my course of preventing the spread of AIDS" stated Mr. Jacob.
Moreover, he ensures that the transgender community has an assured and sustainable livelihood. To do so, he collaborated with Tamil Nadu Skill Development Corporation (TNSDC) and associated with NGO 'PeriFerry', and came up with a skill development and employment training program for the transgender community.
"Close to 100-200 trans genders were mobilized and based on eligibility, 14 were shortlisted and given training. Almost 90% of them have been placed in various places" Mr. Jacob told Indian Masterminds.
He has also associated with District Officers in the state to give training to transgender community and brief them about available employment opportunities. The interested candidates are selected and given training by TNSDC, so they could fend for themselves and live a respectable life.
TECHNO WARRIOR
Mr. Jacob launched the 'Punch Paatti (grandmother)' feature on the official website of TANSACS. This is basically a chat mode which answers questions of people regarding HIV/AIDS, its prevention, spread, treatment and services that they provide, etc.
Additionally, he is about to launch a self-assessment tool through which people could assess themselves in case they notice risky sexual behavior that makes them apprehensive or uncertain about having contracted HIV/AIDS.
He has further expanded STI clinic services to 560 locations across Tamil Nadu, because of which one can avail STI related services from anywhere. The continuous efforts of TANSACS have brought down HIV prevalence in Tamil Nadu to 0.18%, which is lower than the national average of 0.22%.
ELIMINATING MOTHER-CHILD TRANSMISSION
Mr. Jacob is nearing the set target by eliminating mother to child transmission of HIV/AIDS.
"Tamil Nadu is the first state to achieve first 90 targets of 90-90-90 campaign, which means that 90% people living with HIV should know their status; 90% of those who know their status should be receiving treatment and 90% of those who are receiving treatment should show viral load suppression which is an indicator of how well the treatment is," Mr. Jacob told Indian Masterminds.
They have achieved the first 90 of the campaign, and are close to receiving the other two, as well with 84 and 87 achieved respectively, according to the progress report of TANSACS.