UPSC CSE 2021: Priyamvada Mhaddalkar Tops Maharashtra with AIR-13
Published on 1 Jun 2022,

3:00 pm IST

4 minutes read
Highlights
Priyamvada Mhaddalkar cracked UPSC CSE 2021 in her second attempt at the age of 31.
She became Maharashtra's topper by bagging All India Rank 13.
Her family's unconditional love and support and the guidance of her mentors helped her in achieving this dream, she says.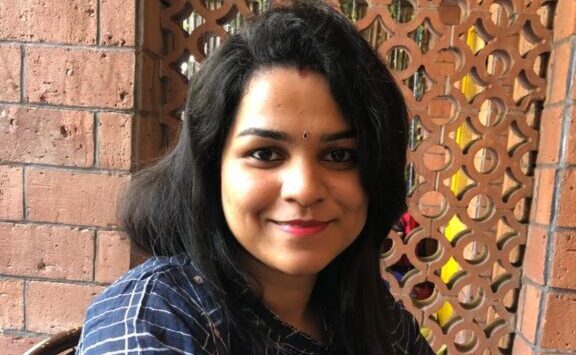 Born in Ratnagiri and brought up in Mumbai, Maharashtra's UPSC CSE 2021 topper Priyamvada Mhaddalkar achieved her dream of becoming a civil servant at the age of 31.
Indian Masterminds spoke exclusively with her to know about her preparation and journey into civil services.
EARLY LIFE
Priyamvada completed her engineering from Veermata Jijabai Technological Institute (VJTI), Mumbai, and then pursued her MBA from IIM Bangalore.
After working for six years as an investment banker, she decided to quit her well-paying job in July 2020 and began her preparation for the civil services. She has been married for 4 years and is currently living in Hyderabad with her husband and family.
"It has been my childhood dream to get into civil services as my father used to work with Maharashtra Government and was a role model to me. Also, civil services give a wide scope to positively impact society and contribute to the country, and I wished to join it and work for the welfare of the people, too," she shared with Indian Masterminds.
PREPARATION FOR THE EXAM
Priyamvada began her preparation for the exam in July 2020, right after she quit her job. She took online coaching for a couple of subjects such as Sociology (her optional subject) and GS-4 paper on Ethics, Integrity, and Aptitude.
"I was based out of Mumbai and preparing from there. Except for these subjects, I self-studied for the rest of the exams. I put in 9-10 hours of preparation and completely focused on it. Civil Service is an exam that needs that kind of consistency and routine to focus on news and current affairs. This consistency helped me in a lot of ways," said Priyamvada.
She practiced answer writing for long hours at a stretch for mains and practiced time-based answer writing for prelims, which has an MCQ style pattern.
SUPPORT FROM WELL-WISHERS
Several mentors helped Priyamvada in her journey, including her senior from college, Manish, who had cleared the exam four years back. Senior IPS officer and Commissioner of Rachakonda police, Mr. Mahesh M. Bhagwat, who coaches aspirants for the interview, was also a great help during her preparation.
"My family supported me unconditionally. In fact, my mom dreamed that I become a civil servant. My husband helped me so much in achieving my dream. He has been with me in every step of the preparation – planning, strategising, making timetables, etc. He helped me to the extent that right before the exam when I was facing a time crunch during revision, he would make short notes for me to study," shared Priyamvada.
CHALLENGES FACED
The biggest challenge that she had to face during her preparation was to sit for long hours and study at a stretch. She had completed her MBA and engineering, but with a six-year-long gap in between while she was working, it was extremely difficult for her to get back into that studying mode.
"Once you start working, you get so used to typing on a keyboard, and accustomed to the digital mode that when suddenly you have to sit for three hours while giving an exam, writing with a pen and paper, it becomes very challenging."
Another challenge that she had to face was managing a family along with preparing for the examination. However, with the unconditional love and support that Priyamvada received from her family, things became easier for her.
MESSAGE FOR ASPIRANTS
In her message to UPSC aspirants, Priyamvada says that consistency is the key to cracking this exam. According to a person's constraint and capability, they should put in a fixed number of hours to the preparation every day. And stay in touch with current affairs since it is the biggest pillar of the exam.
MESSAGE FOR THOSE WHO COULDN'T CLEAR
For the aspirants who, unfortunately, could not clear the examination, Priyamvada says, "Do not be disappointed and do not give up. Be it civil services or any profession that you choose, just be sincere and give all your efforts into it and you'll go a long way."
Priyamvada bagged AIR-13 in her second attempt and made her family and her state extremely proud.
PREVIOUS STORY

Ayodhya's Utkarsh: Failed to Clear Interview Tw...

NEXT STORY

Taking IAS Officer Father's Legacy Forward, Shu...