A Social Media Giant- And also an IAS Officer
Published on 24 Oct 2020,

10:43 am IST

4 minutes read
Highlights
Colourful, punchy and dramatic, but equally effective in putting the wrong doers in their place. Uttarakhand IAS officer Deepak Rawat's off-screen and on-screen presentations are bound to grab your attention any which way. If you live in Haridwar and are not averse to cutting a few legal corners now and then, be specially aware of him.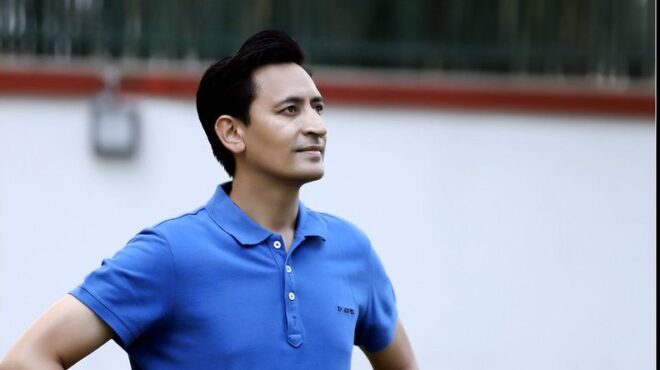 His antics may leave you amused, or maybe generate stronger emotions, but make no mistake. IAS officer Deepak Rawat doesn't have a 2.7 million-plus fan following on Facebook for nothing. He works hard and the results show, at times throwing an uncanny resemblance to the acts of vendetta which Amitabh Bachchan portrayed so convincingly in the 70s, in films like Zanjeer, Deewar and Trishul.
The similarities between the two are, however, too uncanny to end abruptly.
The Camera-Friendly IAS Officer
With his equally strong on-screen presence, Mr Rawat has gained the reputation of a fearless crusader for justice. He doesn't tolerate any indiscretion from the people- well, mainly shopkeepers- of the holy town of Haridwar. Perhaps to keep the record straight and clean, or maybe to preserve it for posterity, the IAS officer is always followed by a camera team in public, whenever he starts hunting for the law-breakers.
The videos, which are posted in the "fan pages" of Mr Rawat as well as other social media accounts, generate the kind of enthusiasm, applause and viewership which a well-heeled Bollywood performer barely manages, and that too after roping in top-rated PR agencies. Videos featuring Mr Rawat reflect professionalism. The post-editing, in particular, is top-notch. One will be hard pressed to detect a single audio glitch, lip-sync or any other editing error which so often dog the videos which PLUs (People like Us) post day in and day out with hardly anyone outside our immediate family or friends taking note.
The Videos
So one can say that in these days of social unrest, fleeting attention span and utter disregard (among new viewers, mainly) of Mr Bachchan's celebrated all time classics, Mr Rawat's on screen work holds you spellbound. At this point, we would request you all to sit back and take a look at this video of Mr Rawat, shot on the streets of Haridwar. Incidentally, this upload has already generated over 1.4 million views:
Liquor Bottles in a Gym
Mr Rawat's sharp eyes do not miss anything. So why did this gym owner acted so recklessly? Didn't he know that stashing liquor bottles in a place where young men pump iron day after day, weeks after weeks, to attain muscles and stardom in near future would not have escaped Mr Rawat's merciless scrutiny! The fact that many regular gym goers end up as lowly-paid bouncers in night clubs across India is a sordid story for another day, and does not concern us. Here is the video of that famous raid in a gym, followed by Mr Rawat's message to the youth, which was filmed in his office. This video too has gained fairly large number of viewers, over 4 million by last count:
A Man of Experience
A 2007 batch officer, Mr Rawat has had extensive administrative experience in Uttarakhand. In 2011, he was appointed the District Magistrate of Bageshwar, and next year the managing director of Kumaon Mandal Vikas Nigam (KMVN). From 2014 to 2017, he was the District Magistrate of Nainital, and in 2017 he came to Haridwar as its District Magistrate. At present, the firebrand IAS officer is in charge of the `Kumbh Mela' preparations in Haridwar. But that does not stop him from going after the alleged wrong doers, as this video posted on October 14, 2020 (immensely popular, it was watched by over 500,000 people within 24 hours of its appearance) shows:
Some may find fault with the high-octane presentations of Mr Rawat. But these videos convey an effective, if at times a bit strong in-your-face kind of approach, to our day-to-day problems. In any case, isn't personal chivalry and flying in the face of conventional behavior the reasons behind Robin Hood's image still standing tall and strong after so many centuries? Every age and place needs a hero. Even Uttarakhand.