Major Administrative Rejig in Chhattisgarh, 13 IAS and 7 IPS Officers Shifted
Published on 14 Mar 2023,

11:12 am IST

2 minutes read
Highlights
13 IAS officer including four District Collectors and seven IPS officer were transferred in Chhattisgarh.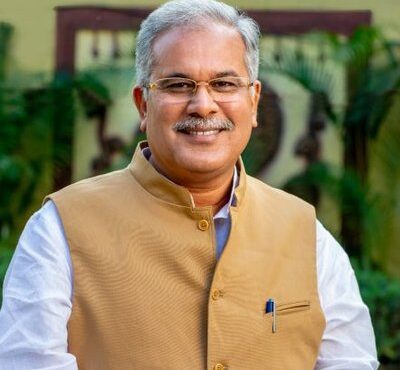 Chhattisgarh CM Bhupesh Baghel
The Chhattisgarh government has issued a transfer order of 20 officer in the state which includes 13 IAS and 7 IPS officers. According to the order, all seven IPS officers have been posted at the rank of Superintendent of Police (SP) and among the IAS officer four have been posted as District Collectors.
Superintendent of Police Rajnandgaon, Praful Thakur has been given the charge of protection of CM Bhupesh Bhagel. Whereas, two ASPs have been promoted to the rank of SP in the state. This includes Narayanpur's Additional Superintendent of Police, Pushkar Sharma and Dantewada's Additional Superintendent of Police, Yogesh Kumar Patel. They have been given the responsibility of SP in Narayanpur and Pendra-Gaurela-Marwahi respectively.
Other than that, Parul Mathur of 2008 batch Indian Police Service was sent from SP Bilaspur to DIG, ACB Headquarters Raipur
Abhishek Meena of 2010 batch Indian Police Service was made SP Rajnandgaon from SP Raigarh
2010 batch Indian Police Service K Sadanand Kumar has been made SP Raigarh from SP Narayanpur
2011 batch Indian Police Service Santosh Kumar Singh has been made SP Korba SP Bilaspur
2015 batch Indian Police Service Udayadi Uday has been made SP Pendra-Gaurela-Marwahi Made Superintendent of Police Korba
IAS TRANSFER
Among the IAS officers, the collectors of 4 districts were shifted. This includes, Taran Prakash Sinha Raigarh Collector, Richa Prakash Chaudhary Janjgir Collector and Priyanka Mahobia will be the new collector of GPM.
The full list is given below:
– Padum Singh Elma, Collector, Bemetara
– Taran Prakash Sinha, Collector, Raigad
– Richa Prakash Chaudhary, Collector, Janjgir
– Champapriyaanka Rishi Mahobia, Collector, Gorela-Pendra-Marwahi
– Rita Yadav, CEO, Zip Gariaband
– Roktima Yadav, CEO, Zip Dhamtari
– Janak Prasad Pathak, Special Secretary, Housing Environment
– Dr. Ayyaz Tamboli, Special Secretary, Urban Administration
– Ranu Sahu, Joint Secretary
– Agriculture Saransh Mitter, CEO, Chhattisgarh Infotech
– Jitendra Kumar Shukla, Joint Secretary Housing Environment
– Remigius Ekka, Director, Urban Administration
– Namrata Gandhi, Director, Pension