Rajasthan: 24 IPS Officers Transferred, Newly Carved Districts Get SPs, Bhupendra Sahu Made IG, Jail
Published on 9 Aug 2023,

11:13 am IST

3 minutes read
Highlights
H.G. Raghavendra Suhasa has been made Range IG of the newly formed Pali division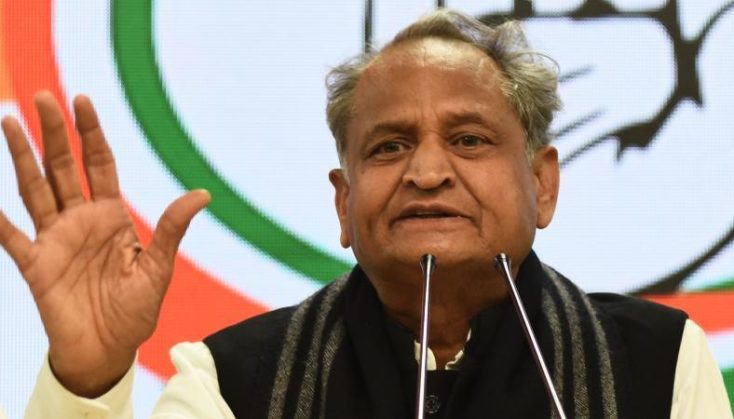 CM Rajasthan, Ashok Gehlot
In a big administrative reshuffle in Rajasthan Police Department, the Ashok Gehlot led government transferred and posted 24 IPS officers across the state. Along with IPS officers, government has also transferred 22 IAS officers and 15 IFS officers as well.
Overall, the transfer orders for 61 officers has been issued on 7 August night. In 14 of the newly formed 17 districts, orders have been issued to appoint only OSDs as Collectors and SPs.
1999 batch IPS officers Bhupendra Sahu has been assigned to the prison department. He was serving in cyber crime. 2005 batch IPS officer Satyendra Singh has been posted as Sikar IG, while 2001 batch IPS officer Raghavendra Suhasa appointed as newly formed division Pali's IG.
S Parimala, an IPS officer of 2004 batch, named as IG of Banswara, another newly created division.
The name of the new IG in the jail department is also there in this transfer list. Along with this, appointments of Range IG have also been made in the three newly formed divisions.
SPs have been appointed in 15 out of 17 newly formed districts. The commissionerate system is applicable in Jaipur and Jodhpur. In such a situation, there are police commissioners in Jaipur and Jodhpur.
In Jaipur Rural and Jodhpur Rural police districts, the present SP will take over the responsibility. Along with this, SPs of two districts Sikar and Sriganganagar have also been changed.
It is worth mentioning here that the number of districts in Rajasthan increased to 50, after newly carved ot 19 districts. As soon as the new district was formed, the discussions about the deployment of SP here were intense. So, CM Ashok Gehlot took an important decision and simultaneously posted SPs in all the new districts.
Appointment of three new Range IG and Jail IG
Name Post
Bhupendra Sahu – IG, Jail Department
H.G. Raghavendra Suhasa – Range IG, newly formed Pali division
S. Parimala – Range IG, newly formed Banswara Division
Satyendra Singh – Range IG, newly formed Sikar division
Deepak Bhargava – DIG, ACB Jaipur
Deshmukh Parish Anil – SP, Sikar
Vikas Sharma – SP, Ganganagar
Karan Sharma – SP, Bhiwadi (Alwar)
Shailendra Singh Indolia – DCP Headquarters, Police Commissionerate Jaipur
He got the responsibility of SP in new districts
Name Post
Rajendra Kumar – SP, Anupgarh.
Rajkumar Gupta – SP, Crab.
Arshad Ali – SP, Salumber
Alok Srivastava – SP, Shahpura
Pooja Awana – SP, Dudu.
Devendra Kumar Vishnoi – SP, Gangapur City.
Vineet Kumar Bansal – SP, Phalodi.
Surendra Singh – SP, Khairthal.
Narendra Singh – SP, Beawar.
Anil Kumar – SP, Neem police station.
Brijesh Jyoti Upadhyay – SP, Deeg
Ranjita Sharma – SP, Kotputli-Behrod.
Harishankar – SP, Balotra.
Praveen Kumar Nunawat – SP, Didwana Kuchaman.
Sagar – SP, Sanchore
PREVIOUS STORY

From Small Town Struggles to UPSC Success, Dami...

NEXT STORY

Rajasthan: 22 IAS & 15 IFS Officers Transf...