Indian Railway's Intrusion Detection System For Elephants Won the PMI South Asia Award
Published on 3 Sep 2023,

5:35 pm IST

2 minutes read
Highlights
All the entries have to go through a grueling 4-stage process to be among the finalists. Runner up was-BEL(Bharat electronics limited) in our category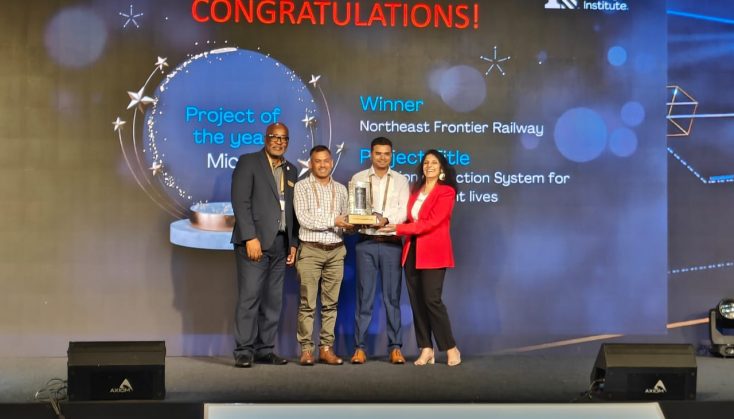 Indian Railways project – IDS (Intrusion Detection System) has won the PMI South Asia Awards for the category "Micro project of the year" for the year 2023. IDS is used for saving elephant from colliding with trains and installed in Lumding and Alipuduar divisions of Northeast Frontier Railway. This project has been a big success.
This is for the first time that any Indian Railway unit has got this award since its inception in 2009. All the major industrial units like L&T, Reliance, Tata Projects, Siemens, Bausch, IOC, BPCL, EIL etc from entire South Asia region participated in this annual event.
The Intrusion Detection System (IDS) helps to detect elephants approaching the railway tracks and an alert is sent to the local pilot, station master, also station manager so the accident can be prevented.
All the entries have to go through a grueling 4-stage process to be among the finalists. Runner up was-BEL(Bharat electronics limited) in our category. There were nomination in total 06 categories – Large, medium, small, micro, contribution to the community and NGO.
Good see the initiative taken by MoEFCC, Indian Railways and State governments are getting impetus. Joint inspection of railway tracks in Odisha is being done by officials of East Coast Railway & Keonjhar Forest Division to assess the mitigation measures.

PC: @DfoKeonjhar pic.twitter.com/xful4b0Hbl— Ramesh Pandey (@rameshpandeyifs) September 2, 2023
Sabyasachi De, CPRO of NF Railway said, "For the 2023 awards, PMI South Asia took entry from organisations for projects completed by 31st March 2023. It has four gruelling stages of qualifications".
It is worth mentioning that the PMI South Asia has been established to recognise and honour the achievements made in the field of project management. Since its inception in 2009, the PMI South Asia has been administering the awards on an annual basis. The award ceremony was held in Tamil Nadu's Chennai on September 2.
PREVIOUS STORY

16 New Members, Including 7 Administrative Appo...

NEXT STORY

With Sheer Will and Crowdfunding, IAS Officer C...