IAS-Writer Sanjay Alung Received Sutra Samman
Published on 20 Feb 2023,

4:08 pm IST

2 minutes read
Highlights
The officer belongs to the 2004 batch of Chhattisgarh cadre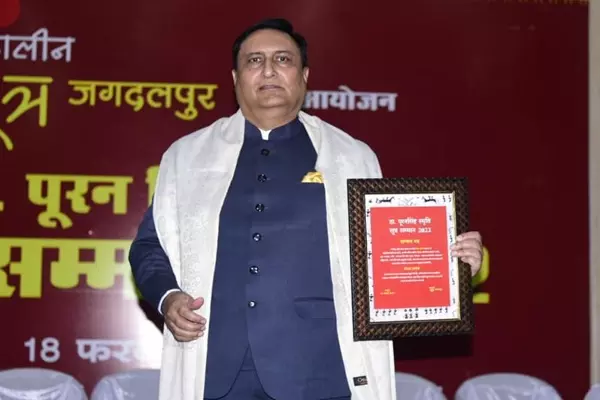 IAS officer Dr. Sanjay Alang, who is also an eminent Hindi poet and folk historian, was honoured in the presence of creators from all over the country in the auditorium of the Cultural Department in Raipur with the Puran Singh Smriti Sutra. Noted critic Rajaram Bhadu presided over the event, which was attended by litterateurs, journalists, intellectuals, media workers, painters – writers – poets, and others from Jaipur.
Ms. Nagin Tanveer, Trilok Mahawar Subhash Mishra, Jayprakash, and Ramkumar Tiwari were present as special guests. After being honoured with the Sutra Samman 2022, poet Sanjay Alang said in his statement that "I thank the Sutra family and the recommendation and selection committee, who have decided to bring out something in which my creative work is rewarded. And in this sequence, I was awarded the Sutra Samman's decoration."
He also threw light on his creative process in detail in his expression. A drama centred on Sanjay Alang's poems was also staged along with poet recitation in the Sutra Samman ceremony organized in two sessions. Sharad Kokas, Rajat Krishna and Ajay Chandravanshi read important articles on the poems of Sanjay Alang before honouring the formula in the program. All the special guests including the chairman of the program Rajaram Bhadu gave their views on the poems of Sanjay Alang to the creators!
In the second session of the program, the presence of famous storyteller Satish Jaiswal as the chief guest was important and Ishwar Singh Dost, President Sahitya Parishad Raipur and poet Nasir Ahmed Sikdar were present as special guests. Writers from Chhattisgarh's Korba, Jagdalpur, Bagbahra, Durg, Bhilai, Rajnandgaon, Kawardha, Bilaspur, Manendragarh, Koriya, Bankuthpur, Kawardha, Kumhari, Shahdol, Nagpur, along with the presence of Raipur's senior writers, poets, journalists, color directors, historians and intellectuals. The attendance of the people was remarkable. The successful operation of this entire program was done by Amod Srivastava.
PREVIOUS STORY

Restoring Glory of Patiala Through Art, Culture...

NEXT STORY

IPS Officer Brijesh Singh Is New Principal Secr...