Say It with the Movies
Published on 7 Feb 2021,

6:13 pm IST

4 minutes read
Highlights
Madhubala, Shah Rukh Khan, Kajol, Shahid Kapoor…They have all been roped in by the Uttar Pradesh Police, of course through the famous characters they portrayed on celluloid, to spread the message of road safety by way of various interesting campaigns on the social media.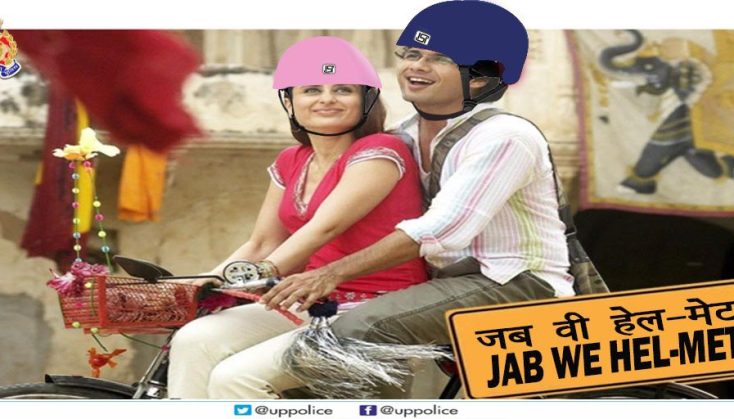 Jab We Hel-met meme by the UP Police
Two things that keep many of us entertained today are undoubtedly movies and memes. And the Uttar Pradesh police are making use of both of them, in a hilarious way to create awareness over various social issues. The UP Police have turned to Twitter and Facebook to connect with people. It's doing it in a way that does not feel like a lecture for information but makes its point clear by using hilarious GIFs and doodled movie posters.
The state police have recently begun promoting their initiatives by sharing scenes and posters of popular Bollywood movies for their public awareness campaign. Let us take a look at some of these:
DDLJ TO SPREAD AWARENESS AGAINST BOARDING MOVING TRAINS
Uttar Pradesh Police's Twitter handle shared the popular train sequence ending of Dilwale Dulhania Le Jayenge (DDLJ). This unusual tweet was not for entertainment alone but the police force's way of telling people why boarding or alighting a moving train can be dangerous.
In the video on DDLJ, the UP Police tweeted in Hindi saying: "What mistake did Simran (played by actor Kajol Devgn) and Raj (played by Shah Rukh Khan) make? For Simran to live her life (referring to a popular dialogue from the movie), it is important that she is alive." The video then goes on to explain the dangers of boarding a moving train.
JAB WE MET TO RAISE AWARENESS ON WEARING HELMETS
In a similar fashion, Uttar Pradesh Police decided to raise awareness on the importance of wearing a helmet -through a doodled poster of the popular movie Jab We Met, starring Kareena Kapoor Khan and Shahid Kapoor in which the actors are shown wearing helmets while they ride a bicycle, with the quote "Jab We Hel-Met."
"JAB HELMET LAGAYA TO DARNA KYA"
The Uttar Pradesh Police further used a scene from a very popular Hindi song from the movie Mughal-E-Azam, "Jab Pyaar Kiya Toh Darna Kya" and converted it into "Jab Helmet Lagaya To Darna Kya" which means 'No need to fear if you're wearing a helmet.' They used this to create awareness on wearing helmets, as well as the need to carry one's driving license and necessary documents while driving.
K..K..K..KIRAN FOR CONSENT
The UP Police Twitter handle shared a song from Shah Rukh Khan, Juhi Chawla, and Sunny Deol-starrer movie, Darr to emphasize the importance of consent, adding the famous 'No means No' dialogue from the movie 'Pink' starring Taapsee Pannu and the legendary Amitabh Bacchhan, in the end.
THE INFAMOUS BERNIE SANDERS MEME
The police force has also used some popular memes, such as those associated with US Senator Bernie Sanders during the inauguration ceremony of US President Joe Biden. A Bernie meme was tweeted 29 January by the UP Police to raise awareness on crimes against women.
JUST WEAR IT
The Police handle is also using famous brands' taglines and converting them into awareness topics. They used the Nike tagline – 'Just Do it' and changed it into 'Just Wear It' with the picture of a helmet beside it, asking people to wear their helmets while on road and thus protect themselves.
Additional SP, Anti-Terrorism Squad, Rahul Srivastava, who also looks after the social media handles of the UP Police, explained that they had used Bollywood movies in its campaigns on women's safety earlier too. "This time, it is being done in a more organised manner. And we are using web series and Bollywood movies as they connect with people and the engagement is a lot more."
Users have noticed the videos and evoked positive reactions, with many posting messages appreciating the force's effort to connect with the people through social media to raise awareness on issues such as traffic rules, crimes against women, and others.