Meet MP Cop Ajay Verma Who Will Bear All Expenses of Ujjain Rape Survivor
Published on 30 Sep 2023,

4:34 pm IST

5 minutes read
Highlights
MP Police TI Ajay Verma has offered to support the rape survivor's health, education and marriage expenses
He also wishes to adopt the girl if her family says 'yes'
Mr. Verma is involved with the investigation team probing the case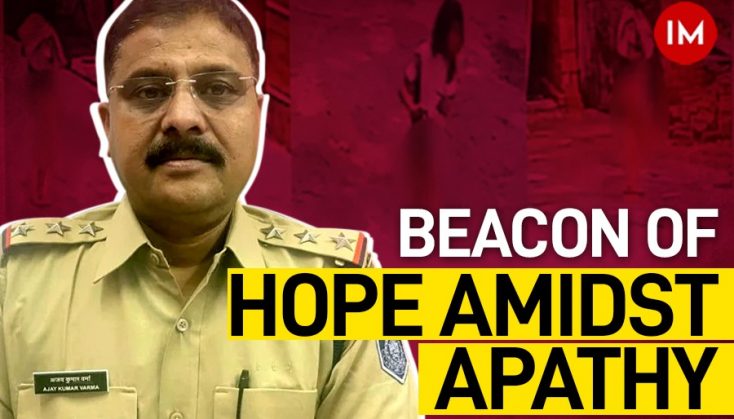 In a city of Madhya Pradesh, a 12-year-old girl roamed around for 8 hours and 8 km, bleeding profusely and desperately seeking help. Yet, no one dared to help her until an ashram priest came forward to help and took her to the hospital.
One of the police personnel in the team that arrived in the hospital was Mahakal Police Station In-Charge Ajay Verma, who is so moved by the trauma and pain the girl is undergoing, that he has taken a vow to bear all her expenses, from education to marriage, by taking on her guardianship. In fact, he even hopes to adopt her legally if her family agrees to it.
Indian Masterminds interacted with the 1994-batch Police Inspector, Mr. Ajay Verma, to get further details about the case and his noble gesture.
THE HORRIFIC CRIME
On 25 September, a minor girl, soaked in blood and half naked, walked for 8 kilometres asking people to help her but no one did. Finally, she reached the door of an ashram where a priest covered her with clothes and admitted her to the hospital.
Police arrived and made sure a proper medical examination was done. The medical report suggested that the minor girl had been raped. Mr. Ajay Verma, who heard her cries of pain, while the doctors and nurses were attending to her, now wants to help bring back normalcy to the young girl's life and get her out of the trauma.
HELPING HAND
And, this is not the first time that Mr. Verma has come forward for a noble cause. He is known for his charitable works. He had once organised the marriage of a Muslim girl.
In the present case, the minor girl was found on a road within the jurisdiction of the Mahakal Police Station. CCTV cameras captured her walking helplessly on the road and crying out for help. People saw her but no one came forward to offer any help except a priest of an ashram. These footages of people choosing to ignore a bleeding little girl and opting to feign complete indifference, put humanity to shame.
Later, medical examination revealed that the girl had been brutally raped. Ujjain Police immediately started a probe and collected all available technical evidences, based on which, an auto driver was taken into custody.
Mr. Verma said, "Seeing this girl's suffering, I felt that she needed my help and I should help her. When she was being treated for her injuries, I was listening to her screams. My eyes were filled with tears. I thought why God is giving her so much trouble. With the inspiration of Baba Mahakal, I have taken her under my protection now and I will discharge all kinds of responsibilities towards her."
Till now, some of his friends have given him financial assistance amounting to Rs. 2 lakh to help the girl. A senior doctor of a hospital has also shown interest in offering a scholarship for her education.
KEEN TO ADOPT
Mr. Verma, in fact, wishes to adopt the girl, if her family permits. He is ready to fulfil all legal procedures needed to adopt her legally.
But, it is a long procedure. "Therefore, just as a father has certain responsibilities towards his daughter, from studies to her marriage, so also, I will fulfil all," Mr. Verma said.
He said he will be very happy to discharge all these responsibilities and if her family agrees, he will adopt her legally. "But for now, it is more important to help this daughter in every possible way," he said.
FAMILY'S REACTION
When Mr. Verma's family heard about this intention, they were all very happy, as they felt that it was a very noble step.
Mr. Verma said, "Because this incident was such that it has brought shame to entire humanity, my family was also extremely sad for the girl. But, after the news of my offering of help, they have found some solace in it."
FINANCIAL SECURITY
On how he will meet the girl's financial needs as he has a family to take care of, Mr. Verma said that as of now, he has no financial problems.
"My wife also does some work. I have two sons, one is a lawyer who is earning. My second son is in his final year and his education is about to be completed, and then he will also start earning. Apart from this, I also have some ancestral land, from where I keep getting something or the other. So Baba Mahakal has given me a lot, and it will be a privilege for me to help this daughter. I hope her life will be better now."
GOLDEN ADVICE
With only three years and nine months left of his service, Mr. Verma has a golden advice for everyone. He strongly believes that if someone does something good, his or her money increases, not decreases.
"According to our scriptures, there are three types of wealth – Charity, Consumption, and Destruction. If you withhold money, its destruction is certain. If God has given you something, then it should be used for a higher purpose," he said in conclusion.
PREVIOUS STORY

Karnataka: 2 IPS Officers Transferred, Alok Kum...

NEXT STORY

Treating All With Equal Respect, This Doctor Tu...